multicolor hair freak
(?)Community Member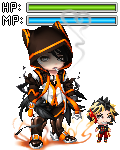 Posted: Thu, 31 Jan 2013 11:32:02 +0000
Today was the day Naomi was going to Paris. The girl was actually pretty excited to be completely honest. I mean, Paris was her dream destination to visit, but with the way money was around her house it wasn't really an option. Her family just didn't have that kind of money and time to go on a vacation, and if they did then their vacation would be to Massachusetts or New Jersey, or somewhere nearby. Somewhere they could drive to, spend the weekend, and that was it. Straight back home, so hearing that her friends had entered her into a sweepstakes to win a vacation to Paris, she - at first - was pretty unsure. She knew she wanted to go, but she felt a bit bad that they felt like they had to that for her. She didn't like accepting gifts from people at all, but when word came that she had won she was pretty ecstatic. The action was done and it wasn't like she could take it back now, right. Plus, her friends were pushing her to go. They said she deserved it and if she didn't go that she would be missing out on a huge opportunity for herself. After a small bit of convincing, Naomi agreed to the thought, but that was before she heard about a catch…well…five catches. Those boys from One Direction were going to be there and that was a bit of upsetting news for Nammi. She wanted nothing to do with the boys. She thought they were horrible divas and she did not want to deal with any of that at all. Hearing that news from her friends, Naomi was almost contemplating on not going to the trip, but the more she thought about it she figured a free trip to Paris was worth it. She'd put up with a couple premadonnas if she had to. It was kind of the only choice she had, right?



"Do you have everything?"

Naomi's father called to her. She looked down to her bags and then quickly to her neck, allowing her fingertips to touch the small heart that laid on her chest. She nodded towards him with a small smile. Her parents were a little skeptical about letting their little girl go all the way on the other side of the world for a while. They were actually a bit afraid that they'd lose her like her older sister, Carly, so long ago. That was a reason Naomi always had to make sure she had her locket on. It had a picture of her sister in it. The other side empty, but she refused to put anything else in it beside her older sister. No one compared to her and that was the reason she wore it everyday. Her sister was so beautiful and perfect, but sadly she was no longer with them anymore. It killed Nammi, but she moved along one day at a time. It was all she could really do, right?

"I'm going to miss you."

She told him softly as she went over to her father and gave him a tight hug.

"Please tell Mom that I love her and I will miss her."

He nodded as they slowly pulled away from their hold. Mrs. Clearwater always seemed to be working. Naomi was actually a bit surprised that her dad was able to get the day off to watch her depart for Paris. He wasn't taking her to the airport, her friends begged to take her themselves, but it was still nice to have someone hug and tell that you they loved you..That was always really nice. Hearing a car horn go off soon afterwards Naomi gave her father a final wave before going out to her friend's car. They were all really excited and began talking about the trip as if it were them that were going. The young girl just smiled and nodded towards them before looking out the window at her house. She was leaving her home of New York and over to the beautiful country of France. It was sure to be a beautiful place, but that was the only positive she could see out of this. There would be those horrid boys and some other girls that she was sure would hate her once she walked in. Hopefully everyone just let her do her own thing. That would be nice.



~Plane ride to Paris! Do-Do-Do~



She was right. Paris was absolutely beautiful like she wouldn't believe. It was everything she expected it to be and more. Just looking at the scenery around her, she knew that there were so many things she could do to just enjoy all that was laid out for her. For a while all she did was stare at it in awe. She just couldn't believe she was here, in the city of love and all of its glory. This really was a sight to see, and lucky her, here she was.

"This is amazing."

She breathed out as she looked around to all the things around her, a small smile on her face as she did. Nothing this great ever happens to me. I'll have to thank the girls again when I get back. she mentally reminded herself before finally taking a few steps around the area, but that was when she remembered she had to drop her bags off before anything. Might as well, right? Don't want to be lugging around luggage with you all day, right? Releasing a sigh that quickly turned into a small smile, Naomi called for a taxi to take her to her designated area: a hotel in Paris. She laid her chin in her hand as she just stared out the window to the outside world. This was it! Paris, France, and she couldn't believe she was there. It was just a surreal moment. Nothing could make this trip too bad, right? It had to be good. It was going to be good. It just had to be...

Arriving at the fancy hotel, Naomi thanked the driver and gave him some money before exiting. Why did everything in Paris have to be so beautiful? The hotel was even gorgeous on the outside looking in, but the inside was that much and more. She just couldn't believe it. After walking in she got checked in and was given her room number and key. She thanked the man behind the desk and made her way to the elevator to go up to her room. Once at her room she opened the door and was in slight awe. It was a beautiful, beautiful room and she felt so blessed to be in it. She didn't deserve all of this. This kind of stuff never happened to her, but here she was in this beautiful hotel room in Paris, France. It was like a crazy dream, and one she didn't want to wake up from. The only thing that wasn't too great about this trip was One Direction. Not only did she have to stay with them in Paris, but four other girls. Which wasn't necessarily bad - the girls- but she was terrible with meeting new people. Damn, and then there was that banquet thing. It seemed like every good thing had a downside to it. Just her luck.

Letting out a sigh, Naomi went straight to a bed and placed her bags upon it. She hoped her roommates didn't mind her choosing a bed so quickly. She just wanted to get settled before anyone showed up. How awkward would that be?
{OOC: Naomi's Outfit // First Post is...a first post xD
Hope it's okay >n< }