Lovable_Muffin123
(?)Community Member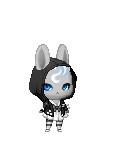 Posted: Wed, 02 Jan 2013 20:23:58 +0000
xxxxx

LOCATION:

SCIENCE CLASSROOM

xxxxx

MOOD:

BORED

xxxxx

OUTFIT: DAY 1


▀▀▀▀▀▀▀▀▀▀▀▀▀▀▀▀▀▀▀▀▀▀▀▀▀▀▀▀▀▀▀

▀▀▀▀▀▀▀

▀▀▀▀▀▀▀

★

▀▀▀




xxxxxxxxxxxxxxxxxxxxxxxxxxxxxxx

VIVIEN

'VI'

LATENDRESSE





VIVIEN

had her head on her right palm and she stared as the teacher droned on and on about science and stuff she honestly wasn't interested it. Now she was starting to miss her history class. You see, Vivien wasn't very interested in science, but when it came to history, she immediately pepped up and was wide awake, soaking everything in. She looked around for a few seconds, and then began drumming her nails against her desk for a few seconds before she stopped doing that as well. 'Shut up already.' There was a pause where everyone seemed to whisper and talk amongst themselves so she took this time to look around to see if anyone was interested. Vivien turned her head just in time to see one of the new guys...'What's his name again...?' Damian. Right, burn another girl. She kept her chuckle inside of her as one of the girls burst into tears, leaving the room. He was kinda sorta right. A little too harsh in her opinion, but personally, you don't need a date to have fun.



V

ivien's attention was jerked from her as the random guy next to her tapped her shoulder for attention. She swiveled her head towards him and quirked her left eyebrow. "Yeah?" He smiled and then began whispering to her,

"You like dares, right?"

Her attention was instantly peaked, she smirked a mischievous grin and nodded her head before resting her head in her palm again. "Any day. What's up?" He nodded and then pulled out a $20 dollar bill. Her eyes shifted from that to the boy again. "What's the dare?" The guy nodded,

"Hold a jellyfish by its tentacles. You get twenty bucks if you don't chicken out."

Vivien cocked her head to the side and debated it before shaking her head, "Do you enjoy other people's pain, or something?" He looked shocked but shook his head,

"Just bored."

She smirked, "Fine. When?" The guy sighed with satisfaction,

"After school, not for a while, I'll text you, on the beach, remember. Here's my number."

Vivien took it before staring back off into space. 'If this is his way of trying to get a date, he's definitely not on my list.'



V

ivien looked at Damian again and raised an eyebrow. New yet he made so much trouble, she smirked and then saw that he was doing a worksheet that she needed and then thought yet again, 'Maybe it's a good time to actually make real friends.' She didn't really bother having actual friends. Vivien talked to everyone, she didn't think of what kind of person the subject was like or how they looked, she just talked to them regardless. Vivien snatched up her bag and worksheet and seat hopped next to him and looked over at him, she tapped his shoulder and held up her worksheet. "Mind if I get some of that?" She grinned, a mischievous glint flickering in her eyes.



ooc:

Hello everyone!