iFirefly
(?)Community Member
Posted: Sun, 04 Nov 2007 20:57:09 +0000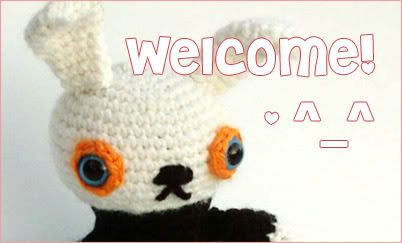 Amigurumi lovers!
Hello!

I noticed there was something of a lack in the way of amigurumi threads here on the Gaia crafts forum, so I decided to make my own.

This thread is dedicated to the art of amigurumi! Feel free to rave, talk, share, and get info on how to get started!

I also put together a bunch of links that I found useful when getting started.




- heart - heart -




What is it?
Amigurumi is the Japanese art of knitting or crocheting small stuffed animals and objects. Almost anything can be made into amigurumi. Animals and food are the more popular kinds of amigurumi. Anthropomorphic animals are also common.

Amigurumi is also very simple. With a basic knowledge of crochet, almost anyone can do it. Most amigurumi creations are made in crocheted spirals, with increases and decreases to make the various shapes of the object being made.

Amigurumi on Wikipedia




- heart - heart -




News and Updates
1/23/08 - Our first ever Amigurumi-Along opens! (See below for info) - Title: Sweet Cuppin' Cakes!
2/3/08 - emi_die_maku became the very first person to post pics of her finished craft-along project; kittycupcake! (View below or here: link)
3/10/08 - Next Ami-Along voting opened! End of poll is in 5 days (the 15th)
3/15/08 - Poll ended. Wonderland won! Finished projects must be in by 4/5/08. That gives participants about 3 weeks to work on and finish.
4/2/08 - Crochet along extended until the 15th of the April... Then there will be a 2 week break in which the next crochet along will be decided.
4/10/08 - First Knitted 'Gurumi resource link added, thanks to Flying Carrot of Doom! Sakura Brothers Amigurumi Tutorial for Knitters
9/15/10 - Working on updating the page and fixing broken links. PM me if there is something that needs fixed or added to the front page!



- heart - heart -




Where?
Here! Well, here are some links to some awesome amigurumi artists and the links to sites showcasing the works of some awesome amigurumi artists!






-

heart

-

heart

-



Getting Started
The first thing to do is learn the basics of crochet. I had almost no crochet experience when I decided to pick up amigurumi, so I had to start at sqaure one.






- heart - heart -




Resources




Knitters Resources






-

heart

-

heart

-


Free Patterns
These are just a few samples of what kinds of patterns your can find online for free.






- heart - heart -




Free Pattern Sites




- heart - heart -






Books


General Crochet


Amigurumi Specific


You can also find many other amigurumi books on ebay, lots of them in their original japanese text. Fortunately, almost all of them include universal crochet charts.




-

heart

-

heart

-

Events and Activities



None at the moment!



- heart - heart -






Amigurumi Pals (friends of the thread)


the-stormbringer
AmigurumiJain
emi_die_maku
Legna Ruoy
Clear Bubble
Firrerreo
ianthine
Piskie
Flying Carrot of Doom





- heart - heart -






Gaian Communities


Here are a couple of guilds that support crocheting, knitting and other such arts and crafts. There may be more to be added later.





About Me
My name is Lydia and I'm about 20 years old. I've been doing crafty stuff for forever, I think, but crocheting is one skill I never bothered to learn, until rather recently.

I'm just as new new to the world of amigurumi as crocheting... I picked it up about a month ago (though I admired crocheted plushies long before that), and I'm thoroughly addicted.

All of the 'gurumis in the pics are my own and most of the patterns for which can be found online. To see my other plushies and creative works, check out my deviantArt account: Thera18 on DeviantArt.