little-taeminnie
(?)Community Member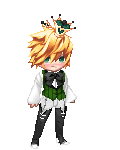 Posted: Tue, 15 Apr 2014 03:16:45 +0000




"Excuse me. Remy is a transfer student from France. He's really unfamiliar with the culture and the language Mrs. Yuki. Keato is always upset. If you don't mind, I ask permission to tutor Remy in all of his studies and to help him with his other classes. He can come and meet me before school, lunch, after etc. I'll make sure that he will be fine." Remy just stood there silently not understanding a single word exchanged between the adults. All he knew was he had accidentally upset a teacher who had offended him and now the principal was involved. Thankfully someone was there who knew about his predicament and seemed to be on his side. Cerulean orbs drifted down to the floor where he intently focused on one tile of the floor. His heart was racing inside his chest as his nerves began to eat him up. Already on the first day of school and he was in trouble. Mama, Papa and Uncle Ancel would be so disappointed if he got a detention or worse expelled on his first day. Remy pulled his bottom lip into his mouth and began to nervously chew on it. This conversation seemed to be dragging out for ages and the poor boy was trying to keep his nerves in check. Soon he heard his name and looked up to see Makoto looking in his direction. Tilting his head to the side; the flaxen haired male gave the other a curious look, "Oui?" He said in a perplexed tone."Remy. I am going to dismiss you from your class. . . you're going to come with me for the rest of the period and I will tutor you. Understand?" The other managed to convey to the best of his abilities in the boy's native language. Remy gave a nod to show he understood before hiding behind Makoto as the other calmed down his class. He could see his fellow students observing him cowering behind the young handsome teacher and several began muttering to themselves as they shot Remy curious looks as if trying to figure out the puzzle.

"Remy, I'm going to tutor you from now on. I'll make a plan for us to meet everyday, several times a day for us to work together on your English and Japanese. I'll call Ancel later and then I probably will come by everyday after school." His dark orbs trailed over to the other male. "You will have to call me sensei from now on."

Once, Remy was in the room, he quickly closed the door and took a seat at his desk. Makoto peered over to the male and motioned for him to pull up a chair and sit beside him. "I have a few basic English books right here. We will start there and then later we can go get you some books from the store that will be in French for you to learn Japanese." He exclaimed as he pulled two thick books out from his desk and placed them before him. "Are you okay? Don't worry too much about Keato. He's about to retire soon and he is old. You probably impressed him and he go upset over it. It's no big deal." He grinned sweetly, almost invitingly.

Time passed by a little quicker than Makoto expected it to. He spent most of the time being close to Remy, explaining and talking him through the book. It was rather cute though when he tried to say something and there were little slurs here and there. His accent was also quite adorable. This kid man. If he wasn't a good eight years older. . . than he could really take a liking to this kid. . . wait what was he thinking? That sounded so perverted and especially from him! He is a student for Pete's sake! Makoto shook his head at his thoughts and sighed. What the hell was wrong with him. Not once in his professional career did he ever think something like. This could be bad if that one thought grew into something more. . .