little-taeminnie
(?)Community Member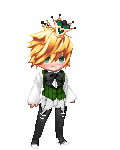 Posted: Sun, 20 Apr 2014 21:32:13 +0000




"Don't worry. I spend more time up here than I should. You're welcome here at any time. . .but you have to promise me that you will attempt to make some friends. I can't always be your escape." Makoto laughed a little as he walked towards the small bench. Remy still wasn't quite sure he liked being this high up. When he was younger his parents had taken him to the top of the Eiffel Tower but even then he clung to his mother's skirt, little knees knocking into each other from fright. The flaxen haired male kept a good grip on the other's arm as they made their way to a bench that had a scenic view. "Here sit down. I promise I won't let anything happen to you." The young teacher grinned as he took a seat and began to open up the small box. Curious cerulean blue eyes were now focused on the box that Makoto was beginning to open. "I'll share my food with you. . . Remy, why don't you sign up for after-school activities? You can make new friends that way and maybe some of the honor students can help you as well?" Wait they put food in those tiny boxes? No wonder half of his classmates looked even more petite than himself! Did these people believe in eating anything other than rice and vegetables? Remy was beginning to question if he could stay in this new country for long with its' crowded streets, difficult language, strict customs, and lack of appealing food. Remy was so preoccupied thinking about how they managed to stuff food into the tiny boxes that he missed most of what the other was saying, not that he really understood him much any ways. Makoto's French was alright but he obviously was far from fluent. Ancel must have taught him some basic conversational French and the other must have learned the rest from outdated text books. Letting out a sigh; Remy hung his head as he poked at the food with a chopstick. "I cannot join a club. H---How would I? Nobody would want ze foreigner in their club." He stuttered out. "Honor students? Monsieur do not make me laugh. I would give those poor people headaches due to the language barrier. As it is you and I can barely converse. Your French is decent but needs to be updated and there's no hope for me ever learning to speak Japanese." A light blonde brow arched as he watched the teacher light a cigarette. A pout appeared on his soft pink lips. "H—Hey it's not good to do that you know. " The younger male muttered underneath his breath. His attention was diverted from the teacher to the scenery. He couldn't help but comment on how beautiful it was Even Makoto chimed in, "Isn't it? I think it's beautiful up here. That's why I come up here so often. Just don't tell any of those young ladies in your grade that I'm here. . .they will eat me alive." Remy rolled his blue orbs at the others comment. "As amusing as zat could be I would not rat you out like that." Hearing the other laugh caused a small smile to tug at the corner of Remy's lips. "I wonder what Ancel would say about this, what do you think Rem-kun?" "About what?" Remy asked. Ancel was pretty easy to live with so far and it didn't seem like much could ruffle the old man's feathers.

"I'll call your Uncle later. . .Rem-kun if you don't mind me asking, why were sent here to live with your Uncle?" Remy, cheeks stuffed with rice, was about to answer the others question before Makoto suddenly got up and exclaimed, "OH! Look at the time! I'm latttteeee…I'm sorry. I have a meeting at one-fifteen. Finish that bento box up and I will see you later. We will create a tutoring plan after I talk to Ancel! Bye Rem-kun!" Remy was left sitting there, an utterly confused expression plastered on his face. "Bye?"

The school day dragged by painfully slow the rest of the day. It had started out so eventful with finding out his uncle's best friend would be his home room teacher and then the incident with the music teacher. Remy was sitting in his last class, zone out, when he felt a tap on his shoulder. He turned to look over his shoulder and saw a gent eyeing him with a mischievous smirk on his face. Remy gave the other an confused look which got a chuckle in return as the others smirk grew into a Cheshire Cat sized grin. The other handed him a note before leaning back in his chair. Turing his attention back to the front of the room; Remy unfolded the note and made a feeble attempt to read it. What struck him was that he was able to pick out some of the words; maybe his tutoring session had worked? He, not knowing how to write in Japanese yet, wrote out his reply in English, assuming the other gent had taken a few years of the class, before passing the note back. Off and on throughout the class the two exchanged notes and even little cartoon doodles of the boring teacher. As the bell rang; the other student stood up and walked over next to Remy's desk and waited on him to gather his things. "The names Akihiro." He said, giving a snaggletooth grin. "I'm R---Remy Bellrose." Remy gave a slight bow. Akihiro chuckled once again. "Cute." He simply said. "So which way do you take home?" Aki asked. Remy gave a shrug of his shoulders. "Um I have a pretty good walk to my uncle's. I think its east from here? No no no it's west! Um..maybe south?" He bit down on his bottom lip as he began trying to figure out how to get home from here. "Say how about I walk you home? I'm a native and I know this area pretty well." The other said. Remy looked relieved. "Thanks!" With that the duo left the classroom and began to walk in the crowded halls towards the exit. Just as Remy was rounding a corner he was bumped into and fell hard on the ground. "Oh my I'm sorry- er Rem-kun?" Akihiro arched a brow hearing the teacher call Remy "Rem-kun". He took a few steps back and curiously observed how the teacher interacted with the new student. Rumors had been buzzing around that Mr. (name) had been unusually welcoming towards the new student. A hand was now extended in front of Remy's face. "Here let me help you up. I'm so sorry. Do you want me to walk you home? "Remy's face was bright red when he noticed just who had knocked him down and was all of a sudden asking to walk him home. Akihiro could sense the situation was awkward so he stepped up and proceeded to help Remy out of a possibly embarrassing situation. "Common Remy let's get goin'!" He said, grabbing the blonde by the wrist and dragging him towards the exit. Remy looked over his shoulder at Makoto one more time before Aki had him out the door and onto the streets.

The duo made the long walk to Ancel's deli. Ancel was surprised to see that Remy had brought a native friend into the deli. Remy happily introduced Akihiro to his uncle and the other seemed like a well mannered gent in front of his uncle. Aki's dark orbs looked Remy up and down before he got an idea. "Say let's go to your room so we can....study!" Ancel seemed to approve of this and told the two they could have full run of the kitchen during their study session. Remy lead the way up to his room on the second floor of the deli and Aki eagerly followed.

Aki made himself at home in Remy's room and the two began to talk about things like video games, how awful school was, about Remy's unusual first day, and finally the topic of music in general. Apparently Aki was an aspiring musician and almost demanded that Remy give a little performance for him. Picking up his violin he played a Zelda song for the other. After the duo spent more time talking and less on that homework they promised Ancel they'd do. In all honesty Remy forgot that he was actually supposed to have a tutoring session after school with Makoto. Oops!