little-taeminnie
(?)Community Member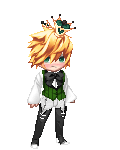 Posted: Sun, 12 May 2013 07:34:28 +0000
"Apparently it's Star King. Or at least I heard the name being mentioned from Manager-hyung." The maknae's eyes widen hearing the name of the television show that they'd be featured on. This was huge! So many famous and well known groups often graced that set. Did this mean that Kyuhyun might bump into one of his beloved idols?! The mere thought of walking past L.Joe, Taemin, Dae Hyun, Eunhyuk, Kiseop, Kevin or Jinyoung sent chills down his spine and caused his heart to race. All caught up in his daydreams, Kyu had forgotten to reply to his hyung, who now was asking if the youngest was nervous. Nervous? Nervous about possibly meeting someone who inspired him to chase after his dreams and press on through the hell known as "trainee" period, no way! The maknae shook his head feverishly.

"Nu uh! Th--This is like the oppertunity of a life time! We could run into Suju hyungs, B1a4, UKiss, B.A.P, SHINee or any number of groups. Haven't you always dreamed about being praised by one of your famous hyungs? I know I have!"
Kyuhyun hadn't realized his scream startled Jae Sun, not until he felt the others leg knock into his own and heard a loud thud, which the maknae could only assume was Jae's head hitting the roof of the car. Oops! He looked over to the other with a sheepish expression. He could hear the rapper of the group openly mock Jae Sun, which caused the youngest to pout slightly.

"Yah! Don't you have anything better to do than make fun of Jae Sun, In Su, like I dunno, learn how to actually rap!"
Kyu snapped. He hated how In su was always picking on himself and Jae, it was childish and as a "hyung" it wasn't how one should behave. The leader, Jung Hee, looked over from his seat and shot the maknae a warning look. The raven haired boy simply rolled his dark chocolate eyes at their leader.

"You shouldn't be shooting me the evil eyes, In Su started it."
"Aww is the baby defending his boyfriend~"
Kyuhyun's eyes grew wide with shock before they narrowed at the rapper. If looks could kill, the look the maknae was shooting the rapper would have him bludgeoned to death in the most horrific of ways. In Su laughed at Kyu's evil glare before rolling his eyes at the younger,
"Well? Answer me. Are you defending your little boyfriend? Are we going to have debut drama and have to hide SooKyu's secret love from the media?"
Jung Hee was silent as he listened to the two bickering. Kyuhyun wasn't sure what to say. He knew he might be attracted to Jae Sun but he didn't know if the other felt the same. The makane decided not to answer the troublesome rapper and directed his attention back to Jae.
"S--Sorry about the scream, it's just we passed the practice studio so this is the real deal. Are you nervous about going on live t.v? It's okay if you are because we'll all be there with you."
What he really wanted to say was, "It's okay because I'll be right there with you." But he found it embarrassing to think about it and knew he'd only confirm In Su's suspicion by saying that to the other.

Well I mean it would leave an impression on the MCs, that's for sure." Kyuhyun could feel his face heating up with a blush at the dancer's words. So, did that statement make Jae think he really was an immature baby? Kyu then found himself wondering why he cared so much what Jae Sun thought of him. In the back of his mind he knew what the answer was but he didn't want to admit it, not yet. He let out a nervous laugh as he rubbed the back of his neck.

"I guess that is kind of childish to say, huh?"
"But i would save myself the embarrassment." Those words hit Kyu like a ton of bricks. It confirmed that Jae Sun thought that saying, "Hi Mom" was immature and babyish. He could feel himself wanting to sink into his chair and become invisible. Why couldn't he act "cool" around the other? It seemed like he tripped over his words, acted too childish or found himself staring with the other -hopefully- wasn't aware. It was so bizarre and was starting to get the better of the makane. In Su's words earlier weren't exactly helping him either. "Do we have to hide SooKyu from the media?" SooKyu? So would that be their shipping name? He knew that Chunji and L.Joe were 2lee or ChunJoe, Eunhyuk and Dong Hae were EunHae, so Jae Sun and Kyuhyun were SunKyu or KyuSun? There were a few possibilities like JaeHyun, KyuJae, JaeKyu, SunHyun but none of them seemed very appealing. Kyu once again found himself wondering why he was obsessing over this so much, it wasn't like they had anything to hide, only him. He could manage to mask his feelings for the other. It sure beat confessing and having Jae laugh at him. He was once again snapped out of his thoughts as Jae's voice rang in his ears, ""If you really wanna, do it while they can't see. Then we'll watch what airs and see if that makes the cut." This caused the maknae to curiously c**k his head to the side, a look of utter confusion on his face. So was he pro saying "Hi mom" or thought it was stupid? Kyu's eyebrows knitted together as he tried to decipher just what the dancer was trying to tell him to do or not to do. However, the MCs appeared on stage and it was show time!

The MCs were very cordial and seemed genunily excited to introduce the new boy band to their eagerly awaiting fans, wait fans? Kyuhyun's eyes widened as he saw a few fan banners that had Iridescent and the members names written on them. His chest filled with a sense of pride as a bright smile appeared on his face. The MC noticed the maknae's reaction and was quick to pick on him. Kyuhyun was caught off guard when the host asked him a direct question. His gaze shifted over to Jung Hee as if saying, "What do I say?" The MC asked his question again and Kyuhyun decided to reply how he was honestly feeling at this time.

"I' find myself touched that even before we've officially debuted that we're starting to gain fans. Spending three years of my life training and working for this moment, seeing those signs and knowing that people are pulling for us to succeed, it means more than what words I could say. It's truly touching."
He looked over at the fans holding the banners and made a heard over his head.

"Saranghaeyo~!"
The makane's words and actions were well recieved by the fans, the MC was pleasantly shocked by his words and pretty soon the idol section they were sitting in began to clap for the rookie. He looked out of the corner of his eye and caught an approving smile from Jung Hee, which meant he must have said something right! The camera was focused on the makane and he made a heart with his hands.

The MC carried on with the show and half way through, Iridescent was asked to come front and center and show them a routine, something for the fans to "eagerly anticipate!" Kyuhyun looked over to Jae and gave him a nervous smile. Let's hope I can still remember the silly dance move names
The music started and so did the boys. Kyu could feel his heart slamming against his chest but he noticed that things were going smoothly, this hand to be a dream!

Once their routine ended, the boys went back to their seats and Kyu was lucky enough to get a fist bump from Eunhyuk.

I'm never washing this hand again!
He thought, as the biggest grin spread across his face. Kyu held the hand close to his chest the rest of the time on air.

After the show, Kyu hurried down and hopped that he could get a selca with Eunhyuk before he left for the rest of his schedule. The maknae fortunately caught up with his hyung and made his silly fanboyish request. The elder seemed happy to obliged his request. Leeteuk even snapped the picture on his phone and took a selca with Kyu too. They both commented how the maknae had the same name as their own. They all seemed to laugh about it and Kyu insured them that he wasn't as "evil" as theirs was. That only caused the others to laugh and ruffle his hair. Jung Hee and In Su watched in awe and a bit jealously as Kyu got to speak to real idols.

It wasn't long before their manager was rounding the boys up and praising them on a job well done. Kyu climbed back into the cramped backseat but the manager seemed to think he deserved shotgun. In Su was irked, to say the least, and begrudgingly climbed into the sardine can.