kyon6
(?)Community Member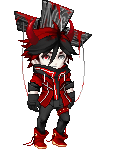 Posted: Mon, 08 Oct 2012 09:02:52 +0000
xxxxxxx

☇

Living's a wicked

d / r / e / a / m

, when things turn out all

✗

wrong

✗




xxx

We're all so weak, no matter how strong

A rush of running footsteps echoed throughout the halls as a worried man found out he was late for his shift. Well, his job was 24/7 in a way, just a "certain" someone had to sleep in. Simon Corren was his name. Sadly being on time was not his game.

Arturo! You were supposed to wake me up this morning!

he thought with hurt desperation.

Oh, pleeeease. It's not like anyone even noticed. You're such a wallflower.

came an eerie response.

Did this boy have a multiple personality disorder? Schizophrenia? No. Sadly enough, he was stuck sharing his mind and body with a snob of a demon. Arturo was always demanding, never wanting to take orders from people he deemed lower class. So with Simon's job, the lazy demon hung back saying snarky comments every once in a while inside Simon's inner core. Simon got so used to it by now, that he didn't drop platters when Arturo purposely screamed out randomly. His long brown hair flew across his face as he sped to the dining room where early birds came to eat before the rush came in. They were calm and understanding at least, which was nice.

But life has its lemons. Going through the threshold, Simon felt this sudden sense of dread. He lost his balance, tripping over himself. The poor thing ended up face flat on the floor. Arturo thought it was quite hilarious. Better than any slapstick Charlie Chaplin in his book. Simon wallowed in his own embarassment as he craned his head upwards to see a few people staring at him as if he had multiple heads. Multiple heads wasn't rare though, anymore...

He pushed himself up, dusting any particles of dirt that snuggled their way on his nice black suit. Simon always wanted to seem more old-school and professional. A nice black tailcoat with pinstripe pants, pinstripe vest, white dress shirt, and a black bow tie made him feel like the butler in stories his grandma used to tell him as a young boy. The professionalism would have to wait. His face was cherry red from his indecent fall. The human gave a curt bow towards the staring patrons to make up for the awkwardness. He shuffled his way towards the bar and kitchen, taking a post. The moment a patron spoke up or arrived, Simon would speed over to them as usual. His survival depending on staying in this marvelous place as long as possible. Right now, there was not much there. Scanning around he gave a small wave to Wednesday and Andy, who both seemed a little testy with each other, Best not to get messed up in a feud between half witches...half warlocks?

Near the bar was the kitchen. Both were connected by a doorway. However, there was also the order window. Plates were picked up here and orders were given. Much easier this way rather than going through the bar, through the door, and tell the cook on duty what the hungry people wanted. Simon took a peek inside to see the woman in charge, Chaarlye, and the kitten cook Nightmare Skye. He caught word of something about salmon, starting his stomach to grumble. Would that be the dinner special? Simon thought maybe a fancy breakfast one, like seafood newburg. His irritated tummy was about to protest again, but Simon finally piped up

"Good m-morning, Madam Chaarlye. And to you as well, Mr. S-Skye."

he stuttered out. Clearly not one for talking.


cc
ccccccccccccccccccccccccccccccccc
cc
cc
cc
cc
cc
I tried

➜

running away from me

➲
cc
cc
cc
cc
★
Convince me that I've

GROWN

, but I can't
cc
Change so unnaturally,

☠

d e m o n s

☠

they follow me
cc
cc
cc
cc
cc
cc
cc
cc
cc
cc
cc
cc
cc
cc
cc
cc
cc
cc
cc
cc
cc
cc
cc
cc
I quit running away

》

from me

《
★
cc
cc
Convinced that I have

GROWN

, but found out
cc
cc
All my

✗

r e a s o n s

✗

for insanity

↯

all a

part

of me