San_Katt
(?)Community Member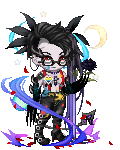 Posted: Sun, 16 May 2010 21:25:21 +0000
★Alexis★

★Revoni★

★Scott★
☆═━┈

The Single Gamer In Two-B

┈━═☆
It was late afternoon and a tall black haired female was driving down the road in a black and purple beat up Chevy truck with the radio blasting and a look of complete satisfaction upon her face. A small boy around three was sleeping soundly in the back of the truck,surrounded by bags upon bags of clothes,toys,food,and other necessities that the two would be needing. The female driving the Chevy was around the age of eighteen with long black hair and periwinkle eyes,her name,Alexis Revoni Scott. Her son Johan slept sweetly in the back,blue bunny blanket partially in his mouth with his thumb. A smile crossed Alexis's face as she caught a glimpse of her son in the rear view mirror. He had slept the whole way from Alexis's aunt's house,which was a good thing,for if he was going to be awake she wanted him where he could run around,not in the filled back seat of her truck. The song on the radio changed to something by the Dropkick Murphys and Alexis practically squealed out of excitement. If there was one band the female loved it was the Dropkick Murphys,just because they sang about two things she loved most,alcohol and sex,but that was only after music and Johan left her mind. Up ahead she could see the apartment complex and yet another smile crossed her face,though it was at the top of yet another hill and she wasn't exactly sure how well her beat up Chevy could make it. After some mental urging and accidentally waking up Johan the old truck and it's contents made it up the hill and into the parking lot. Johan was wiggling and screaming in his car seat,not exactly thrilled to still be sitting in the crowded back seat of the truck. "Johan calm down baby,I'll get you out." Alexis called sweetly over her shoulder as she threw open her door and hopped out,hearing Johan yell loudly at her from his car seat. "Out now Mommy! Out now!" The boy chanted angrily from his car seat until Alexis opened the door and began to undo the straps of his car seat. Kissing him on the forehead Alexis set her son down on the pavement and he want running towards the building before circling back to Alexis,jumping up and down. Alexis sighed,shut the doors of her truck and grabbed her son's small hand.

Upon entering the lobby of the complex Alexis found that Johan and herself were not alone. Up near the counter were four people,two female,two male. One of the females was obviously the mother of the small boy in her arms. The other female looked to be around Johan's age and was clinging to the male that Alexis took as her father. A smile crossed her face as she made her way over to the group,trying her best not to let Johan go. When he saw the little girl around his age Johan hid behind Alexis's leg,scared of her.

"Really Johan? You are afraid of a little girl? What happened to Mommy's macho man?"

The little boy looked up at his mom,a little sad,but still mostly scared. Shrugging the boy placed his thumb back into his mouth and Alexis moved closer to the group. She stood back a bit,rocking forwards and backwards on her heels,hand resting lightly on Johan's head. "Excuse me,but would either of you know where the land owner is?" Alexis asked nicely,looking down at the little girl,who Johan was still whimpering about being close to. The young boy pulled at his mother's pants leg and she bent down,so that he could whisper in her ear. "Wanna go home Momma. Girl icky." Alexis smirked when her son called the small girl icky,but she knew he didn't like change,and moving out of her aunt's house was certainly a big change for him. Turning his head towards her Alexis smiled and began to whisper to her son,hoping he would understand that Sycamore Grove apartments was their new home. "We are home baby. Aunty Crissa couldn't keep us anymore. But now we get to live here with new people. If you want to be Mommy's macho man you can't be afraid of a little girl." Alexis ruffled the little boy's hair and he giggled sweetly,waiting for her to stand back up. Once his mother was standing straight Johan removed himself from behind her leg and took a step forward towards the girl. "Hewwo! I'm Johan." Johan announced rather loudly and Alexis found herself smiling sheepishly. The boy's hand was waving madly,well the one that wasn't holding his blanket. It was so strange how a small child could accept moving just by being told that there was going to be new people. Johan had always loved people,except for girls close to his age,unless of course Alexis encouraged him to introduce himself which never did take much. From her back pocket Alexis pulled her iPhone and flipped through the different apps until she found the one she was looking for,the one full of song lyrics she knew Johan liked. Turning towards his mother the small boy jumped up and down,taking the iPhone from her and flopped to the ground just amused by the little letters,and he loved to read. "While my son Johan here attempts yet again to read the small text on my iPhone I'll take this chance to introduce myself. I am Alexis Scott and who are those two beauties?" Alexis asked,indicating the four year old girl and the infant boy. Her smile was sweet and peaceful,the girl's periwinkle eyes pale,yet deep. This was a natural look for the girl's face,but only if she had been having a good day and had nothing against anyone around her.