Khrate
(?)Forum Assistant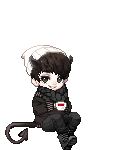 Posted: Sat, 30 Nov 2013 04:27:45 +0000

This is the thread for all entries in my
Modmas art contest
!

1st place
- 5,000,000 gold -
BOMB4Y

I thought that this deserved first place not just because you're my friend, Lucas, but because the precision of the lines, the colors, even the border is exceptional. I really like the perspective you drew my character in and the fact that you included your own avatar, something I didn't see in any of the other entries but certainly wasn't forbidden in this contest.
3nodding
2nd place
- 2,500,000 gold -
swimming_bishies

I can tell that you put quite some thought into this submission! Besides the fact that it's full body and painted, I liked that you included details like a gleam for the eyes, Lucky hanging off of the tail, and two contrasting colors for the shadows. I think the pose reflects confidence and maybe even cockiness haha, which I quite like!
xd
3rd place
- 1,000,000 gold -
TheMainCharacter1

Of all the entries to my contest, I thought this one had the most dynamic pose and most intriguing perspective. It's awesome that you managed to include all the aspects of the avatar without using a conventional pose (which would certainly make the art easier to draw, but there's no fun in that)! I'm very, very pleased with how this turned out and I hope that you are too.
wink
Honorable mention
-

-
Czhe

Hey again Czhe! First off, I should thank you for taking the time to enter my contest at all after I commissioned you just a couple weeks earlier. I really liked the way your entry came out, especially because I think your Lucky is my absolute favorite of all the submissions. There's such poise instilled within this piece and I really like the slightly freehand/messy way you colored the various items. Of all the entries, I think this is definitely the most elegant looking.
lol
Honorable mention
-

-
sasayaKura

I thought that this entry was really well done. The light source was consistent and the way you drew my avatar's expression makes me look really amiable, haha. It's cool that Lucky is chilling on my shoulder; I wish Gaia had that option for the item itself. I think this entry, if it were a photograph, looks the most candid/unposed/natural.
rofl
Honorable mention
-

-
Gunmi

I had a hard time choosing between this entry and your other (full body, monochrome) entry because they both deserve honorable mentions. In the end, I thought this chibi was very well done because of both the coloring and the pose. I've never had art with Lucky drawn
under
the cap, so I really liked that little aspect. The expression is spot on with my avatar, which is great!
mrgreen
Honorable mention
- 100,000 gold -
regiand

Even though this entry is just a headshot, I really liked the way you drew the scarf and the single visible eye. It's interesting that you included freckles, because I've never seen someone do that in art for me before-- but it turned out quite well! I think the speedpaint/slightly careless coloring style you have is admirable because it lends a pleasant feeling of whimsy to your art.
smile
Honorable mention
- 100,000 gold -
P4ttycak3
Hi again! I thought that your piece was definitely the most unique of all the submissions because, like you said, you started with a modeling program and worked from there. I can only imagine how much time it took for you to create/draw this and I really appreciate that. I especially enjoyed the way you thought of a scenario surrounding the art and how you included Lucky into the story.
cool
Honorable mention
- 100,000 gold -
Imported Cookie

Of the handful of chibi entries submitted, I thought that yours was definitely the most "cute" haha. I like that you drew a fussy/disobedient Lucky because I feel as if cats in real life are just as stubborn. From the shading to the little motion markers to the edges of the uniform's vest, I thought that overall, your chibi was very thorough.
whee
This contest is officially over. Thank you all for your submissions, it was very VERY difficult to choose "winners" among them because they were all great. I hope everyone has a great 2014!