top_spy
(?)Community Member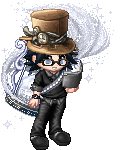 Posted: Mon, 21 Jul 2008 22:06:14 +0000
Michael Lawrence King
st. augustine's favorite
mysterious intellectual
.
xxxx
»»

FRIENDS CALL ME

JUST MICHAEL. THANKS.

»»

REGISTERED AS A

SENIOR

»»

AND MY SCHOOL I.D. SAYS I'M

EIGHTEEN

»»

MY ROOTS LIE IN

BOSTON, MASSACHUSETTS

»»

BUT MY NEW RESIDENCE IS

FRANKLIN 602

»»

BEHIND THE MASK, I'M REALLY

top_spy
Why hello there. I'm Michael and I'm from Boston. Don't let that fool you though, because I don't really pay much attention to sport; baseball the least if you want my honest opinion. The reason as to why I am here is comprehendably simple; like quite a few people, it's because of legacy; in other words, my mother had attended this school, as did her parents, etc., etc., etc.No need for any more details on that. Another reason though was because of the fact that my parents thought me too smart to attend a public school, so they thought it better for me to come here. I only have one other sibling; since when I was four, my mom gave birth to another child - a girl; my younger sister Danielle. Of course, Danielle is lucky enough to still be back home with Mom and Dad. However, at the same time, I think coming and attending St. Augustine's has done me good for the past few years until this day; for I have learned not to get homesick. Besides, I have my numerous AP studies and some hobbies to keep me occupied with my precious time, because of my hard work and my intelligence to keep up.

What are my hobbies, might you ask? I play the violin and the piano, I also read and write a lot of poetry and stories too. I actually like helping Shayla out with being co-captain of the Robotics and Math team at school, and I'm also proud of being the captain of our school's Writer's Guild (I told you I love writing didn't I?) as well; she knows that I can be friendly at times too. I like taking walks in the afternoon alone (most of the time; sometimes I go with my roommate Alex when he feels like it) and I actually have a part time job whenever I'm not in school. Nobody knows where I really work though, since I'm not really someone who would tell people such things; but I actually happen to work at the local telephone answering service; yeah, I answer phone calls in other words. But it's not as simple as it sounds; in fact, the local answering service can be used as a help-line, to pass up messages, etc. Like I said though, nobody knows that I work there whenever I leave school at those specific hours. Still though, it's actually pretty awesome how I can get paid extra money for answering phone calls, passing up messages, possibly helping someone out, etc. Just don't tell anyone okay?

As you can tell, from what I just said (or, more like asked or requested, even), I'm not the most trusting person on earth. Let me tell you truly, that I am that one mysterious guy who you all may wonder about and question his real story and what he really does. The only person I can somewhat open up to is my roommate Alex; I quite like him actually. We both have deep, analytical minds, and we actually have to cope with a lot of pressure from our peers. However, there is always a difference between us; the main one is that Alexander is the main hearthrob of St. Augustine's whereas with me, I'm that mysterious, silent intellectual who lurks in the shadows; who watches the world go by out of his bedroom window with those steelblue eyes while listening classical music, or even playing that violin; only because I actually chose to. Do people even know my name, even after a few years since Freshman year? I may come off as stone-cold, emotionless, even intimidating, like a count or phantom; but only Alex truly knows the real me, after being roommates with him for such a while. With him, I can be quite outgoing and even friendly; he knows how intelligent I am too and how actually, I have a lot to say and I can really speak my mind when needed. I have had no love life, and frankly, that doesn't bother me; however, I can't help but wonder if my mysterious demeanor pushes people away? I shouldn't wonder though, I have my AP studies and lessons at school, my violin and pino lessons, my part-time Greek studies and my part-time job to worry about; need I put more than I can eat on my plate? I don't think so.

Well, now it's Senior year, and it's tome for me to get more serious and ready to apply for University. I'll start awaiting offers if necessary. Still though, I can't help but feel that I am missing something and that I still have unfinished business to do. Maybe now is the chance to venture out of my black shadows and make some friends with the people I go to school with, and talk to a certain beautiful girl that has caught my eye ever since the first day of freshman year. Hopefully, things may turn out better than I expect them to, despite my usual pessimistic, yet realistic, point of view of the world and everything in it. The world is unpredictable, and with my mysterious behavior, so am I. Let's hope that having an optimistic view of things, for a change won't end up disappointing me; for once, I'm counting on that.

Calculus AP

»»

Latin III AP

»»

English AP

»»

Philosophy

»»

Physics AP

»»

Music

»»

World History AP

»»

Study Hall



XX

»»

LOOKING FOR ME?

MICHAEL LAWRENCE KING




XX

»»

HAILING FROM ::

BOSTON, MASSACHUSETTS




XX

»»

BEHIND MY BACK ::

THE MYSTERIOUS INTELLECTUAL




XX

»»

KNOCK ON MY DOOR ::

FRANKLIN, 602




XX

»»

PUPPET MASTER ::

top_spy