Dragonarmy
(?)Community Member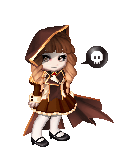 Posted: Wed, 09 Jan 2013 21:46:51 +0000
____________________
"Arm... stoppit, Stop. My hair is fine~ Stop! Dad, help!"





"Your father unit is on a business trip, it's safe to say you're stuck with me for awhile. Now sit still before I destroy you."





"But Robot Armmm~!"





"Butt's are for disgusting pig human smellies."



Romm grumbled under his breath as his mom combed his two fingers through his hair. His mom would also mumble to himself how he couldn't understand human hair and how it worked. Romm was a hybrid, being both Irken and Human, he developed a bit of both traits from both his parents. Zim's green skin, as well as lack of nose and fingers (even though he had three and a thumb, while his mom only had two and a thumb), and his fathers human hazel eyes, and especially his black hair. While he didn't get dreadlocks, due to Zim not wanting Romm to wear the 'stringy things', he did have a bit of messy black hair on his head that Zim unfortunately had to comb every morning. He always had to be careful, however, since he was still Irken, so he too had antennae... they were just lost and hidden in his natural hair.

Once his mom finished combing his hair, Romm squirmed away fast and dashed to the kitchen, jumping up to snatch the lunchbox that was on the counter. He quickly peeked inside to see what he was given, to his dismay it was Irken food "Irken food~?"

"Hey, if you want to complain, call your dad to give you fancy munnies for your lunch room grossness." The older alien said, sticking out his tongue "Keep in touch with your roots, and don't turn into an obese child like the things running around." With that said, the man waved his hand "Enjoy human school, don't die." Romm rolled his hazel eyes before fixing his outfit and heading for the door. His mom always explained his story and reasonings, so he didn't need to hear it again.

He closed the door behind him and walked over to the bus stop, he was always excited for school, and yet nervous. From everything his mom told him, if he were to be found out of being an alien, especially a hybrid, there was a big chance of being attacked, abducted, and have his organs stolen. And there was a human at the bus stop... waiting.

Romm slowly approached the stop, clearing his throat nervously, before casually turning to face the street.
___________
Our life is under siege, on this gristly and beautiful day.
I've always been this way, I've always been this way.
We salute each other, We respect one another, then we walk away.
I've always been this way, I've always been this way.
I wish to be as great as he, I wish to be as great as he.
When he defied his own life just for me.
I wish to be as great as he, I wish to be as great as he.
When he went back in time just for me.
I'd like to explore and destroy and conquer, like my family did before my life.
I'd like to adventure and see the world, I'd like to travel space and time.
Invade the world like he used to.
...Or save the world like his love used to.
((OOC: Oh yes, if you could draw him that'd be great~
heart
And take your time.
3nodding
I did sorta describe how he'd look in my post so I hope that helps! Not sure what clothes he'd be wearing, probably military looking stuff since that's what Rae is into.
xd
I hope it's alright that I sorta started Romm from the beginning, when he's like a new transfer student into the school or something rather than always going to the school. I figured that Zim would want to stay away from the same school so that people forgot about him, so when Romm went the students and teachers wouldn't compare him to looking like Zim
sweatdrop
And so Romm and Rem can start their friendship fresh
biggrin
))