Dragonarmy
(?)Community Member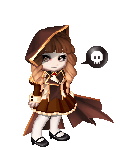 Posted: Sun, 29 Apr 2012 06:07:08 +0000
Lawlietta
The

Enhanced Plasma

Being
______________
"Open your heart, it's gonna be alright!"
____
______
____
She opened her eyes and panted heavily, quickly lifting her head and trying to shake the dirt out of her curls. What had happened...? She barely remembered... It was probably another black out.

"I feel... like s**t..."

She muttered as she weakly stood to her feet. It was night time it seemed, it was terribly hot... but she wasn't going to take off her jacket, too comfy.

She remembered... some Irken thing had grabbed her cellphone. She couldn't do anything, he was mocking her... making fun of her. She remembered wanting to kill him... having to do whatever it took to get it back. Get back her memories.

Then, she woke up here.

For someone who blacked out a lot, it was pretty sad having a fear of losing your memories.

She stood to her feet, smiling as she felt her cellphone in her pocket. It wasn't as if it was useful to call anyone, but it held a lot of photos of her brother and father, her friends and family. She cherished them.

She then heard something moving, closer...she had lived in this apocalypse long enough to know what they were.

Hot weather, night time... perfect weather for them to hunt.

Lawlietta breathed heavily as she stumbled through some sand, it was hard to run through the stuff, the most awkwardest thing she thought every time she ran through any sand was that... well... the sand had only appeared when the apocalypse happened. There wasn't that much back then from what she recalled, so what was all this 'sand'? Disintegrated buildings, and probably dead people. Yeah, gross.



"Dammitdammitdammitdammitdammit..."

She kept repeating as she ran, well, her running had been reduced to a light jog. But she had to keep going. She had to make it back home or else she'd be dead.

She ran past a fried up Irken body.

Lawlietta heard the sand moving behind her, her heart was pounding out of her chest and she wasn't sure what to do but run for it.

She had one bullet, but would it even be affective against those... crab things? Probably not. She'd rather save it for something worse. From the stories she had heard, at least from other survivors she had bumped into, their claws were really sharp. Trying to play 'fisty cuffs' with the things wasn't a smart idea, and tossing stuff at it would only make its mood angry.

All she had to do was make it to some shelter, any shelter! Once she was out of sight, she would be much better off and a lot safer, right? Right!



"There it is...!"

She simply muttered breathlessly to herself as she saw some abandoned(hopefully abandoned) house come into view. It was in the ruins of the old city. It looked terrible, but it was still someone's home...

The only roof part of the house seemed to be what remained over the 'living room', everything else was crumbled to the ground or revealed the remaining rooms of the building. At least the invaders had to decency to leave the front door intact, not that anyone was nice enough to still knock on front doors...

The crab-like creature suddenly moves faster than Lawlietta, and passed her by just to block off her path. It made some strange noise at her, and she immediately stopped so quickly that she almost fell back. As soon as she gained her posture, she backed away slowly as the creature moved closer towards her. She was still trying to catch her breath, if she had any decent weapons she'd be defending herself right now. She'd need to find a way to get around it and run.
____
______
____
"Can't hold on much longer - But I will never let go!

♥


I know it's a one way track - Tell me now how long this'll last!

♥


I'm not gonna think this way - Nor will I count on others!

♥


Close my eyes and feel it burn - Now I see what I've gotta do!

♥


OPEN YOUR

HEART

, IT'S GONNA BE ALRIGHT!

♫

"
____
______
____
LOCATION

:

The old city, heading for my house




BELONGINGS

:

Cellphone 1/3 Battery Life, Emergency First Aid Kit, uh... I got a pistol with one bullet. Yay.




THOUGHTS

:

I'm so dead!