bippa-san
(?)Community Member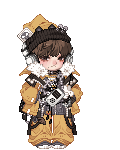 Posted: Mon, 30 Jan 2012 14:10:14 +0000
【 The Pure Myu 】



Sage Rosenfeld┊Say-jee or Pure
Male┊Fourteen
Myu ( Pure )
【 bippa-san 】

The Pure was created through the unsupervised breeding between two Myu. He was born with the gifts of generating psyon shields and amplifying other psyon-based capabilities. Like his counterpart, he has a new and strange power, but this is more like telepathy; he can offer them mental comfort, or cause them severe psychological suffering. He can go so far as to sense psyon energy as well – it appears as a flame of its respective colour to him. This is incredibly useful due to the Pure's physical weakness and his lack of sight, as he can use psyon to guide himself to an extent.

His bleak history and lack of parental figures has left Sage a confused and quiet, yet surprisingly proud and irritable child. While difficult to rouse, his temper is infamous and has caused many scars between the UNW and the Myu colony; it is after all the rage of a simple and emotional youth. Sage will always favour retreat or tense discussion over bloodshed between these two groups, using the latter as a distraction so that he can implement the former. However, due to his pride, he will find it difficult to flee after a battle has commenced. He is secretly petrified and uncertain of what the future holds for the Myu race.

【 The Supporting Officer 】



Lance Ionescu┊Lan or Officer Ionescu
Male ┊ Thirty-nine
Human
【 bippa-san 】

Definitions, synonyms and common phrases most applicable to to Lance would go along the lines of, 'all brawn and no brains', 'typical soldier', 'violent', 'blood-thirsty', and 'a heartbreaker'. These are so accurate that it could be said Ionescu doesn't show any seriousnesness when regarding life at all; not for his when he refuses to engage in a serious relationship with a woman, and not for anyone else's ... especially not when he has a gun. He's not the smartest or most cunning of officers and expects such traits out of his General. Instead, he'd rather lead his fellow men into the fray and show them how it should be done.

As such, he has very little respect for the Myu or any other 'alien' species. He understands the UNW's desire to eradicate them and is all too happy to do it; perhaps because his instinct demands it, but more likely it is the fact that his brother and several friends and acquaintances of his were on the Phantom when it was attacked. As far as he knows, they were all killed in the struggle. A strong man with a lust for vengeance, Ionescu will do all in his power to convince the General of the Myus' evil personas.
【 The Laughing Beast 】



Jir'u Vaadwed ┊ Jir (pronounced 'Jeer') or Yu
Unknown ┊ Twenty-six
Vaadtzen
【 bippa-san 】

Jir'u was hatched and raised on a jungle planet deep within the troodonian empire's borders. While small and mostly undeveloped, it was an asset to their growing power, with many untapped resources within its core. The natives, quickly converted into slaves, of this nameless planet were dubbed 'Vaadtzen', the term meaning something along the lines of 'skinny lizard'. The simple name rings true; Jir'u is an astounding seven feet and a half tall, yet is incredibly thin and lanky.

Because of these attributes the troodons used it as a scout, but it ruined the opportunity by losing its temper and stealing a soldier's rations for itself as revenge. Considered little more than a slave at the time, Jir'u was stripped of all personal belongings and forced to board a warship. It was destined to die as bait. However due to a strange turn of events, the ship was captured by those that called themselves the 'Anima', and Jir'u found itself free - to a point. Its fearsome, hyena-like laughter and animalistic lack of empathy has left it estranged from most of the anima.
【 The Admiral 】



Amir Duellos ┊ Admiral Duellos or 'Ace'
Male ┊ Appears to be thirty-four, actually ninety-one
Human
【 bippa-san 】

The only thing that is truly certain about this young man is that he is, and perhaps always be, something of a mystery. Despite his youthful appearance and optimistic, sometimes child-like nature he is in fact almost a century old. He began his career as a marine upon a ship known as the Reverence, designated to holding off the rogue AI machines that had corrupted some of the UNW's most powerful spacecraft. After a mission that went very poorly, he resigned and committed himself purely to the UNW's intergalactic navy. He rose quite quickly through the ranks, and was the captain of a small but hardy and swift ship when his last mission was given to him - to destroy a space-port held by one of the Artificial Intelligence machines. He refuses to speak about the events which did lead to the success of his goal, but some after eighty-seven years he was later found in a cryogenic slumber in a one-man escape pod. He was taken back to earth but remained in the slumber as his body was given nutrients to heal what wounds he had more quickly.

The UNW had considered euthanising him out of morality, but when desperation for loyal and skilled naval officers came about, they instead woke him. It has been some three years since then, and he still has some difficulty coming to grips with the difference in time. Despite his uncomfortable awakening, he has not forgotten his place or more importantly, his virtues and ideals. He serves with honour, waiting for the day that he can return home to one of the nurses who had cared for him, now his expectant wife.