Beastly Harlot
(?)Community Member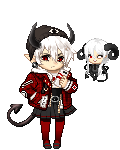 Posted: Tue, 17 Jun 2014 22:34:38 +0000
ATHREN
[Name:]
Athren
[Significant Other:]
Kanda
[x]
[x]
[Relationship:]
Seme/Dominant/Taken.
[Age:]
Between 80-100 (Doesn't account to birthdays).
[Birthday:]
August 24th
[Gender:]
Male
[Height:]
6'2
[Sexuality:]
Gay
[Eyes (Important):]
Left eye is red with a cat-like pupil, and the right eye has no pupil and is partially blind.
[Important Details:]
Elf Ears
Ram Horns* [Some refs may have other horns but I have decided on ram horns]
Left eye is red/crimson with a cat-like pupil and right is blind/white/no pupil
Skin tight-cat suit
LANKY BODY TYPE [I do not super huge muscly guys.]
Hands/Feet [If drawn normal] are burnt/scarred
Low Lids/Constant annoyed look
[About:]
Athren is a demon shape shifter, who dreads the life as a demon and despises the world because of this. His soul was stolen from the pathway to heaven and he was denied his eternal peace after living for many lives.
He has lived many past lives, each in which he falls in love with the same person, a reaper who is bound to the earth forever. With his newly found demon life, he was granted all the memories with this person in each of his lives, but now how they looked, sounded, or anything on them, making him grow even more cold.
[Personality:]
Depending on who he is with varies with how Athren acts. If he is around someone he genuinely cares about his actions towards others is generally more caring/cute. Though with that rarity aside most of the time he is pretty cold-hearted and devious. He LOVES to fight, and will accept almost any fight thrown at him. Being honest about his true feelings is something hard for him to do, so normally he hides what he is really feeling behind a big barrier.
[Powers:]
Athren has acidic blood, and no feeling in his hands or his feet. With his shape shifting ability, he normally slices his hands and either creates giant claws (shown above) or a black scythe. He can mold his body into almost anything, though most the time he just sticks to the two stated earlier.
The more he bleeds the more powerful he becomes, though once everything is done and over with depending on the amount of damage he takes is what determines how well he will stand health wise.
[Detailed Description (for those who don't get the refs):]
Athren has white hair, a strand of hair going down the middle of his face. It is spiky, not rounded hair. It can be drawn long or to his shoulders, but never shorter than that. His left eye is a crimson color, with a cat like pupil, and his right eye is also white/gray with no pupil (he's blind in that eye). His skin is VERY PALE and not GRAY for all of you who think it is gray YOU ARE WRONG. His horns can be drawn with whatever you are comfortable with, he is a shape shifter so they do change to whatever it most comfortable for him. I mostly draw him with horns like the item [Pahn's Horns] if you need the extra reference. As for his hands you can draw him with normal hands, he wears a cat suit that covers his entire body besides his hands/face. His hands are burnt on the palm area, along with his feet. Or if you wish to draw gloves on him that works as well. If you are giving him his big claws, they will look goopy/dripping because they are his blood. You can have fun with it since his blood shape shifts too but most commonly it's a scythe with three red stones (look at the last reference) or his claws. He has elf ears, with one piercing in each ear. He can have as many devil tails as you want, (if you draw multiple ones, at least one of them has to be crooked). [Any questions other than this PM me]