Evilweirdo 0
(?)Community Member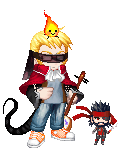 Posted: Sat, 19 Feb 2011 15:04:55 +0000
Hey guys, our DM is still tired of DMing, so he's called upon me to conclude the campaign.
Yeah, apparently that was an epic monster. So we now have 1 xp to go until level 20. After the cheating/misinterpreted rules' results were corrected, I proceeded to finish it off with cometfall. THANK YOU FOR THE SUGGESTION! Apparently it was an 80-ft high ceiling. Finished it perfectly legitimately. WIN. You should have seen the DM when he tried to calculate the CR and XP (Apparently he doesn't know what Hit Dice are, so he just assigned a ton of health. And I'm pretty sure I have explained before.).
Ahem.
BACKGROUND:
ODDVAAR (NO LAST NAME THAT HE'S MENTIONED): Resident insane multiclasser half-dragon who doesn't quite know all the rules. On a campaign-long quest to defeat "Scarface," an evil dude with a scar on his face. The only one who hasn't changed characters in this campaign. The quest is from a sea goddess. From the town of Steelwood, supposedly destroyed a thousand years ago (he's 2-4000 years or so from the past... Our DMs have a hard time giving exact numbers and specifications. "What do you mean you don't know how many hit dice it has?!&quot wink . He has had the whip of the god "Baal" around for most of the campaign.
FLENAM DRANEL: My veteran character, a half-elf cleric of Bahamut. Settled upon at 4-6th level. Really annoyed by a supposedly virtous dragonslayer group (Solaris/"Schmolaris" knights). Thinks that Scarface is dragonslaying racist scum. From the elven town of Fhalinshire in the Plata Forest (located where Canada is for us, pretty much). We've already visited it and fought some orcs, so that's resolved.
WARLOCK WHOSE NAME ESCAPES ME: From the same town as Flenam. Few motivations that I know of.
SAPHIRA: Frontline sorcerer gold dragon (... sweatdrop ). No backstory or motivations that I know of.
ARES: A samurai. Sticks around because he likes to fight. Least chaotic character I've ever seen from this player, I'm kind of impressed. Plus, he respects a good cleric!
RAJJAX: A scout, played by said DM. I haven't seen him in action for a few sessions, so I don't know if he even still exists or what. He's the guy who serves Oddvaar's dragon dad. I don't know why. He doesn't do anything for him, really.
RECENT EVENTS: In a sewer in the town of Hearthglen. Defeated epic beastie.
The gist of what I have so far: Cultists in the sewer were an odd illusion made by Scarface, as discovered by their disappearance when hit by our magical weapons. We go to our insane multiclasser's hometown of Steelwood, which everyone insisted has been destroyed. It's not, though it has been fighting with Scarface's devils and undead sometimes, so it is smaller than it was before. Since we're underequipped, their silver dragon council leader will give us good weapons and armor (we're talking +4 holy instead of +1 flaming!), then give Oddvaar the remnants of a destroyed artifact weapon of the town. Go to mountains. Get "moonsteel" (it was the multiclasser's invention. I forget what it does.). Reforge into sword. Go to old battlefield outside the city. While it's known to be haunted, it has a surprising lack of ghosts and such. Find either a portal to whichever plane it is that devils live on (we've done little plane-hopping; we've only been to the Material and Ysgard planes, so I can't seem to remember them all). Scarface either uses his true form or fuses with something for a devil form (nobody bothered to give him stats, so we're keeping Scarface himself abstract). Fight. Use sword and miracle/wish to keep him dead. Talk with sea goddess or Bahamut, depending on the character. Resolve character stories.

Ideas?