Crinis
(?)Community Member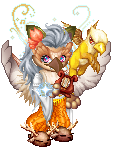 Beloved Conversationalist
Posted: Thu, 11 Oct 2012 16:08:19 +0000
Hmm? What's that?



Who I am/Introduction:



' I'm tired of being held down by an asthma issue and I'm tired of not having time....I will fix both problems, starting now...'

After working for the last six years tirelessly at a convenience store under various pressures that kept me from being as physically active as I've always felt the need to be, I realized that this was a big problem that was affecting me in various ways. I always woke up tired, feeling pretty much rushed throughout life always needing to work more than doing anything else to take care of the house and a sick husband.

A big change in my life is the new job as a teacher. I can't say I've ever been happier. I've been able to do something I love with more time feeling relaxed at work as well as supported. One slow step at a time, I worked my way to finding more time to do things that I need to take care of myself.

Another more real problem came up when I had an asthma related breathing problem that is similar to something that started last year, and came back as the fall set in once again this year. I could not breathe, and so went to the doctor to obtain a medicine that increases my appetite immensely and tends to make one possibly gain weight.

That's where I put my foot down...

I want to be a runner in ''Warrior Dash''. I want to kick my ''asthma problem'' for good, and I want to get into the best shape I can, before one day becoming a mother and show my children how important being as healthy as possible is.

I have been hurtling down towards the earth in a flurry of an orb into chaos where when the dust settles, I am a griffin ready to take on the world and work my way to being as much in shape as possible and balance my energy, for myself, for my friends, for my children, and for my future.



My Progress So Far RIGHT Now:



I'm happy to say that all the things that is promised you with exercise, healthy eating, and plenty of sleep has been a big impact in my new journey. For the last few weeks, I've been exercising with a goal of at LEAST three times a week, starting out with the ''Daily Workout'' program on my phone. So far, I've been doing great, eating well, and sleeping well always just ready to go.

Upon my completion of this week, I'm ready to get the expanded program and take every chance that I can to take care of myself.

This is it, there is no going back. And I'm ready to let others know of what I'm doing.



What I Hope to Obtain:



I'm a storyteller. I believe in sharing stories with people and am creating my own class to teach the values of doing such at my job.

My story is of being a hard-worker that never had much time to do what I needed to to ''take care of me''. Not that it's something I regret, but the way I see it and know it to be ''You must take care of yourself if you are to be able to take care of others.'' And now, I'm taking that time to do so one and for all.

Being held back with a breathing problem has never been easy, but with the help of supportive friends and family, I hope to obtain and achieve a new goal of just being in the best shape possible. I'm by no means currently ''out of shape'' but believe to take care of the body is a foundations of well-being.

I hope to share my trials with others, so that they can hopefully be inspired and hope to be a runner in ''Warrior Dash''. This is an event of various obstacle courses not for the feint of heart. It involves wall climbing, tire jumping, fire pits, sloshing through mud, and more. And at the end, a smorgasbord of food to take in!

I want to be a part of that....for one...



Why This Thread:



I'd like a means to perhaps help inspire others and keep myself motivated. Gaia has a way of doing that. smile

If others would like to chime in and talk, feel free! I would love to have conversations and return to talk here. whee




Stay tuned!