TheBabzilla
(?)Community Member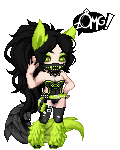 Posted: Fri, 03 May 2013 03:21:46 +0000
I'm usually very capable when it comes to profiles, HTML and some CSS, but this is just puzzling and frustrating!

My profile is set to Current with the desired CSS in the Theme Override box.

However, *nothing* is showing up on the profile as far as the About, Details (reg. date, last login, ect.) is concerned and I cannot figure out why.

When I remove the code from the override box, my profile has a simple picture as a b/g from my photobucket and the only content I have on it is Details (again, the reg. date, last login, ect.) and I am unsure as to why something like that would be effecting how the information does or doesn't show on my profile.

Please help?

#content #main, #about, #journal, #friends, #multimedia, #comments, #signature{height: auto;}
/* ---- Start Code - Stars and Skulls - theme by bluessence ---- */

html {background: none;}
body {background: #1E1C21 url(http://public.tektek.org/img/themes/23773/2rz9unq.jpg)}

a {color: #454248;}
a:hover {color: #8844BD; text-decoration: none;}

/* Header P */

#gaia_header a {color: #8844BD !important;}
#gaia_header #header_right a {color: #454248 !important;}
#gaia_header #header_right a:hover {color: #8844BD; text-decoration: none;}

#gaia_header {margin: 0px auto; width: 597px; height: 180px; background: url(http://public.tektek.org/img/themes/23773/2cn8axt.jpg)}

#gaia_header img {display: none;}
#gaia_header #header_left {font: 10px arial; text-transform: uppercase; color: #2E2639; position: absolute; background: none; top: 148px; width: 589px; text-align: center;}
#gaia_header #header_right {background: none; font: 10px verdana; text-transform: uppercase; position: absolute; margin-left: 30px; width: 530px; text-align: center; color: #454248;}

/* Columns P */

#columns {position: relative; top: 0px; margin: 0px auto; width: 597px; float: none; background: #1E1C21 url(http://public.tektek.org/img/themes/23773/2u8dseg.jpg) repeat; border: 0px solid;}

#column_1 {margin-left: 45px; width: 325px;}
#column_2 {width: 190px; margin-left: 0px;}

#column_3 {background: transparent url(http://public.tektek.org/img/themes/23773/2ly4my1.jpg) no-repeat; width: 597px; height: 111px;}
#column_3 .panel {display: none;}

/* Panels P */

.panel {background: none; color: #8844BD; padding: 0px 15px 3px 15px;}
#column_1 .panel {width: 280px; overflow: hidden;}
#column_2 .panel {width: 153px; overflow: hidden;}

#column_1 .panel h2 {color: #8844BD; background: transparent url(http://public.tektek.org/img/themes/23773/3531551.jpg) top center no-repeat; height: 10px;}
#column_2 .panel h2 {color: #8844BD; background: transparent url(http://public.tektek.org/img/themes/23773/2ahtx6o.jpg) center top no-repeat; height: 10px;}

.panel h2 {margin: 0px 0px 0px 0px; padding: 20px 6px; text-align: right; text-transform: uppercase; font-weight: bold; font-size: 10px;}

#column_1 .friends_panel li {margin-left: 5px; width: 60px; overflow: hidden;}
#column_2 .friends_panel li {margin-left: 5px; width: 60px; overflow: hidden;}
.friends_panel ul {text-align: center; border: 0px solid; margin-left: 5px;}
.friends_panel p {width: 90px; text-align: left;}

/* Comments P */

.deletecomment {height: 10px; width: 10px;}
.deletecomment a{display: block; width: 10px; height: 12px; text-indent: -5000px; overflow: hidden; background: url(http://public.tektek.org/img/themes/23773/4hvym82.jpg) center no-repeat;}
.deletecomment a:hover{background: url(http://public.tektek.org/img/themes/23773/4h7n5og.jpg) center no-repeat;}

.comments_panel .avatar {display: none;}
.comments_panel {text-align: center;}
.comments_panel .style1 dd p {margin-left: 0px;}
.comments_panel .style1 dt, .comments_panel .style2 dt {border-bottom: 1px solid #454248;}

/* User Info P */

.user_info_popup, .item_info_popup {background: #232125 url(http://public.tektek.org/img/themes/23773/2ykb80n.jpg) center -20px no-repeat; border: #8844BD 3px solid; color: #454248;}
.user_info_popup li, .item_info_popup li{border-top: 1px solid #8844BD;}

a.user_info img {width: 0; height: 0; padding: 6px 6px; background: url(http://public.tektek.org/img/themes/23773/3zsy1yv.jpg) bottom no-repeat; margin-right: 2px;}
a.user_info:hover img {width: 0; height: 0; padding: 6px 6px; background: url(http://public.tektek.org/img/themes/23773/2weks51.jpg) bottom no-repeat;}

/* Media P */

#column_1 .media_panel embed {height: 229px; width: 282px;}
#column_1 .house_panel embed {height: 229px; width: 282px;}

#column_2 .media_panel embed {height: 122px; width: 150px;}
#column_2 .house_panel embed {height: 122px; width: 150px;}