Erogenous Jones
(?)Community Member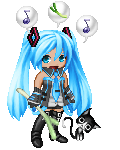 Posted: Fri, 24 May 2013 03:00:57 +0000
Having just discovered Vocaloids and looking for a place to discuss them here, I've quickly found that they don't seem to have a place to call their own.
Perhaps it's because they're more than music, games or programming, there doesn't seem to be a place where they fit any of the existing Forums (and where a guy can post a Topic without it ending up in the Chatterbox or Recycle Bin gonk )
For the uninitiated, Vocaloids, at their core, are a computer program which allows users to create their own music and accompanying vocals using synthetic singers.
But their popularity has spawned a substantial variety of products and culture beyond their core.

-There is of course, the program, which has gone through a large number of updates and expansions...discussion topic there.
-There is the creative process...the creation of music and lyrics.
-There is also the music, which is surprisingly popular and broad based in it's appeal.
-There is the fandom for many of the more accomplished/prolific producers.
-There's also a pretty large number of Vocaloid games for a number of different gaming platforms.
-There's merchandise in the form of collectible figures, books and almost anything you can think of that can carry an image of a particular Vocaloid character.
-There's associated spin-off software which allows people to make their own Vocaloid videos.
-There's concerts in which Vocaloids, accompanied by a live band, play to live crowds, as well as dance parties and MMD (Miku Miku Dance) parties.
-There's also the cos-play angle, and probably a batch of other ranges of interest that I haven't even thought of yet, so it's pretty apparent that the Vocaloids subject is not one that can be neatly pigeon-holed into one of Gaia's existing Forums and, imo, would benefit from having a single base where people who were interested could go and be assured that they would find people who shared their interest.

For what it's worth, when it comes to issues of popular culture, Gaia is often my first stop when I want to learn more and share my enthusiasm, and it's kinda disappointing that something that seems to have as wide a following as Vocaloids doesn't have a place of their own on here.

Hoping this can be rectified.

Thanks. smile

Edit: ... Since posting this Topic almost three months ago, it's become apparent that Vocaloids seem poised for a push into Western society. Sega is launching their first ever English version of the Project Diva game (Project Diva F), Crypton Logic is launching their first ever English version of the Vocaloid software (Hatsune Miku English) and Vocaloid concert films are having theatrical releases in Western cities so it seems possible, if not likely, that interest in Vocaloids is going to spike in the near future.

Edit 2: ... I've created a Vocaloid Guild as a temporary method of having a place where people interested in anything related to the subject can gather and chat while we wait for a sub of our own. Don't be surprised if you get an Invite if you Post here in favour of a Vocaloid Sub. wink

Edit 3:...
A really great "Introduction to Vocaloid" article from Australia.