Blind Harry
(?)Community Member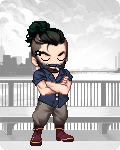 Posted: Wed, 22 Feb 2012 23:22:53 +0000
Shattered Hawke
Philip Storm
Oh yes. It's time for me to give feedback. And since this is the only topic where feedback seems to be, I'm placing it right here amongst the praise...... And you know that it's not going to be overwhelmingly positive with rainbows and ponies. (Which means I am expecting nine-tenths of you to jump on my back and whine about my opinion in some way, either the "IT'S NOT SUPPOSED TA BE REPRESENTATIVE OF DA VIKINGSSSSSSS!!!oneeleven!111!", "Opinions are like assholes: Everyone has one and yours smells." or "NEGATIVE OPINIONS AND LOUD NOISES MAKE ME SOIL MYSELF". Since i'm feeling nice today, I might pretend to care....Actually, no, I won't. If you don't like my opinion, tough. I'm obnoxious, loud and an a*****e. Anyone who has even so much as seen me post should know that.)

Firstly: As a history buff (and someone both of Scandinavian descent and born into an area which was a major hub of settlement during the Viking age,) the item sets want to make me widen my jaws and vomit my internal organs all over the ground. As a person whose waited for Viking-themed items and who usually awaits some of Gaia's released with baited breath (When i'm actually on), some of the items really exceed expectations.

The Thor item is basically just emo s**t. The tunic, jeans, shoes, capes and hair are laughable. Great, now I can look like a Norseman as invented through the eyes of Stephanie Meyer! The only good thing about that s**t set is the axe, and even that is basically emofied. (Viking's would never have allowed emo's on the longboats. The closest an emo would have got to a longboat would have been as the sacrifice.) Gaia, you made Thor cry by associating his name with such a dreadful item.

Sigrdrifa's Prayer is alright. Best designed item of the releases in my opinion (Aside from the footbinding-style shoes. What is it with Gaia and footbinding? How about I fly over to San Diego and wrap your feet in bandages so tight it malforms them?), so there's absolutely zero ******** surprise that it's a female-based item.

Heimdal The Ram is decent. Love the "Heimdal The Great" pose, everything else to do with the ram is pretty bland. I WOULD rant about there being a horned helmet, but it honestly doesn't bother me because the item is pretty well designed (To my complete shock.) Kudos to your artists on that one. But I do recommend you take the person who came up with yet another overused Skyrim reference as the items description, pull them behind your headquarters and shoot them in the head with a shotgun. Twice.

Then the Norseman's Expedition. Actually, I do have to commend Gaia on this one: The effort was there, but the result was so flat that you can put syrup on it and call it a pancake. The longboat looks awkward (Unless you were purposefully aiming for the "It's a longboat for freakishly-short dwarves and people without knees" look), the shield is undersized and looks awkward (The only shield you lot have ever got right is the Spartan shield, though. So i'll let that slide.), the "Arrow to the Knee" item is typically Gaia (The joke was funny the first time, it wasn't funny the hundredth time, and now it's just completely ******** irritating.) and the horn.............thing just looks plain weird. I mean, what's it supposed to be? A drinking horn? Some ornate war club? A Viking d***o? I don't know. The background is excellent though. Very well done.

Looking at this, can I make a request? DON'T TRY AND MAKE ANY CELTIC WARRIOR STYLED ITEMS. Don't even try. Seeing the Celts as imagined through the eyes of a Gaian artist would make me cry. ("Here comes Cinead, modelling awkwardly-long flowing hair, neon-pink body paint, wearing super-tight bracchae that are obviously malforming his knob and bollocks and carrying a shield which is tiny and permanently glued to his outer forearm. Beside him is an iguana. What's a Celt doing with an iguana? We don't know. We made it anyway.&quot wink
That's quite the stick you've got in your a**.
Amazing. Did you use all three of your braincells to come up with that witty rejoinder? Sorry if, y'know, actual critical feedback as opposed to one line offends your pure, untainted eyes. And yes, this is a stick I have up my a**. Its one big stick, shoved right into my jacksie by years of being around people who think that a lengthy piece of feedback stating what is good and what isn't so good = stick up a**. You know what drives this stick (made of oak wood and varnished with the tears of the stupid) further up my rectum? When complete idiots make scathing retorts simply because their viewpoint is being opposed. If you don't like my post, and...and...it upsets your pure heart that sees Gaia as a perfect, unharmed rose....then...then...then....here, have a tissue. *grabs a box of kleenex* It's extra soft. *throws him the box*
Now, if you excuse me, I need to bend over and get a good grip on this stick and pull it down enough so that I can lay down without feeling it whack my liver out of place. Bastards like you have a tendency to really hammer it up there. I can feel it playing badminton with my tonsils, it's that far up there.