Toppaware
(?)Community Member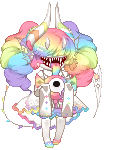 Posted: Mon, 04 Feb 2013 05:13:08 +0000
Morbid Obesity
i do not have anything against either the music or the lyrics, but seriously what is the point of screaming instead of singing, what is the point of listening to something you can't understand? i mean, if you don't know russian, why would you listen to russian music?
Just respect that people have different music tastes. Personally, I dislike screamo as well, but I'm not going to say their music tastes suck because of that.
Also, you don't have to understand a language to appreciate the music. I'm a huge fan of K-pop despite me not being Korean. I can't even speak the language nor read it. (Well, a tiny bit I can read, but that's not the point.) But why do I listen to it? Because it appeals to me, and I enjoy it. This is the same reason why people listen to screamo.
They enjoy listening to it.
Music is music no matter what language it's in. K-pop is music. Russian music is music. Screamo is music.