Catalyste
(?)Community Member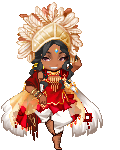 Posted: Sat, 22 Sep 2012 11:02:21 +0000
Update:
The October MC, Mournful Wail, came out with a skin overlay that's supposed to give the appearance of bones peering out from rotting skin. Now I've seen this on lighter skins and it looks like it should. Very effective. But on Tone D skin it's like this:
This is a bad overlay. Again darker tones of skin were not used to test these out. Instead of the appearance of skin peering out from decayed skin, we got an overlay that looks like translucent socks with bone feet, long gloves with bone hands, metallic shoulder pads, the ribs look like bone armor, and something that can be mistaken as grey Mutton Chops on my cheeks.
You guys said you'd try to keep our skins in mind. Please do so.
_______________________________________________________________________________
My tone is D and I prefer it that way. So why is it that whenever we get a new mod or item....as well as something cute as the Hobbit item, that it's predominantly in the Light color?
I'm pulling my Gaia-race card here, darker colors hardly get any representation when you dole out new items. This is unfair!
You give us options to change our skin color, but you don't make items that represent most of them.
This worries me. It's like you're saying this is the only color you consider default or that no other colors come to mind when making items.
Look if this site does it's main thing over fandoms, then can you please remember that many skin-types are within those fandoms regardless of the characters they're representing?
I'm asking you guys to PLEASE try to represent the other skin types from now on. You can do this by taking extra time out and making sure your main skin types are included, or find a script where the item matches our tone. The
Klaxon
wig set is a swift example of an item representing those tones.
Whatever you do, let's end the one-tone-fits-all regime.
Your items are awesome, but it's a freak accident when one body part doesn't match the other.
neutral
UPDATE:
AtA response courtesy of Lady Aji's question...
.~.Lady_Aji.~.
I'll just leave this here.
lanzer
.~.Lady_Aji.~.
- Face/Body Mods: When making these kinds of items, can you remind the artist to keep all 6 of the human base skin tones in mind? It's not cool when I see a face/body mod that I like, try it on, then discover that it looks like crap against my avatar's dark skin.

Example: The face mod from the daughter of snows rei. It looks horrible on darker skinned avis.

I've forwarded your feedback to the artists. We'll keep darker skin in mind as much as we can.
I'll keep my eye on this to see if the artists and those who approve of the works are keeping us in mind.
Testimonials:
I can barely see these while in the dressing room, so it won't translate as anything while in the forums.
marshmallowcreampie
Agreed. A while back I decided to give my avatar dark skin, and then I started to notice how most items were made with light-skinned avatars in mind. I'm talking about makeup, items that alter or give extra limbs, and many items that give cleavage and muscles. Many of these items are rarely made with dark-skinned avatars in mind, and it kind of sucks.

I get that the Hobbit feet were made light to be accurate to the ones in the books and movies, but it still makes the item unusable for anyone who doesn't use the light skin tone.
Slick Southpaw
*weeps so hard*

Slick Southpaw
Even when things are *purposefully intentioned* to work with the darker skin tones...doesn't really seem to work.
sometimesalways
I'll just leave this here:
Ya know I'm fine with the Hobbit item. I realize that it's a freebie but I am glad it has gotten people talking about skin tones and such.
SANJl
Yesss.... even with my skin tone (Tone C), things look TERRIBLE, and mine's the in between dark and light. I'm severely limited on what items I can use a times because they just don't blend well in to my avatar's skin tone. D:
Lorika
I don't really use the darker skintones often myself, but when I HAVE, it's been a bit of a nightmare for the reasons this thread points out.

What I DO use regularly is the grey dark elf skin, and this has the same problems - as well as a few more. The dark elf body actually has a slightly different shape, with slimmer legs being the biggest cause of problems for me personally. Regular shoes simply don't fit the avatar correctly. I try to disguise it as best I can, but when my avatar is blown up in size in the dressup room, it's EXTREMELY obvious that most shoes simply do not fit. The graphics clip outside of where they should and the overall effect is very messy. What's the point of introducing a different "build" of avatar if you aren't going to accomodate it?

I hope these issues get some attention eventually. Only catering to what the developers might consider the "main" body is... not good. Really not good.
Rizuzua
agreed. I only can use the lusty scoundrel for shiny skin. The other item giving my avatar a "body blush" instead looks like a violent rash spreading across her face,knees and tummy. It was terrifying. sad

An exception is the frostbite items.
Suggestions:
Gundamu
Totally agree. Should at least have light, middle, and dark options for those mods.
Hikari Aijuntani

What may be an option, at least in reward grants, is when you're granted the item you are offered the option to choose which Skin Tone you'd like to use. It's a temporary fix for something that is frustrating for users. As far as regular items, if it has anything to do with modifying skins or the body in any forms, they should offer a few different choices within the item so everyone can use it.

Slick Southpaw

*snipped for suggestion below*

Though I was a bit surprised to see Hobbit feet released as a one color option in a free item. I would have thought it would have done better with a ninja release in the gold shops with more tones.
AnimeJet
Did they ever make the black vampire skin? @_@