Crystal Mizuka
(?)Community Member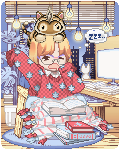 Posted: Fri, 31 Jan 2014 18:14:56 +0000
Updated 02/11/2014
Alright, I've been sitting on this post for more than a week now and I think I've gotten my idea as clear and concise as I can make it. Anyway, my suggestion goes a little something like this:
Suggestion
Gaians have been begging for gold sinks. Gaia Online needs to make money. So, why not do both?

Here's a solution that could potentially benefit both parties. There could be a Chance Item sold for Gaia Cash that, when played, would allow users to put in varying sums of gold to improve the odds of obtaining higher tier items. This could be accomplished by removing lower tiers of items from the overall item pool based on meeting specific gold caps. 10,000 gold. 100,000 gold. 1,000,000 gold. And so on. The more gold you put into it, the smaller the item pool gets and your chances of obtaining a higher tier item drastically improve. What you get would depend entirely on how much gold you're willing to put into it. The theme could be giving tribute to one or more of Gaia's beloved (unfortunately abused and neglected) deities, with a cryptic and catchy name like Forgotten Altar, something that would give it a real sense of relevance to the community. Connecting the Chance Item to an actual storyline update would give it even greater appeal! And the notion that it might be possible for users to actually get something they want out of it could possibly get more users actually wanting to play the Chance Item for themselves and could even help to bolster sales!

Actually putting any amount of gold into such a Chance Item should be entirely optional. This is extremely important and I can't stress it enough. If users are already going to be spending real money to buy the Chance Item, forcing them to put their hard-earned gold into it on top of that isn't going to make anyone want to buy it. Let them feel like they are in control over how they decide to play. Make it clear that the choice is ultimately up to them and that choosing not to put any gold into it simply means accepting normal odds for the possible item grants. Of course, to give users more incentive to actually sink some gold into such a Chance Item, it should contain all-new items with a few special exclusive items added to the pool for every gold cap met to give it even more variety. Users will want to buy more just to find all the potential items, meaning users might be willing to spend even more money!
I've already discussed the idea with some friends who agree that it has potential and they've encouraged me to actually post it in Site Feedback. Hopefully there are more users out there who would like for Gaia to implement something like this in the future. Many users, myself included, are sick and tired of the constant release and re-release of gold generators so, done right, having a Chance Item that instead functions as a
gold sink
could prove to be a lucrative alternative, so why not give it a try? Seriously though, stop trying to sell us gold!
Updates
Updated 02/02/2014
~ Users seem to generally like the idea, although many have cited the very real problem that no matter how great the gold sink, it won't accomplish anything as long as gold generators are still being released, especially if the two are released simultaneously. Doing that completely undermines the whole point of even having a gold sink in the first place. Here's a hint: Don't do it.
Feedback From Other Users
Updated 02/11/2014
FOBismymusic333
-----------------------------
I've been sitting reading some of these threads for hours and none of them need more of a signal boost than this one.

This is actually a solution instead of just telling Admin to fix it themselves.

The only thing I would suggest is that there is a set period of time (Like one month) that the chance item you suggest is out.This would make people rush to purchase them, so they will buy a lot.

I would also say that Gaia has to make sure that EVERYONE can get one. Not just the people who pay GC but also the other users. Say you make it something you can win in daily chance. Or in a game. Very rarely of course. Then make it unlimited for those paying GC, they're prolly where the money is at anyway.
I suggest this because every Gaian is part of this, unwillingly but still, everyone should pay some kind of cut. Especially those hording gold so they can afford their next item.

Just some thoughts to consider.
Of course, this is only a suggestion. I don't expect for it to sound perfect. I'm sure there are still plenty of kinks to be worked out. Users are welcome to discuss the idea and add their own suggestions. Just stay on topic and keep any anti-cash sentiments, pitchforks, torches, and other incendiary devices away from this thread.
.