Pharaoh Misa
(?)Community Member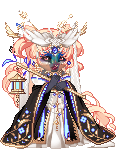 Posted: Tue, 18 Sep 2012 16:16:32 +0000
Zamilooni, Zamilooni,
Dathirooni, Dathirooni...
ღ 𝔪𝔦𝔰𝔞𝔠𝔥𝔦 𝔞𝔤𝔞𝔯𝔲 ♋
Misachi bid Jane and Allison farewell and took Mya by the arm and they walked to class together. They left the other two girls, Misachi quickly realizing that Mya hung out with the girls too look good, in the cafeteria after Misachi showed them her gymnastic-styled flips. Misachi didn't warn them that she also knew Kyokushin, a form of karate involving quick punches and kicks, as well as Isshin-Ryu, another form a karate. She never took gymnastics, but if her self-defense made it look like it, then she would keep that to herself.

"Where would you like to sit?" Mya asked as other kids moved into the classroom. Misachi giggled, marveling at how maid-like Mya was being, and looked around. She was surprised to see that pretty, blue-headed girl in her class. "Gosh, her hair is stunning," Misachi said to Mya. Mya caught her eye and snorted. "We don't, uh, associate with those types," she whispered to Misachi. Misachi raised an eyebrow; I could say the same for you, she thought to the girl, but otherwise flashed a breathe taking smile and nodded.

She turned from Mya, rolling her eyes, and proceeded toward the window. Mya scurried at her side, like a loyal puppy; Misachi thought Mya must stand beside her at all times so to raise her cool points. There was a boy sitting a chair with a perfect view of the school yard, but Misachi couldn't bare to ask him to move; Mya did it for her.

"Hey, loser," she snapped at him, "get up and move! This girl wants your seat." Misachi blinked and shook her head, but Mya was already grabbing her arm. The boy glanced up at Misachi and gasped; yes, yes, she thought, I'm too beautiful for my own good. The boy seemed to studder when Mya lowered her head and hissed something at him. The boy quickly got up and gathered his things and rushed away to sit elsewhere, but Misachi grabbed his arm.

"That's okay," she told him, glaring at Mya, "I'll just sit behind you." She made a show of releasing his arm, gently gliding a finger over his forearm. "Please. Take your seat back and ignore Mya. She's a bit cruel in the head." She walked by him then and took the not-so-great-view-of-the-yard-seat behind him. The boy flushed, glanced at a seething Mya, and returned to his seat.

Mya rolled her eyes, huffed and took the seat next to Misachi; the few other kids in class began to snicker. "Not cool," she hissed at her, "you don't just embarrass me like that! And defintely not for something as stupid as a chair."

"You're right," Mischia stated clearly, "its a stupid chair. Yes, I'd like to sit there, but not a the expense of someone else having to move. I get enough of that at home, I'd rather I didn't face it at school." She leaned over to Mya. "Just because you can, doesn't mean you should. Being so popular, doesn't mean you have to be a b***h." Her red eyes moved back and she looked at the blue-headed girl.

"If you want to be my friend," she said to Mya, still looking at her, "you'd better learn some manners."
Envelop me, Envelop me.
Embrace me, Embrace me...