Irako of the Desert
(?)Community Member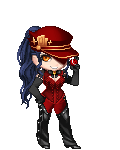 Posted: Sat, 25 Aug 2012 19:56:32 +0000
♕
BLANKSPACE
β

enjamin

S

onezaki
Today's Costume: Stefan's imaginary younger brother
Ben gave a mental sigh of relief, and shifted his Umbreon to his shoulder, where she immediately stretched out like some living neckwarmer and sighed happily. He waved his hand flippantly as he said, "Oh, you know. Earnest, kind-hearted trainers with the desire to be heroes and no idea of how horrible this job can be or the risks involved." He smiled sadly at his own words, knowing that these people were the ones most likely to be killed in action.

They reached the discreet black car that had brought them here and got in the back seat. Their guards dispersed to either go back to the local Indigo hideout or take off to give the car an aerial escort. The driver already knew their destination and began the long drive back to Cerulean. Ben picked up the locked briefcase he'd left there and opened it with his key to reveal a slim pile of folders.

"These are the files with the information our people have collected so far. You can go through them if you like." Ben knew most of those folders inside and out already, as was his custom. Normally, Stefan would have seen them before now, but Ben had tried to be considerate of his grief and given the gray-haired man freedom to roam instead of burdening him with family business.

He leaned back against the seat and remembered his own "recruitment" session. His grandfather had chosen to do as Ben now did, and tested new recruits. There had been little chance of him failing it, being the heir and all, but nervousness had still gripped him as the old man in an intimidatingly dark costume of a Banette had approached. Most of the other recruits' tests had just involved being ordered to take out one Pokemon and allow "Bill" to examine it. Ben's test was a little more complicated than that.

"Well, son. You want to join our organization, do you?"

A younger, less experienced Ben gulped and replied, "Yes, sir. Very much so... sir." It was disconcerting to see the painted zipper on his grandfather's face move with his lips, and also a bit distracting. In a distant corner of his mind, Ben wondered if the effect could be better exaggerated with a real zipper.

"Good, good. Now then..."

His grandfather's face assumed a distracted expression before a gleam of inspiration lit up his eyes.

"Ben, I want you to tell me what moves a newly-hatched Clamperl can be born with."

Ben blinked in surprise, but answered quickly and dutifully. This was followed by another question, this time about Pokemon natures. Ben answered to the best of his knowledge, which was extensive, as question after question was handed to him.

"Bill" paused for a moment, and Ben began to think the test was done. Then the old man spoke again.

"Ben... If an Indigo and a Pokemon were about to be killed and you could only save one, who would you choose?"

Ben froze in shock. He'd never thought about something like that before, and honestly didn't know what he would do. Pokemon and humans ranked equally as important in his mind, and to be forced to choose between them was an impossible task.
☾





☽