ChibiRodan
(?)Community Member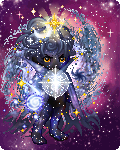 Posted: Wed, 14 Nov 2012 21:27:06 +0000
Legally I am: Murasaki Sora Brocirl
But I prefer: Sora Murasaki
This what I think:
This is what I hear:
Sora's current theme
This is where I am:
This is who I am with: Alone
Out of Control: ((

.

))




Sora tapped her foot on the ground from inside the throne room. She was tired of waiting they should have been able to get here by this point. It had been two day since she had left Annie behind. With a sigh she knew where Annie was and who she was with. None of the trainers she was with showed any potential as being a pillar at all with the exception of Sorao. Rising to her feet Sora brushed her dark raven hair away from her paper white face. Her red eyes glew unnaturally in the dim light of the graveyard tower. The girls pokemon seemed to stir awake as she moved as if her movement were a signal. A bright purple light seemed to swirl around the girl as her pokemon ran to her side. Energy crackled around her and she vanished.

Sora reappeared with a flash inside Nox Noctus. She immediately knew something was wrong because all of the pokemon inside the place were on guard. Even pokemon that were not ghost types were inside the house as if ready for some sort of siege. Skully floated up to her and began to explain the situation to her. Apparently Team Dusk had been tipped off about her house and were investigating it because they thought the Arceus Pillar may live hear. Sora began to question the contents of their forces and nearly had a heart attack. She had telaported herself into an ambush that she couldn't get herself out of. A sick and twisted laugh escaped her lips. The pokemon in the place turned their heads to look directly to her and all fell silent.

"The final battle shall take place in the attic," she declared speaking as a general before a massive army. "I don't know who leads this attack against us but I know they wish to hurt us. I will not let them do this! I want all non ghost types to the front of the house. Ghost types man the windows and all other entrances. For Nox Noctus!" A roar of pokemon howling and various pokemon crys of battle filled the house. Outside laying in wait a huge army led by a mysterious foe starred down the mansion.


Magister+Shinagami


"She cant exactly," Magister said from behind Hina. The presence of Vior pissed him of to no end. The happy pokemon was in most cases to much for him and he was unafraid to show his discontent with the presence of the pokemon. "She just is a pyschic that's why Sora took interest in her in the first place... though Sora at the moment is currently in search of the pillar of Arceaus and thought it would be far to dangerous for Annie to come along." While Magister spun his tail Shinagami thought of the images his mind had gathered. Two towers standing next to each other, an army of ghost pokemon surging from one tower and attacking the other. The tower falling amongst screams and cries. Sora walking through the rubble and sticking her sword into the team dusk members still alive and caught in the debris. Ghosts swirled around Sora as if she was some sort of demon from a nightmare.





.
((Ghostie))
((Lady))
((Ballona))
((Hime))
((Foxy))
((Fluffy))
Sora's
Home
((Birdie))
((Angel))
((Skully))
Liiroy_Jenkins
With Annie
((Shinagami))
((Magister))
Any one else on the train I forgot