Trixiehobbitz
(?)Community Member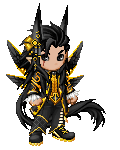 Posted: Thu, 15 Mar 2012 06:15:25 +0000
-

P

okemon

P

rofessor -
Kentaro
Maple
"And when I saw her death, I realized there was no greater evil than that which is born by witnessing someone you love die before you, and I realized to what lengths men could perform evil."
-Kentaro Maple-
▬▬▬▬▬▬▬▬▬▬
▬▬▬▬▬▬▬▬▬▬
▬▬▬▬▬▬▬▬▬▬
Time had passed by about an hour and the Professor took sharp notice to the new member of Sawyers group, Nidoran. His eyes narrowed, briefly remembering a member of her ilk what trampled his dear friend, Artemis. He regained his composure when he noticed the sun had begun to set and that everyone had meant to make camp here. Camp might seem like a good idea, but it was highly dangerous given the circumstances. After all, even his once pristine white lab coat was now filthy with dirt and torn edges. He took quick note of the surroundings, there was a nearby stream just deep enough to fish in. It was one of those unexpectantly deep streams for it's size and you couldn't quite see the bottom. Were they planning to fish? How long exactly did they plan on staying here? Gathering food beyond berries was a dangerous task and sometimes that would even be too great a risk since many Pokemon ate berries as well. It didn't take him long to seek out Aiden, who seemed to be orchestrating the idea of camping and fishing here.

When the Professor walked up behind her from the shadows of tree-cover; he didn't seem to be in a pleasant mood. His stride as he walked by the others and straight to Aiden was rigid and rushed, "We're camping? For how long?" He asked hurriedly, "and that river? What exactly do you intend to catch...?" he said pointing directly at it without looking, he kept his scolding down to muffled noise outside the two in the conversation and Houndour who'd surely have to listen to it thanks to his acute sense of hearing. "Viridian is a stones throw away and I'm all for gathering food but, to camp near a water source in these times is assuredly a quick way into Dusknoir's company," he said, his voice obviously tense. "Honestly, don't you understand. We just passed a patch of Oran berries an hour ago and now we're at a water-source, I don't care what sickness a Pokemon has it will always need food and water and you just camped us out smack dab in the middle of an open forest!" He said as he raised his voice. He struggled to maintain his composure and he began to settle down although still visibly agitated. "Honestly, you just need to think. Everything has changed. A stream like that is just as much home for a Golduck with the virus as is my Lab for that Parasect we saw earlier today; which might I add you were lucky to escape from with your lives." He stressed, a very minute sliver of concern deep in his throat as he said it. It wasn't that he didn't care of course, but with the stress the Virus brought upon him and the stress of recently losing the closest thing to a cure there was he just couldn't stand seeing stupid mistakes occur. Stupidity got you killed. He caught his own tongue though, perhaps too late as he'd realized he'd shown a bit of his old colors in being concerned for the lot. "Whatever, just do what you want," he pouted, turning on his heel so sharply as he walked away that his coat flicked as if to snap at her. His direction was towards the stream, presumably he went there to stand guard because once he got there he released a very dignified looking Pokemon. Most of it was Jet Black and trimmed with a Metallic Blue sheen which tended to form a blade wherever it covered. On it's turned away face, a grand yellow like appendage shot from the top portion of a beak that looked like an Emperors Crown. It was Poseidon, one of Maples most trained Pokemon.
▬▬▬▬▬▬▬▬▬▬
▬▬▬▬▬▬▬▬▬▬
▬▬▬▬▬▬▬▬▬▬
"Do you know what it's like to have your pokemon die?"