Hiwa Kaoru
(?)Community Member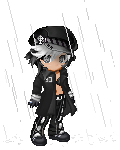 Posted: Sun, 19 Aug 2012 11:32:22 +0000
Avast ye dogs! The
Pirate Queen
hath arrived!!
✧ ✧ ✧ ✧ ✧ ✧ ✧ ✧ ✧ ✧ ✧ ✧ ✧
Location:
Shirio Tsuki Café
x
Mood:
Fire all guns!

Despite the pirate's most earnest attempts to revitalise the two, it was all done in vain. No amount of poking, prodding, and shaking would unpetrify them. And they weren't the only ones petrified anyway. Eugene—or rather, the strange-looking thing that had replaced Eugene—suddenly blasted two of her classmates to pieces with only a flick. The gale shattered the statues, leaving only rubble. Seotta's grip on Lina's frozen, stone arm weakened.

What is this place? she suddenly, randomly found herself asking. It was the café, yes, but monochrome. It made no sense. Some of them were stone, others not. Eugene was gone, replaced with this monstrous, twelve-foot tall creature. What most worried her was that it had just blown two of the stone statues to smitherens with but a wave of its arm. That was not good. Lina and Symphony were stone, too! She didn't want that think blowing them up as well.

"

Temee,

" came a shout from one of the other still colored café patrons. "

Shinde yagaru!

"

It brought Seotta back to what was actually going on, but that might not have been a good thing. While a few of those not already stone might have been trembling in fear, it didn't seem like everyone had lost their nerve quite yet. Neither had Seotta. She wasn't scared for herself, but worried about fixing the fact her friends were now stone. This bizarro café itself was only a secondary matter. After all, if they got here there had to be a way back, no? She didn't think about it at all. She never thought.

Sypher was busy above her trying to think, to analyze. Akira and Zoey were more struck with fear, as were apparently the majority of her fellow technicolor cast. Was she scared? No, she told herself. I'm pissed! These last few seconds passed like an eternity in her head, but the next three went by in a flash.

Kazune simply brashly attacked the behemoth creation in a fit of rage at what it, apparently, had done to their classmates. And while she was midkick, the demonic presence would find another young woman brashly attacking it. Seotta had risen in a flash from her position kneeling below Sypher. Three rapid and long steps. An athletic jump followed, and she was in the air planting a dropkick on the pyramidal base of their strange enemy on the side opposite of the waitress. Naturally, she didn't do much superficial damage, but she hadn't exactly planned out the course of action. Instinct was in control of her, as it really always was.

"

Fix them!!

" came an anguished scream as she kicked off bizarro-Eugene's base and landed crouching a few feet away."

Fix them right now... you... stupid thing barnacle!

"

Not the most eloquent insult ever, but could you blame her?

The pirate girl and Kazune's impromtu combination attack was succeeded moments later by another pair of attackers. Sypher had quit trying to think and simply went along with the two girls' decision to shoot first and ask questions later. The tall worker had grabbed a nearby chair and swung the wooden furniture into bizarro-Eugene. A mystery blond had decided that was as good a plan as any, and seconds later yet another chair came crashing into the strange creature in front of them.

Seotta's expression, which had briefly been an angered scowl, now turned into a cocky grin. She didn't know what this place was, or what it was they were trying to hurt, but it didn't matter. Thinking was for smart people who had time. This thing just blew up two of their classmates, and would probably continue doing so if not attacking the unpetrified ones among them. That meant do something. Do anything!

Katsumi suddenly sprung, or rather skated, in with a sugary topping. "

Run for it while the cake's blinded it!

"

Seotta had to do a double take. What the hell was that going to do to the thing? Did it even use eyes? She guessed it had them, but this was some kind of magical-creature-monster thing with a mouth on its chest! Normal logic didn't apply; though Seotta wasn't exactly the most frequent user of said logic. Still, Seotta couldn't believe Katsumi was suggesting they run. What kind of—

"

Coward!

" she finished her train of thought aloud.

Standing up, her golden-brown eyes gazed directly at her pervert classmate with an incredulous expression of utter disbelief. How could someone suggest running? It didn't even occur to Seotta that most people cared more for their own life than that of others'. Self-preservation was a high priority for most people, after all. But Seotta wasn't quite a girl you'd describe as most people, or normal; idiot and airhead were more common titles bequeathed her. She was very much more the kind of person who recklessly acted without thinking. So, therefore, she could not for the life of her compute trying to run here as a valid alternative; running meant abandoning their classmates, which was about as far into this whole situation as she was willing to use brainpower on.

Seotta knew no fear, for better or worse.