thegreat_hikari-chan
(?)Community Member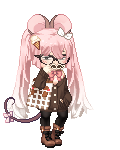 Posted: Mon, 28 Jan 2013 02:35:46 +0000
___

Miku was pleased to know her siblings would be taken care of while she would be gone. Since she's a jounin she has been on many missions requiring her to leave Chou and Ryou alone. Only a few times they followed her and each of those times she had to save their butts. They really were lacking experience. If only they would grow up. Miku allowed her comrade Fujitaka to lecture them after Ryou's bratty remark. Then just as Katsu, another friend of their swordsmen group, entered the office a pleased smile showed on her face upon hearing Fujitaka insist that Katsu train the twins. Of course it didn't please the twins as it did for Miku.

"

Wahh...but Katsu-san is suuuper strong.

" Ryou whined as he finished the entire bowl of candy. Did he even share a piece with Chou? The little girl held her doll up to her nose in a frighten manner. Both twins did not enjoy the fact Katsu would be training them while Miku is on duty. However it wasn't entirely because they didn't want to train but because since their foster parents disappeared they've lost all confidence in their abilities. Even though Miku was working hard, not even Ryou wanted to stand up like a man and help out.



___

Clear that neither of the twins wanted to be tutored made Miku sigh and disappointed. She's been trying to get them to take the chuunin exams because she knew they had potential. But it seems their incident has caused them to hold back. Miku was alone to take care of them. "

Fujitaka-san is right you guys. This village is in a dire situation..you can't be babies anymore.

" she said softly. Looking over at Katsu she forced on a smile. It was reassuring to hear he'd take them under his wing anyways. "

Thank you so much Katsu-san. I apologize in advance for this inconvenience.

" she bowed respectfully towards him. "

And I don't mind at all. But go a little easy on Chou please. Just a tiny bit, haha. You can be rough on Ryou,

" she said with a light chuckle.

"

Hey! That's so not fair Miku-nee!

" the boy failed his arms in frustration. Obviously the real child was him. As for Chou she nodded in response, having understood the situation. Obviously the more mature one was her. Chou walked up to Katsu, tugging at his sleeve. When she got his attention she bowed down before raising back up and saying, "

Thank you..

" then she hid her face with her doll in embarrassment. Ryou pouted, feeling he was a bad guy now. He crossed his arms over his chest with his cheeks puffed out. "

If Chou is okay then I am too..

" he said then grinned playfully. He hopped over to Katsu as well and bowed too. "

Thanks for accepting us, Katsu-sensei!

" he rose up and held out a hand to Chou for a high-five. She did so and in unison they cheered, "Oh!

Let's do our best Chou!

Don't be lazy Ryou-nii..

"



___

Miku giggled, seeing the two pumped up for once. Hopefully something could spark inside of them. By the time she returns she'd have to see how much they've improved.