Glorious Captain Steve
(?)Community Member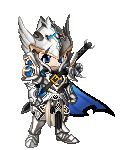 Posted: Sun, 06 Nov 2011 00:45:10 +0000
"I'm like a freaking dead people factory."
__ ____ ______ ________________________________________________________ ______ ____ __

Owyn leaned on the railings that separated him from the holographic Galaxy Map and peeredout over the crowd of people that slowly formed. With the final appearance of their new engineer: Ryan and a few others, the crowd finished gathering. Owyn breathed in deeply, before starting his speech with

"I don't have to remind any of you what's happened. You've all been branded criminals, and it would've seemed better to take the easy way out and hide like I did. First of all, I'd like to thank each and every one of you for staying on this ship."

as he finished this segment, Owyn leaned back and gazed to the ground, reflecting on his past year spent in solitude, turning to drink and smoke, forgetting who he was. He looked back up to the crowd and straightened his posture, letting go of the rails.

"Now is the worst time for any of us to be alone."



A few short seconds passed before the Captain spoke again.

"We've been branded, treated and hunted like criminals. But the last thing we'll become is criminals."

Owyn started ambiguously, before continuing.

"Sure, we've been given a lot of freedom to do things our own way, but I won't accept any of that on this ship."

Owyn folded his arms and held his head up high, looking down on his crew. "I am a military soldier. As all of you have been at some point in the past. This is a military ship. It always has been and it always will be. And we are going to run it like a military ship. The way it always has and always will be run." Owyn brought his hands down and interlocked them behind his back, level with his backside.

"I won't be taking any insubordinate s**t. If I get any problems, I'll deal with them brutally."



Owyn stayed in his straight stance while he spoke, getting more and more fiery with each word. "We've been betrayed. Pushed to our very limits in more ways than one while a madman gets praised in our name! And the man who did it, the man who played us for fools is being hailed as a hero for betraying the entire Galaxy and assaulting the Citadel! Everyone thinks it's all over and that they just have to kill us to solve it all, but HELL NO is it over!" yelled Owyn, grabbing the rail with one hand and punching it with the other.

"That son of a whore is planning something, something bigger! And his new Spectre status is just helping him!"

Owyn straightened up again, breathing to keep himself marginally calm.

"Whatever it is, it won't go down. Ladies and gentlemen, after all that's happened I ask you one final favour: Stay with me while we try to murder a false hero. Dismissed."

finished the Spectre as the crew went off to do their daily routine and Skipper returned to the elevator, up to his quarters.

Putting himself in a much happier mood after letting that gas out, Owyn changed from his armour to his casuals -- wow, he hadn't worn these in a while. It felt... right -- and smiled. Picking up his glasses case and putting it in his pocket as he moved, Owyn ventured back to the elevator and then down it to the CIC. Emerging from it and going down a set of stairs, he was acknowledged by a young blonde recruit who marched past him with a datapad.

"Captain."

was her word, and it made Owyn linger on her as she walked away with an eyebrow raised. That was the first time he'd been called that in an official manner for... well over a year. It made him happy. It made him feel right. With a new spring in his step, he set off down the corridors absent-mindedly, letting his mind wander.

__ ____ ______ ________________________________________________________ ______ ____ __
Where is he? SSV Amazon, CIC
And who's he with? Whoever
__ ____ ______ ________________________________________________________ ______ ____ __