Specter Flux
(?)Community Member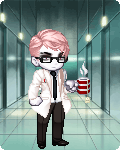 Posted: Wed, 02 Nov 2011 23:44:56 +0000
-
R ʏ ᴀ ɴ

--

W ᴀ ʀ ᴅ

─────────────────
noli me vocare, ego te vocabo
[apt]
"Just wanted to say 'Hello, I'm Ryan,' so we could break off the staring before it got monotonous."
He spoke to the vorcha without a hint of annoyance in his voice despite the suspicion rather evidently directed his way. Before he could comment on the broader reason for his following Nali over, his attention was torn yet again into the ring as the last several hits went down. Strangely, neither of the combatants wound up dead, though they were both seriously worse for wear. Even more strangely, it was the human who had triumphed, and just to keep the what-the-hell meter skyrocketing, Owyn Skipper still had it in him to make wisecracks. Ryan was fairly certain that after surviving anything remotely like that, he would scarcely have managed an internal monologue about how
lucky lucky lucky
he was today.
[apt]
The question was moot, of course, since he would rather definitely have died. But hey. That was why he didn't jump into arenas with angry krogans. He turned back to the vorcha, train of thought now thoroughly interrupted, but with a distant recollection that he had been attempting to introduce himself, and managed to mostly replace his current look of astonishment with the original half-smile.
"So hello,"
he said.
"I'm Ryan."
As tempting as it was to respond with an offhand comment to some of the things the others were saying, he managed to resist. In the first place, they weren't exactly talking to him and he didn't exactly want to annoy them before working with them.



[apt]

And in the second place, he was pretty sure anything he attempted to say in that direction would come out along the lines of 'How exactly are you still standing?'
─────────────────
exitus acta probat