DrAshFjorde
(?)Community Member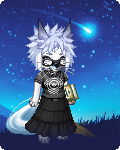 Posted: Thu, 31 Jan 2013 04:21:06 +0000
May found herself torn, wondering what she should do. Having never been in such a situation, she found herself freezing up as she weighed the pros and cons of what she should do.
Above her, the Green Goblin smiled behind his mask and seeing that the wannabe was actually thinking about what he'd said, he suddenly cackled out, "Times up!" and flying higher, he started heading away, screeching out, "I think I'll just drop them," and pressing on the remote, he reached down for a couple grenades, deciding that forcing the wannabe into action was so much better
Snapping back to the present, hearing what the Green Goblin was saying, May Parker stepped back into the shadows without even thinking and teleporting to a new location, she sent a line of webbing out. Pulling herself into the air, she brought a globe of shadows down around her, protecting her identity from any that might be watching and seeing the hell-spawn flying in the direction he had indicated, she began to move.
As he flew over the city, the Green Goblin casually glanced back and noting that the wannabe was following him, he called out, "Decided to let them die?" as he threw the grenade he was holding and relished when it exploded the moment it hit a rooftop.
Unable to hear what was being shouted on her, May Parker concentrated on her course. Diverting slightly, she prayed that she had enough time. Finding more shadows, she once again teleported herself to a new location. Finding more shadows, she did it again. Sending out another line of webbing, she began to alternate her mode of transportation between using the shadows and the webbing that came out of her wrists.
Cackling, the Green Goblin watched as the blob of darkness, which he knew the wannabe had enveloped herself in, moved quickly across the city, pulling slowly away and to his left. Throwing another grenade, he screeched out, "Better hurry," and than began to cackle.
As she moved, May heard the sounds of explosions and silently hoping that the damage from whatever the hell-spawn threw wasn't to severe, she also prayed that she would reach the two captives in time. Pausing briefly to look about, she spied two free-falling figures and sending out a line of webbing she began to quickly zip towards the falling people. Gaining height, she began to let herself fall and the moment she was within suitable distance, she shot out a line of webbing, not really paying attention who she caught first.