Shisei Tenshi
(?)Community Member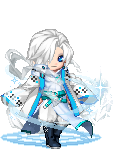 Posted: Thu, 27 Feb 2014 16:40:24 +0000

I Am: Lv. 3 Medic Exp. 1000 EXP Needed For Next Level: 500 EXP
Health:

█

█

█

█

█

█

█

█

█

█

█

█

█

█

█

█

█

█

█

█

600/600 Status: Normal


I'm With: PoH, Geki, Keiyo, and Itsuki
I'm Doing: Venturing deeper in the the dungeon
My Inventory: Equipped: Two Handed Staff, Cloth Armor. Misc: HP Potion 30% X 12 AntiVenom X 10 Money: 00
OOC: Had bad asthma attack yesterday so I didn't get online. I'm feeling better today so I'm going to catch up. Thankfully didn't miss too much.

Ca
n
i
as
... Just call me

Cai

.
Cai was relieved that Keiyo allowed Itsuki to join them and then shortly after the group started into the dungeon. Cai took the back row holding his staff up in a guard position as he heard Itsuki warn about enemies ahead. He was constantly watching the health bars of his teammates while looking for enemies that maybe hiding to ambush as they went into the room. Cai watched as Itsuki took on the skeletons with quick sword strikes and deflections until only one remained. Geki stepped forward slicing the last skeleton down the middle causing it to vanish while granting him a level up. PoH had attempted to finish the skeleton with a throwing knife a half second too slow and Cai had to look away as the knife went racing towards Geki missing him by a few centimeters. PoH retrieved her weapon asking why her help was needed. Cai was starting to feel the same way, but hoped there would be a chance for him to help out too sooner or later. "Well done. That was quite impressive. There's hardly a scratch on either of you." Cai said trying to encourage his teammates. He was surprised how strong they were even though there was only a few levels difference between them. The Medic class did have it's disadvantages when it came to stats and close combat, but his specialty came more so during tough battles or after everything was finished to patch up the battle scars.

"I wonder how many rooms there are until we find that miniboss... and the Mandrakes." Cai hoped the right herbs showed up after venturing so far in. It would be a total drag if only Bloodmoss or Grassweed was found. Grassweed was often found in wide open fields in shaded areas while Bloodmoss could be found near rivers or small bodies of water. Mandrakes however were only found in dungeons, and more abundantly in the harder floors of such. He already had quite a stock of Bloodmoss and Grassweed back home so if he did find some Mandrakes he could whip up a batch of twenty potions to tide him over for awhile. Maybe he could make a few potions for his party mates as well in exchange for their help. Sadly that would be all he could offer since he had no money with him. Cai became so wrapped up in thinking about the herbs he started to fall slightly behind faintly hearing Itsuki mention he had not ventured further than where they currently stood and Geki had never been in a dungeon before. At least Cai wasn't the only first timer, which gave him a little more comfort. "Yes potion making is one of my class skills, but I'll need to get the herbs first. If you want I can teach you how to make better potions PoH. I have an idea about how to improve them further so your welcome to help if you want. After we get out of here of course." Cai was glad to find someone else interested in making medicine.