Caomhnoir Angel
(?)Community Member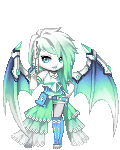 Divine Angel
21,900 Points
100

100
Posted: Wed, 08 Aug 2012 18:15:15 +0000
Team Rocket's Reign of Terror
to Invoke Understanding and Compassion for their fellow pokemon
and to unite all people within their nation
This is the world of Pokemon. The delicate balance between humans and pokemon is about to be destroyed. With the fall of Giovanni, Team Rocket was said to have been broken apart, its members disappearing into everyday society to blend in until once again the organization built on crime would rise. That time has come. A new leader has come forward, calling upon all former members to rejoin Team Rocket and face the challenge of once again attempting to dominate the world.
This leader is much different from Giovanni however. He is sneakier, more evil, and colder than Giovanni could have ever been before Red came along. Using the vast resources brought to him by the loyal Team Rocket scientists, the new leader of Team Rocket has started up a research project. Pokemon Hybrids. The experiment: to fuse a pokemon with a human. The idea was revolutionary among Team Rocket members. Some thought the idea was absolutely ridiculous, others thought it was sheer genius.
Team Rocket managed to stay under the radar of the police forces throughout the world, but recent escapades has brought it out into the public eye. With a large number of humans, both well-known trainers and local trainers alike, being kidnapped, as well as their pokemon, the police have begun to investigate Team Rocket, sending in spies and detectives to force the secrets out. However...none of them have returned. Just what is going on inside Team Rocket and just where have they all gone?
Directory
- Introduction //You are here//
-
Rules
-
How To Submit A Profile
-
Our Story So Far...
-
Team Rocket Member Ranks
-
Team Rocket Pokemon
-
Team Rocket Announcements
-
Team Rocket Base Layout
,
-
Mountain Range Layout
-
Hearthome Layout
-
Locations of all roleplay characters
-
Announcements Regarding Posting
-
Banners to attract new roleplayers
-
How to file a complaint
Colosseum or XD or mystery dungeons have no reference here at this point in time. Please stick to red/blue/yellow, silver/gold/crystal, ruby/sapphire/emerald, pearl/diamond/platinum, rubyred/emerald green, soulsilver/heartgold, black/white, black2/white2 for character referrals or references. I do not mind if your character is from the REGIONS of colosseums or mystery dungeons (if that's applicable), just nothing Team Rocket or other Teams can be derived from there to further influence your character at this time. Subject may be changed at a later date, just at this time, nothing that those lines of games references are subject to be approved here.
This is in no way shape or form intended to be a ripoff from Cherryblossomgoodbye's thread "Is This To Be My Destiny?". It is affiliated to it but not actually a part of her storyline. I do have her permission to tag this as such, which is why it's called "Is This To Be My Destiny?

Space, Sea,

Quest Division". The way it is run is similar to hers as we are sisters and why fix what isn't broken? Her thread (now burnchris' thread) and mine may or may not connect in the future. We shall see where the roads lead us.