Tallybonker
(?)Community Member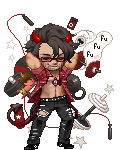 Posted: Fri, 17 Aug 2012 02:34:49 +0000
a
u
t
h
o
r


xxxxxx

thoughts ;



xxxxxxxxxxx

|

My head is killing me. Maybe I should sleep

xxxxxxxxxxxx

more...
xxxxxx
company ;
xxxxxxxxxxx

|

I'm expecting someone. Does that count?
xxxxxx
location ;
xxxxxxxxxxx

|

In front of the library.
v
i
o
l
i
n



мιcнαel

☁

frederick

☁

cσσρεя




LIBRARIAN'S ASSISTANT


Michael, or Freddie as he preferred to be called, woke up with a start. Something, or someone, had snapped him out of his peaceful slumber. His eyes opened to streams of light peeking through a thin curtain. Scrunching up his face, he turned it to the left, away from the window. Lying there, he lifted his arm to blindly search for something that would help him cover his eyes. He found nothing, though, and he wondered what the hell had happened to his pillow. His body begged his brain to relax and let him sleep, and ignore whatever was making that annoying, thumping noise. Perhaps even go back into his little dream world... Yet, what on Earth was he dreaming about this time? Dammit. Something about rainbow-coloured spells? He remembered a winged hedgehog, but, really, he could make nothing out of that. He somehow managed to move his left hand and brought it up to his face. Since it was morning, he didn't have the strength to do normal human things, but one of the first actions he took, before brushing or freshening up for the day, was to scratch the corners of his eyes. Rheum. Rheum was the word for the crusty stuff that formed there. Some people knew it as 'eye goop'. Honestly, that term irritated him. He would rather not have goop coming out of his precious eyes. Bringing up his head, he gave a long yawn. Oh, it felt good to stretch out his jaw - nothing like early morning stretching - and so he extended his arms in tow. Freddie tried to blink away the drowsiness and it seemed to work. Excellent. Progress made.

What next? He shook his head and breathed in deeply. Done: he was awake. Now, move. He tried sitting up but only reached halfway before falling back onto the table. Wait, what? He straightened up, a bit surprised to realise that he wasn't in his bed or on his couch. Well, no wonder his neck hurt; tables weren't a very comfortable place to fall asleep on. Then again, this wasn't the first time he'd dozed off while in a streak of inspiration and it certainly wouldn't be the last. He still had to get up. He made a second attempt, but failed once more. No, that won't do. Again. He succeeded this time and, yawning, he somehow managed to get to his feet without stumbling around his room. His clumsy movements shook the table a bit and pencils and papers dropped to the ground. Michael stared at them for a couple of moments before sighing. Nah, he would take care of them later. It was still too early to start bending down and picking stuff up.

He stepped towards his bathroom and the world spun around him. Michael felt his knees buckle under his weight and he has to grip the table to stay on his feet. With his other head, he held his head. Why was he just noticing now that it was pounding madly? It was killing him! Just how much had he had to drink last night? How in the world did he even manage to get home? At least Manuel had Mari to help him, while Freddie had no one. It was a miracle that he hadn't passed out on the road. With the world still spinning, the blond dragged himself towards the kitchen and started making himself a coffee. He would need one because he swore his hangover was out to murder him. While he waited for the water to boil, he closed his eyes shut and pinched the bridge of his nose. He remembered greeting Eileen goodbye and wishing desperately that he could invite her along. Eileen wasn't the drinking type, though, so he decided against it and, besides, he didn't like the idea of being drunk in front of her. He headed for the tavern and, as always, joined Manuel for a drink - Manuel! That idiot!

"I'm going to kill him,"

Michael muttered to himself but the sound of his own voice was too much for his head to bear.

"Oh God..."

If it hadn't been that idiot's birthday, then maybe he wouldn't have drunk so much. Celebrating New Year's Eve was one thing, but to add in a birthday...? No wonder he felt his head was splitting open! Manuel was drinking and Harley, and a vaguely familiar-looking kid, and he thought he saw Mari... and, of course, Campbell. At least, the butler had loosened up a little. Michael wondered how he was faring right now; better than him in any case. He almost dropped to his knees in pain when the water boiled and the kettle let out an ear-shattering whistle. He was going to kill Manuel.

Ten minutes later, he was walking out his house, showered and looking better, a toast in hand. He'd downed his coffee in one gulp and threw on the best looking clothes he could find. He didn't brush his hair because that would be a waste of time. He had a schedule to adhere to, if his calculations weren't mistaken. Fortunately for him and his throbbing head, the library was practically across the street. Ungracefully, he plopped down in front of the library's door, leaning against it, one leg outstretched and one hand resting on his flexed knee. Now he just had to wait. If he knew her as well as he thought, Eileen would show up any minute now. She wouldn't go to the festival so early because the library always came first. She would take advantage of the fact that everyone would be down there enjoying the festivities and she would come to her second home, where Michael was now waiting. He would be brave and he would ask her to spend the festival with him.

He would be brave.

Brave.

A knight in shining armour.

Courage, Freddie.

He fell back asleep.


B I R D S E Y E
xxxx
V I E W
awake the stars 'cause they're all around you
Wide eyes will always brighten the blue
Chase your dreams, and remember me, sweet bravery
'Cause after all those wings will take you up so high