karama_the_fox_demon rolled 3 12-sided dice: 4, 4, 5 Total: 13 (3-36)
karama_the_fox_demon
(?)Community Member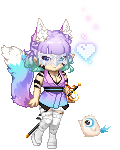 Posted: Sat, 25 Aug 2012 21:28:30 +0000
▄▄▄▄

▄▄▄▄▄▄▄▄▄▄▄▄▄▄▄▄▄▄▄▄▄▄▄▄▄▄▄▄▄▄▄▄▄▄▄▄▄▄▄▄▄▄▄▄




Location

:

outside the Gym

With

:

Daniel and Nanami

Feeling

:

Calm and Collected

Health Level ■■■■■■■■■■ 100%

Stamina Level ■■■■■■■■■■ 96 %

Weapon (wooden Sword) ■■■■■■■■■■ 96%

Battery Power ■■■■■■■■■■ 95%




But I'm

not

giving in!

XXXX

▄▄▄▄▄▄▄▄▄▄▄▄▄▄▄▄▄▄▄▄▄▄▄▄▄▄▄▄▄▄▄▄▄▄▄▄▄▄▄▄▄▄▄▄




"Well one this is for sure these things are not all that fast"

Scarlet said more to herself then to the young man on the other end of the phone call before sliding the club door open

"Try to keep moving if you can Duncan and I shall see what I can do about meeting up with you."

The young lady added as she walked out of the kendo room her blue gaze scanning her surroundings carefully. It worse then she had thought with all the students that had gone screaming outside the number of these things had only increased outside.

'Well then let's get started shall we miss scarlet'

the pink haired senior thought as she left the safety of the kendo room pulling the door shut behind her to insure that if anyone else thought to go into the room for a weapon they wouldn't have to worry about any of the undead being inside. So with her wooden sword held with well practiced ease in her hand as she weaved through the undead not even bothering to use her sword until it proved necessary. Right now she was more than capable of avoiding the things nightmare or not, that didn't make these things smart.

It was as the young woman was moving along that her attention was drawn to a group of the zombies that seemed to moving towards one location just outside the Sophomore and Freshman building. Catching a glimpse of a brief glimpse of a few students. With her sword held in both hands the woman swung the wooden blade down onto the nearest zombie's skull as she reached the fallen classmate. Blood sprayed through the air as she pulled it free in order to spin around and deliver a hard blow to another zombie's face ignoring the blood that covered her clothing.

" the young lady is right get moving before you become lunch"

Scarlet said calmly as she glanced over at Daniel and the young woman briefly before turning her attention back to their undead company. How did you kill something that was already dead? The blows to the skull seemed to have dealt well with two she had hit but she didn't want to take any chances, She would lend a hand to these guys then see if she could find Duncan.