yin-chan_13
(?)Community Member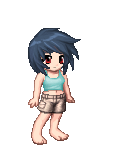 Posted: Thu, 20 Sep 2012 05:14:25 +0000
~Story~
Earth is at relative peace, countries still have their squabbles but no wars have waged for along time. Humans with unnatural abilities have started appearing throughout the world, they have abilities such as flight, control of the elements, and more. These super humans live amongst others as if nothing has changed, some of them keeping the peace in their cities, states and countries. Whereas their darker counterparts create chaos wherever they go, however they aren't the threat this time. An alien race known as the Kripti have descended and declared that they will take the Earth for their own, destroying any who stand in their way. The Earth's only hope is the cooperation of the heroes and villains to save their world. Will you be a hero or a villain? And do you join forces to rid the planet of its invaders or aid in its destruction?
~Rules~
* No god-modding, yes god-like powers come with the territory but you're NOT invincible!!! -holds up Doomsday movie- Not even Superman is! So everyone wins, loses, and has sounds to pick afterwards....unless you sissy fight or play chess.
* No bright hard to read colors!!! Colors like
yellow
are unacceptable since no one can read them, see how annoying it is?! Pink is ok.
* I love to see your pretty pictures! Decorations are enjoyed, leaving it blank is completely fine too, to say their own. Just don't overdo it to where the decorations are bigger than the actual posts!
* Please post your ACCEPTED profiles to the thread which I wil provide below. My friend Iceman elementals who is the one who thought of a role play like this will help with the skeleton, all bios must be sent to him or I titled "I'm here to help" for heroes, "Muahahaha!!!" for villains, and " ...Get out of my way" for anti-heroes.
* I'm not yet sure about the aliens, for now I think it would be best to just have them be controlled by anyone and have leaders controlled by Iceman and I, from experience those who play the main anarchists tend to have the least to do and have no fun.
* Before I forget! All non-character talk must be put in an ooc like (()), [[]], **, or whatever it is you use. Also please no ooc only posts, those build up too fast.
* Romance and violence encouraged, just don't go too far. Pressuring a character to love yours or killing off someone's person without permission is prohibited and frowned upon! If the person wishes for their person to die please inform Iceman and I beforehand so we have a heads up.
* Also, warn us if you will be absent for a while. Posting at least a few times a week would be great, I understand life gets crazy but please tell us beforehand if possible. If you're gone too long we will send a warning, after a week or more is when we push your person aside so anyone held up can move along.
* Finally, just have fun! Obviously no sex or extreme gore, I will not tolerate this role play being banned by a bunch of horny idiots! If it gets to that which I can assume it definitely will sooner or later, please lock the door and either time skip or move to the pms for anything kinky.