Project DT88
(?)Community Member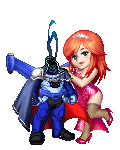 Posted: Sun, 03 Feb 2013 03:48:48 +0000
| Magical Energy
xxxXixxxx
177/2000
(
)
| Magic Poisoning
xxxxxxxx
70%
(
+70%
from Power mark Drain
)
| Mystic Power Energy
xxix
18000/25000
(
-7000
Transferred into Lacrima
)
| World Drain Rate
xxxxxxx
0pt / minute (
)
| Poisoning Rate
xxxxxxxxx
-19.38% / minute
(
)
| Condition:
xxxxxxixxxxxx
Perfect - Moderate Poisoning
Enhancement Magic (-None-)
-------------------------------------------------------------------------------------
Sakura felt the anklet come off and in a instant Ammy was back
"Sakura!!! Sakura! Oh thank God your alright!"
she sent to Sakura.
I'm fine... Mom and Papa's counterparts saved me
she sent back before hearing Shihona ask if she could keep it. After thinking for a moment she nodded with a smile, saying
"That's fine, you can have it. Thank you for getting it of M-.. Shihona"
she said blushing a bit as she almost called the woman Mom. What she had heard about the situation disturbed her a bit. Things were bad over here with the country and such. When she seemed shocked about Earthland's Arthas and Shihona and asked if they were married she shook her head but explained.
"Not yet, but on my world you two are dating and in love, Pa-... Arthas adopted me when I was 4 and only 6 months ago did you two start dating. But Shihona said it was alright if I call her Mom so I know it is only a matter of time before they get married."
she explained before looking down at the unconscious bodies and finding 2 Lacrima they had not grabbed.
"I don't have anything to give you in thanks, but..."
she said as she grabbed the Lacrima and started to draw from her power mark and flooded the magic into the Lacrima. The Lacrima started to glow brighter and brighter until they were like shards of light.
"Here, I have filled these to the brink with my magic. If you use the magic in them only on occasions they should last you a few years..."
she said as she handed them to her parent's counterparts with unsteady hands. Her complexion had changed on the few seconds it took her to charge the Lacrima, he was now pale and looked frail. She felt dizzy as drawing magic from the power mark was not something she should do and her magic poisoning was back in force. She could feel her amulet warm against her chest, it was preparing to send out the Siren's call to warn all those who can help her that she is in danger. However without magic in this world her world drain wasn't working, and with her magic at this level she would feel better in 4 minutes. Regardless though she was very week now.
"By the way... Do you know anyone important by the name of Kyo. I need to find him. He took 3 of my friends and one of them is injured... That was where I was running to when the soldiers jumped me..."
she explained. She had lost track of them when the Anklet was put on and it would take her time to lock onto Kraehe's magic again and it would know what she might be up against.
-------------------------------------------------------------------------------------

Where am I dying: Edolas
Who am I dying with: Earthlander wizards, Edo-Stella, Vigilante, Edolas Soldiers
How I'm feeling while Dying: Enraged