l0kk1
(?)Community Member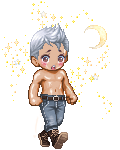 Posted: Thu, 24 Jan 2013 22:57:49 +0000
The Ð

ragon
┏━━━━━━━━━━━━━━━━━┓
♫
>>><<<
유
┗━━━━━━━━━━━━━━━━━┛
↘↘
ι will

break

it

(

down

)

for you

i

↻

i

and get a lil'

d !v a

xxxi
ʜi 【

κonichiwa

】 คre you a

believer

?
x
✗✗
╒ ═
═ ═
═ ═
═ ═
═ ═
═ ═
═ ═
═ ═
═ ═
═ ═ »
text TEXT

Talen rolled over in his bed. Oh, how bad did he want to open his eyes. Though he knew all to well not too. The teen could hear his mother as she made her way threw her morning routine. That was one good thing about living in an apartment, the walls were so easy to hear threw. Well, or maybe that was the curse. After all the boy did have enhanced senses. Why did his mother not know this by now? Either way at least he still had the advantage. She wanted him to stay inside for the rest of his life... or well until the curse was broken -

"Yeah! Right!"

So, everyday the teen waited in his bed acting as if he was asleep. Though it was only until the moment he heard the main door lock. Right as the click of the lock sounded off the brown haired boy jumped out of bed and started his day. After all he had until one o'clock, He had to be back at that exact time. Today, however he had all the time in the world. His Grandmother who also subbed as Mr. Home-School teacher was out for vacation and his mother didn't get off until five in the afternoon. Who cares if it was raining outside, Talen had the whole day to himself without that one o'clock curfew called school.



text TEXT

The teen quickly bounced over to the shower. Washing his body quickly with the tons of suds and bubbles that formed from the soap. His thick hair drenched from the water that was falling over his tiny frame.

"Got to Hurry ... Got to Hurry... "

Talen mumbled as he danced around shaking his butt. Once he was all clean the teen hopped out of the shower, turned the water off and raced to put on his outfit. He didn't even matter that he was soaken wet, it was raining outside. However that wasn't at all the reason, for as he ran back in his room. Part of him concentrated and in doing the teen was able to activate his gift. "If you could even call it that.. " The water from his body started to steam off of him as he raised the heat in his body.

"All dry!"

he chirped. Still dancing around hopping back and forth slowly but in a fast manner the boy was dressed.



text TEXT

Stepping out into the rain Talen pulled his hood snug over his head. The weather out seemed like it was only getting worse. Being that New York City wasn't the cleanest place on earth, trash was being blown too and fro. Several times a newspaper would get caught between the boys legs. Talen actually had a special mission today. If his mother wouldn't let him learn about the curse he was going to try and find out everything he could. Besides there were others like him out there, did they know yet.. more than likely but what if they didn't. Plus his mother was convinced if the government found out they would do cruel things to Talen and the others. After all according to his mother the government still has aliens!



text TEXT

Taking a stop at an intersection the teen felt his stomach growl.

"That's what I forgot.."

he thought with a roll of his eyes. Looking around before he crossed the street Talen spotted a small sushi restaurant. That was immediately his destination after all raw fish was practically his preference when finding noms. The teen ran across the street and threw the rain into the tiny restaurant. His bright eyes flashed up as he took put his hood down. The smell of the fish was in air which only made the boy's belly growl more.

"Yum.. "

Those words slowly escaped his lips as he sat at the sushi bar. Of coarse he wouldn't get any Saki, being that he was alone... but the place hardly busy and he was alone. The waitress sat him down at the bar and went to grab his soda.

"Thank you.. "

he said as she returned.

"I just need a moment.. "

Unfortunately this was the boy's first time... being that he didn't get out much. However he would still make the best of it.
╍
╍╍
╍
╍╍
╍
╍╍
╍
╍╍
╍
╍╍
龍
╍╍
╍
╍╍
╍
╍╍
╍
╍╍
╍
╍╍
╍
With:
Alone
▫
Feeling:
Hungry
▫
Location:
Sushi-Resturant