missXuchiha
(?)Community Member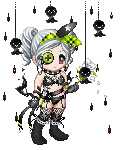 Posted: Thu, 12 Jul 2012 18:51:06 +0000
Can't

QUIT

until you

TRY
Can't

LIVE

until you

DIE
Can't learn to tell the

TRUTH
Until you learn to

LIE
Can't

BREATHE

until you

CHOKE
Gotta

LAUGH

when you're the

JOKE
It took a

FUNERAL
To make me

F E E L A L I V E



Leave it to Koyuichi to notice everything.
After basically being called out by the other, Hiroki slowly lifted his hand and gave a shy wave in return, hearing his comment and biting his lip.

I wonder which one of us is the predator... he thought, sighing and lowering his head again. Maybe if he just stayed silent and kept to himself, his family would simply leave him be. The last thing he wanted was for his family to torment him at school, too.

School was actually somewhere where he was noticed and people liked him. He was the captain of the football(soccer) team, and could actually open up to these people. He wasn't cursed or a monster to them...
He was just Hiroki.

" Hey Hiro-kun! What kept you? "
" Breaking another poor girl's heart? How'd you reject her this time? "
Two males scooted their desks a bit closer to Hiroki, both grinning and seeming quite excited to finally see their friend. The one on the left had dark hair and dark eyes, a small build and glasses - the other had blonde hair and bright blue eyes, a goofy grin and was very tall. On the left was Takaharu, on the right was Mitsuru. Hiro looked up, blushing still and a meek smile on his face. He was prepared to deny it and come up with an explanation, when the two started to act on their own and spiral into their own antics.
Mitsuru stood up, hitching his voice up and striking a girly pose.
" Oh Hiroki-kun, for a long time I've wanted to tell you something, but I just wasn't sure how! "
Takaharu stood next, pushing his glasses up and assuming a sort of "cool guy" pose.
" Please not here. You know I can't acce- "
Mitsuru made a squeal and dramatically held up a hand. " Hiroki-kun, please let me say it! I... I... I lo- "
Hiroki abruptly stood, covering both of their mouths and panicking.


" St-stop you guys, please! N-n-n-no one was confessing anyth-thing to me! "

Hiroki exclaimed, making the other two sit down before sitting himself down, ignoring their giggles and simply sighing. Mitsuru merely pat Hiroki on the back, grinning from ear to ear.
" You know we're just playin'. Looks like the Sohma party got together again... good thing you never join them. It's like none of them want to talk to anyone but their family... don't all you guys live together too? " he asked, Takaharu nodding. Hiroki seemed a bit overwhelmed, sputtering and still not quite sure what to say.

" And you and Sora-san came in together, it seems... I thought you two didn't talk? "
Mitsuru quickly shook his head and waved Takaharu's question off.
" No, she just won't talk to to him! Don't you remember when he dragged us to that dojo match at the fest- " Hiroki once again covered Mitsuru's mouth, shaking his head frantically and shushing him. Those two always seemed to get lost in their own little world, forgetting that others could hear them and see them.

Including Hiroki's family and Sora...
Just

OPEN

your eyes
PLEASE

open your

EYES
And see that
L I F E I S B E A U T I F U L
Do you Swear on your

LIFE
That

NO ONE

will

CRY
At my

FUNERAL