KaiyaLyraCooper
(?)Community Member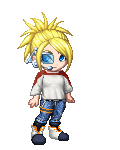 Posted: Mon, 09 Apr 2012 20:28:23 +0000




⋘

|

═════

۩

═════

|

═════

۩

═════

|

⋙
Ҝєɭʂєɣ
Ѭ
"Ϩϕʑϕ"
Ѩ
ȤєɳɳῗҬђ
⋘

|

═════

۩

═════

|

═════

۩

═════

|

⋙
╔═════════╗
Țђє
Ϩʊɳ
╚═════════╝
█████████
▒▒▒▒▒▒▒▒▒
█████████
▒▒▒▒▒▒▒▒
█████████
"I-Its ALIVE!!!!"

Kelsey laughed maniacly at the vacuum that was on her desk, which had finally, after hours of trying to figure out the motor inside, turned on. Her aunt and uncle had asked her to fix it a couple of days ago, but she had been to consumed in her own work to put out the effort.

Great, that only took like....four hours?....wait, that means you've been up since...when?....WHY WERE YOU UP THAT EARL-

Her train of thought got derailed as a booming voice came rolling into her room.

"QUIT LAUGHING EVERY TIME YOU MAKE SOMETHING, IT GETS IRRITATING!!!"

It was the voice of her cousin, a nice boy, a couple years older than her, but....rather irritable. She and her cousin got along very well, she was an inventor, and he was a painter. Typically she'd make something, and he'd paint it. She couldn't believe how amazing he was at it too, in her opinion it was better than most of the paintings her aunt and uncle owned from the professionals.

"So-sorry...I....just get carried away..."

She called back as she lowered her head in slight depression.

At least I got the vacuum fixed...





"Kelsey! Breakfast!

A much more soothing voice was heard, evidently from the kitchen. This voice belonged to her aunt. She was grateful that they let her come live with them, her home life was getting too out of hand...and slightly dangerous back in LA.

"Okay! Thanks! Be right there!

She stood up from her position, beaming feelings of joy. Motors typically didn't agree with her, but finally, the understanding of a vacuum motor was accomplished. She skipped down the hallway just waiting to unleash the news. The vacuum had been down for a couple of weeks, and nobody wanted to take it into a repair shop...too much time.

She entered the kitchen, looking at the table....or more the contents on top of it, since the table was completely covered. Such a lovely breakfast. She took a seat and spoke just before she ate.

"Vacuum is totally fixed!"

She said gleefully.

"Oh, thats wonderful Kelsey, may your ever growing mind be expanded to its fullest! Thank you."

It would have seemed like an odd thing to hear comming from a family member, but not to Kelsey. In fact her aunt said that quite a bit, probably to make her feel more at home. Her father used to say that to her, back when she used to live there. It was a little silly, but she appreciated it.

"Thanks auntie Sarah."



Once her plate of food was consumed, she thanked her aunt for the food and let out a loud goodbye, hoping her cousin would hear as well. Just before she left the door, she picked up her longboard from the entrance, grabbed the motor she took out of one of her cousins older toys, and grabbed her backpack and left the house. She was decent at longboarding, it was fun at least, the only thing she hated was the gigantic hill the school was placed on top of. Going there was aweful, but comming back was one of the most fun things she could think of...except for when she crashed. She cringed as she thought back at the memory of breaking her leg.

Longboarding allowed her to sleep about a half an hour longer. That is, when she did get sleep. She found it odd, along with her aunt and uncle, but she rarely felt tired, even when she didn't get any sleep. Her usual was about three hours because thats the minimum she could usually handle while still feeling great. She figured it had to do with the unusual amount of energy she had. The hill had finally been reached. She stepped off of her longboard and picked it up, carrying it up the hill as she trudged along the pathway.

Ya know, this isn't as much exausting as it is irritating. An escelator would make everyone else's life soo much easier...man the person who built it would definately be praised.



The entrance to the school finally came into view as it peered over the top of the hill. The thought that she was almost up the hill always made her feel better, and she typically ran the rest of the way. The school looked a brighter white and gray today, which meant that the sun was shining nice and bright. Living in a black and white world made life rather bland, she could only imagine what colour really seemed like, based off of her friends definitions. The upside to being colourblind was that she could see in the dark alot better than the average person. She felt like a cat, but then again, even they could see a couple of colours.

The doors to the entrance grew larger as she approached them, finally within reaching distance. She grabbed the handle and pulled, allowing the refreshing cool air of the school consume her. She stepped inside and made her way to the shoe lockers.

Oh, how wonderful! is that Seiji?....Yep it totally is, alright, act normal.

Kelsey decided to approach him. He was captain of the swim team....the same club she decided to join, mainly because he was in it.

"Seiji! Heyyy, how's it going?"

She asked in her still imperfect japanese. She remembered she had accidently insulted him last time they conversed by mistaking a word.

"Y-you know...I didn't mean any disrespect last time we talked...right? I'm still working on my japanese. I was just hoping maybe we could walk to class? Or I could accompany you until we head to class....Or if you just want me to leave you alone, I understand."

Her tone was one of a mixture of nervousness, and understanding. She really hoped he didn't choose the latter. His emerald eyes almost flashed in the light, giving her a sense of hostility, but hoped that was just in her mind.

She awaited anxiously for his reply. She would respect it either way, she only hoped he wasn't angry.
⊁
-
-
-
-
-
-
-
-
-
-
-
-
-
-
-
-
-
-
-
-
-
-
-
-
-
-
-
-
-
-
-
-
-
-
-
-
-
-
-
-
-
-
-
-
-
-
-
-
-
-
-
-
-
-
-
-
-
-
-
₪
-
-
-
-
-
-
-
-
-
-
-
-
-
-
-
-
-
-
-
-
-
-
-
-
-
-
-
-
-
-
-
-
-
-
-
-
-
-
-
-
-
-
-
-
-
-
-
-
-
-
-
-
-
-
-
-
-
-
-
⊀
Your
goals
Your
desires
Your
dreams
Chase
them
They define
you
much more than you know