xSaiph
(?)Community Member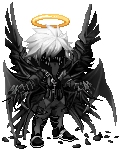 Posted: Thu, 05 Apr 2012 05:46:46 +0000
Cari the Bunny
Bladeglory
Cari the Bunny

Just because she says ''Let it go'' doesn't mean I can.
...
The term is used as a joke within my friends and highly promoted, yet I don't say anything because everyone thinks it makes you sound like an over sensitive baby. Which is bullshit. If you're hurting someone you should be confronted about it, not blow them off...
...
Because of this belief that it should just 'let it go' others get shunned. Seriously? If they're getting offended over cursing or 'derp' that's one thing. But if it caused serious PHYSICAL pain, why should it be brushed off?
...
Although I know Gaia well enough there's a ton of ignorant assholes(See: The one who hasn't experience rape therefor he wouldn't be able to make any comparisons.)
The Way of the Sword
~~~0==}|3ladeglory~~~
Yes, I quite agree. It's not so easy to let something go, or heal from the emotional trauma. Sometimes it never goes away, and you will always carry it with you... But you know, that doesn't mean it can't become a simple scar.
I really think you need to talk to your friends. I think they're not very nice if they've actually said you're being a baby when you brought up your issues with it. While they don't
have
to, it's certainly better to
help you through it
. I don't want to be too presumptuous, but it's probably not helping you heal.
This is one of the "where is the line" issues. You draw it before rape, which makes sense, but there's no definite scale, so what's the least traumatic thing that can happen to you after crossing the line? What's at the absolute top? Why do you get to decide where swearing is on that scale?
Unfortunately, that's not just Gaia... it's the world. All those feelings don't disappear when you log off, just get buried deeper under smiles.
On another topic I didn't tackle earlier...
"but not a single person is made 'stronger' and more self aware in a healthy form from rape like it would in a gun situation"
I'm having trouble figuring out what you're saying here. At first it sounded like you can never recover from rape, yet a gunshot wound is recoverable. Is a "healthy" way to take a bullet "wow, I just almost died while assisting somebody!"?
Well you're not, I haven't heard it once a woman say ''Oh yeah, my trust for men didn't go down at all.'' or ''Because I was 'asking for it' it's acceptable and I just have to move on.''
But this is rape culture, and last time I checked there's no 'gun culture'. Which would make it about equal if there was discrimination like ''YOU ASKED TO BE SHOT.''.
A shot you can heal from
A scar can fade
Nightmares might never stop
You can't 'heal' from an STD, AIDS, or the body memories from it. You might still feel the gunshot, but you can take medicine for that. Body memories you can't do anything about and you get to relive it over and over. Extreme case then yeah, that's not heal-able being shot, not completely at least. With every event like this it does leave a mark on the person, and does change them.
But my point was originally(Before Random replied to me) It's. Not. Choice. It's never a choice to be triggered, which for some people the word rape is triggering.(Trigger means you basically send them into a panic attack) It's not about ''Oh, I don't like that word.'', I know people it's actually harmful towards, yet they told they're rude for it. I know that's how kids work because they don't understand and rape culture has a good grasp, but that doesn't excuse silencing.
The point I was making with Random is they are not the same, point blank. If you've only lived through one then you can't compare. If you've never tasted an orange you can't compare it to an apple. PS he has yet to disagree on being an a*****e,.
because you just love ******** summoning me.
point me to this magical drug that will GIVE ME THE FULL USE OF MY GODDAMNED RIGHT PINKY AND RING FINGER.
I can compare getting shot/beat up to getting raped because what is the difference? There is still the emotional impact of having to look at your arm and realize your bleeding out. there is still the emotional impact of realizing i
CANNOT MOVE MY ******** PINKY DUE TO A ******** GUNSHOT TO THE ******** ARM
And your going to say that i can magically be healed of a gunshot over a rape (which having a p***s in your v****a is a lot more natural than having a piece of lead tear nerve endings, muscle, and all the other crap in your arm)
Please, get off your high horse.
I'm not asking for sympathy, i got over my issue a long time ago, i will not stand idly while you belittle my actions and provide jack s**t to back yourself up.