Strifeling
(?)Community Member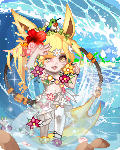 Posted: Sun, 20 Jan 2013 00:13:45 +0000
<3
I'll make a path to the rainbow's end!
Name:
Project Strife, called Strife for short, named Olivia :3
Shops you currently work for:
Kitsu-Ne
!
Shops you previously worked for:
N/A -- currently working
Reasons for leaving:
N/A -- never left
Time spent on Gaia:
Too much OTL I log on daily, but my schedule is erratic, so it varies. On pre-exam nights I might only be on for half an hour, if even that. On a Saturday when I have nothing to do... I might be online as long as eight hours (...including the time I spend working on art). e_e Don't tell anyone...
Do you have an AIM?:
Yes, although I'm never online unless asked to sign on. 8D; (Normally, I use Skype.)
If not, would you be willing to get one?:
N/A -- already have
Other Samples:
I.
Here's my DA art gallery
-- I don't post my new art there. My most recent submission was exactly one year ago. 8D; And all of my other submissions are from 2011 or earlier.
II. Here are template examples; these are templates that I created from sketch to finish:
Kitty
,
Lioness variation
,
Fluffy variation
. Plus...
coloring sample
III. These are a few plushie samples from December 2011, for Soquili, based on the "classical" plush. I enlarged the original, re-did the lineart, and made a new shading template. I made all of the edits (including all wing, tail, horn/antler, and mane variations):
(1)
,
(2)
,
(3)
,
(4)
,
(5)
,
(6)
,
(Dark BG for 6)
IV. Here are Kitsu from the shop I currently work at!
(Unedited)
,
(Unedited)
,
(Minor edit)
,
(Fluffy-shading edits on chest & neck + cleaner lines on unedited base)
,
(Full size)
,
(Light-moderate edits)
,
(Light edits)
-- compare with
unedited kit
V. WIPs to give an idea of how I work:
Lineart
,
Sparkly shading
I'll add more samples as I complete them. <3 Currently, I'm working on three heavy-edit pets (two for Kitsu-Ne, and my Dream Dancer sample). Please click the thumbnails to see the full-size images.
Dream Dancer Samples:
<--- work in progress
Dream Dancer Breeding Samples:
They're on dark backgrounds so you can see the glow/prisms/shimmer~ <3
Aries
x
Athena
:
Referred by:
N/A -- I've been lurking <3
References:
Robotic RedCape (previous Kitsu-Ne owner), shortcutt (current Kitsu-Ne owner), Rueka (coworker), -- NekoGamer -- (coworker); they're all colorists I've interacted with at Kitsu-Ne. I have recently met Hopelessly Pretty. Other Kitsu-Ne staff members are either guest artists and/or have been on hiatus as of late, so I have not yet had the chance to work with them.
Kitsu-Ne is being restructured right now (Short has been a colorist for a while, but took Kitsu-Ne ownership fairly recently), preparing to receive a template revamp. We're preparing for a shop-advertising-and-hiring event. :3
+ Planning to add: Isolde x Oberon (mod-heavy edit) breeding, update WIP
+ Maybe: light-mod edited Starborn, unedited Starborn (color-only sample)

As of Jan. 19th, I also have more Kitsu-ne responsibilities (unedited pets, new cert) to finish in time for the event on the 26th, so I will be a little slow.