METALFumasu
(?)Community Member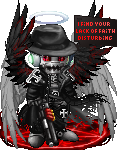 Posted: Mon, 02 Apr 2012 19:12:42 +0000
Or at least according to the US Supreme Court.
Quote:
Washington (CNN) -- A New Jersey man who was strip searched in prison after being accused of failing to pay a traffic fine lost his Supreme Court appeal Monday.

The 5-4 divided court found two county jails "struck a reasonable balance between inmate privacy and the needs of the (correctional) institution."

The conservative majority concluded a "reasonable suspicion" standard could be applied when conducting examinations of newly admitted prisoners.

Read the court's ruling (pdf)

Albert Florence said he was subjected to what he called a pair of intrusive, humiliating searches six years ago.

But Justice Anthony Kennedy, writing for the court, said the policy was designed in part to protect the safety of Florence and other inmates.

"Exempting people arrested for minor offenses from a standard search protocol thus may put them at greater risk and result in more contraband being brought into the detention facility," said Kennedy. "This is a substantial reason not to mandate the exception (Florence) seeks as a matter of constitutional law."

Chief Justice John Roberts and Justices Antonin Scalia, Clarence Thomas, and Samuel Alito supported all or part of Kennedy's opinion.

......
You'd think that this would be coming from the TSA, but this is out of the correctional system. What's more disturbing is the Supreme Court sided with the prisons, even when it was clear that Albert Florence was not a threat. I mean, he was arrested because supposedly hadn't paid a traffic fine (which he actually did, and had documented proof that he had paid it already).
Still, it's very disturbing that this guy, who had a rather minor, non-violent offense (frankly it's almost as innocuous as possession of weed imo), got treated like a violent felon by the penal system, despite all evidence to the contrary.
Will more cases like this start popping up in the future?
As the Zen Master says, "We'll see."