LadyFroslass
(?)Community Member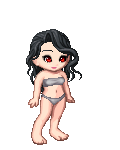 Posted: Sun, 04 Sep 2011 04:51:46 +0000
I don't have the rom on my computer. and I can't draw for s**t. So I'm just gonna write about my adventures. I may also forget to nickname pokemon because it's a normal reaction for me.
rules:
catch the first pokemon you see in a new area. if you fail, tough s**t. Unless It's a duplicate capture.
if a pokemon fainte he/she is dead and must be released
nicknamed all new pokemon catpured.
*insert generic opening sequence jokes here*
That b***h will pay for making me ride in back of this van. But how? I know! I''ll go on a pokemon journey, intervene with a criminal organization or two, and get my self killed. Or I can find her stash and sell it to Australian drug lords. Nah, the Pokemon thing will get me killed faster. I see flaws in my drug plan.
"It must be tiring riding with our things the moving truck"
See you in court, b***h.
"You get your own room, Viper! lets go inside"
You mean you didn't sleep in the kitchen before?
" The mover's pokeon do all the work of moving us in and cleaning up after"
Then what does the mover do?
*sees Clock*
...........Looks right to me.
OMG!! FREE SWAG!! a potion? what am I suposed to do with this? It could be a cover name and is used to make powerful meth.
one of dad's friends live in town
Sweet! We're gona meet neighbors....Aren't you coming, Mom?
"see you, honey!"
Fine. Another reason to see you in court.
"We have a son about the same age as you"
You don't know that, I could be in my 20's with a rare medical condition
"Our son was exited about making a new friend"
I don't blame him, this town has like 8 people
He's not up here, so I may as well do the overused joke about an item being in a pokeball then throwing the ball away.
"Hey! You..."
Holy s**t! Who does your hair? It looks so ******** stupid
"I didn't know that you're a girl."
Wait, what? If my name wasn't gender neutral, I'd scissor kick you!
"My dad said that the next door neighbors is a gym leaders kid, so I assumed to be a guy."
someone wants to die today
'Huh? hey, Viper, don't you have a pokemon?"
Well, I used to, but my mom said he ran away while I was at summer camp....

camp

....

camp........
"Do you want me to go catch you one?"
Actually, I was plotting revenge aginst my mother for making me sit in the back of a boiling moving truck with lots of heavy boxes, so yeah, let's go!
"Oh darn I forgot, I'm supposed to catch some wild pokemon with my dad. Some other time ok?"
Can't you save one for me?
Some professor, he's not in his lab.
"There are scary pokemon outside! I can hear their cries!"
Come to think of it, where is that road that truck took?
"I want to see what's going on, but i dont have any Pokemon... Can you go see what's happening for me?"
What the ******** makes you think I have Pokemon?

Wait...This revenge plot is going better than I expected!
"H-help me!"
It's a zigzagoon! you can kick that ******** into next week!
"PROF. BIRCH is in trouble! Releaase a Pokemon and rescue him!"
Which one, which one?

It's a little baby. She only wanted to play :c
"I've heard that you don't have your own Pokemon yet"
Well Brenden offered to catch me one, but I geuss this will do.
'I guess you have your fathers blood in your veins after all."
Can I name this thing now?
Torchic=FLARE
Viper, don't you think it might be a good idea to go see brenden?
sure
Get brenden to teach you what it means to be a trainer.
Can I go now?



*at route 101*



I'd thought he'd never shut up

might as well do a little grinding before seeing Brenden
*At oldale*
woo-hoo! another potion!!
*At route 103*
"Oh yeah, Dad gave you a Pokemon"
No thanks to you!
I'll teach you what being a trainer's all about!
Ok...
"We should get back to the lab"
AAAAAWWWWWWWW!! But he won't shut up!
"I heard you beat Brenden on your first try. That's excellent!
Did he cry when he got here?
"Brenden's been helping me with my research for a long time. He has an extensive history as a trainer, already."
Then, why does he suck?
A pokedex? can I watch movies on this?
*PROF. Birtch explians what we're doing b/c I'm tired of writing his lines*
so I travel the area? I would bust a cap in your a** if I wasn't plotting revenge aginst my mother. But it makes my plan even better.
"Wait. Viper!"
WHAAAAAAAT?!?!
gonk
"Did you introduce your self to professor Birtch?"
Yeah. And he would not shut the ******** up. Now I'm gonna go on an adventure, despite the fact I didn't have a chance to meet the local kids my age, and enroll in a school. But this works too.
"You're your father's child, all right"
Really? I don't look like him...
"Wear these running shoes. They'll put a zip in your step."
Didn't I run a little while ago without running shoes?

They seriously have insrtuctions?
"If anything happens, you can come home."
sure, why not?

in a body bag
"Go on, go get them honey!"
Ok! Are we done? Can we get the story moving now?...........It's about goddamned time... mad
"I finished skerching the footprints of a rare Pokemon. But it turns out they were only my own footprints."
BWAAAHHH........HHHHHAAAAAHAHAHAHAHAHAHAAAAAAAAAA.............*deep, loud inhale*.........HHAAAAAAAHAHAHAHAHAHAHAHAHAHAHAHAHA............I CAN'T.....I CAN'T.....BREATHE!!!!!!! HAHAHAHAA.........WHAT A LOSER!!!!!!!........
*And it goes on for about 5 minutes*
*route 103*
HOO!!! I needed that.
"you can't say no to my challenge!"
okay :c

NOOOOO!!! WURMPLE FAINTED!!! Oh well, Least it wasn't ralts. maybe it wasn't a good idea to grind Flare so much.
Hi, daddy! c:
"I'm surprused you managed to get here by yourself"
I have my secrets. Just don't light a match in route 103 for a few days.
"I Guess you're going to be a trainer like me, Viper.
I'm going to what, now?
Go with Wally and make sure he safely catches a pokemon.
Ok, Just make him promise that he won't take 5 seconds to make a decision.
*Wally catches his Pokemon*
aww WHAT? A RALTS?

FUUUUUUUUUUUUUUUU
"Bye Viper!"
I'll stab you in your sleep, kid!
Dad is talking: blah blah blah gym leaders blah blah badges blah.
Off I go, I guess. But first a rest.






..............Do I just stand here until the system is turned on?