Lady Red of Hawkswin
(?)Community Member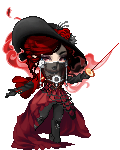 Posted: Thu, 07 Jul 2011 15:50:58 +0000
yum_pie ~Welcome to Feeding Stein! ~ yum_pie

ATTENTION NEW AND CURRENT STEIN SUPPORTERS:
Please remember to check out and join the guild if you haven't already. Due to my current obligations with college, the S.O.S official contest will be held after Pie Hard is over!
HERE IS THE GUILD LINK:
The Home Base is Here!


A Few words to my fellow supporters and Feeders of Stein:


It was a great fight, Feeders of Stein! We braved many obsticals! We killed out wallets months ago in an undying loyalty to our favorite NPC! We obtained our goal of stuffing him full of pies and launching him from out of nowhere into the finals! We have obtained our goal of educating the Gaia populous of Stein! Stein has gotten items! We have given him the spotlight he has so deserved for the past three years! We have proven ourselves as dedicated fans and supporters for Stein! And We have held him in 3rd place! We got him into the top three!

Sure, he didn't win the event - but he still won. We all still won. We have Stein based items now. Stein's gotten spotlight. WE have won! We have proven to Gaia we are a force to be reckoned with! We have proven we are THE FEEDERS OF STEIN! And wherever Stein's next appearance may be, whenever Stein needs our support, WE WILL BE THERE!


GO STEIN GO! WE SUPPORT YOU!






Love Stein? Like Stein? Adore Stein? Want him to stay in the game for as long as possible? Then show your support for this hard working NPC! Let's reward Stein for his hard work and dedication to making sure getting Gaia's item glitches fixed, and let's feed him some PIE!

Our mission here as The Feeders of Stein is to stuff our beloved NPC with pie, educate Gaians who haven't a clue who he is about Stein and what he does for our community, and to give Gaians who have lost their NPC in the competition someone just as bad-a** to root for!!

PHASE ONE OF THE MISSION ACCOMPLISHED!!!
WE HAVE GOTTEN STEIN INTO THE FINALS!!!

NOTE:
Please guys. We have the common courtesy to respect your boundaries, and we expect you to respect ours. Don't come in here bashing us. You'll find we are rather tolerant of you all, but it's a losing battle on your half. We are The Feeders of Stein. We are die-hard Stein fans. You're only helping us bump the thread~



If you don't know who Stein is, please click here, andHere!
These two links will take you to his; 1) Journal, and 2) Profile.

To continue to show your support for Stein, post here in our thread, here, and here!
These two links will take you to the original "Feed Stein" thread and the official Fanthread for Stein outside the competition.


Want

free

art? Yeah. We're such epic fans of Stein we have a thread for that too.
Click here if you want FREE art!



I only ask that you follow a few things:


1. Please be polite to all that enter here.
2. No bashing other competitors (Diedrich included - though discussions on how he might explode are welcome ;D ).
3. If by chance an Anon has entered here and gifted you, thank them here, I'll be making a list. ;D


4. Feed Stein!!