Animelover955
(?)Community Member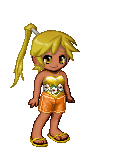 Posted: Fri, 04 May 2012 14:10:04 +0000
So they aren't really terrible
razz
but yeah Max has been with us since yesterday. Well more like he spends the day here then goes home in the evening because the AC at his house is currently broken and the house gets uber hot so until that's fixed he's here during the day...
Max and Twister are a freaking awesome pair. They play non stop and just really enjoy each others company. Yesterday I taught Max sit by luring and did some freeshaping with Twister. Both are very smarticles. I was planning to take everyone to the park today and work on recall and just have fun, but the stupid weather decided to be evil and it's done nothing but rain since last night and now I have two very muddy(though you can't tell on Twister) puppies. Which means....
BATH TIME!!!!
probably not till later this evening or tomorrow though because they'll just go back out and get all muddy all over again.
Also Twister isn't "black" Since we've had him we noticed the brown on his legs and a bit on his ears and since we've had him his brown spots have lightened a bit and he's actually a "phantom". He has all the right markings for it(legs/chest/muzzle/eyebrow things) so yup we has a phantom boy. Not that it really makes any diffeerence. But yeah you can sometimes see the markings in some pictures(none that I am posting) but moreso if you actually see him in person. Anyway piccies I took yesterday when it was warm and sunny
The puppies like to be evil and not sit still and my camera is suddenly being crappy so some pics didn't come out and some are just blurry
My two black babies(poor bo was exiled to the house ebcause the neighbors dog was out and those two just do not get along)
Rwister being awesome
Before
After... Max being special
salt n pepper