angel_of_joy
(?)Community Member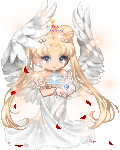 Blessed Conversationalist
Posted: Tue, 16 Aug 2005 06:14:26 +0000
Please do not quote ANYTHING on the front page. Thank you.
My Fellow Gaians....
..... Let us be glad, let us be greatful, let us rejoice to find the mods may listen to a simple request from you know who....
.... look its Glinda!!!
Wouldn't it be great to see the Witches of Wicked break free in a new land, the land of Gaia perhaps?
...Elphaba why couldn't you stay calm for once?
What i am petitioning is simple, let us have costumes pieces for our avis that are based on the wonderful costumes of the Witches of Oz!
For Glinda


I'd like to see the Gown, the crown, the staff, and the hair.
and perhaps a few bubbles here or there! Like have it a feature of the crown when you put it on bubbles appear around the avi. that would be heckin cool
For Elphaba


I'd like to see the Dress, the Hat, the Broom, and the lovely green skin. she's just not the wicked witch without green skin and we totally need that as a colour choise.
It is a simple request.
Please suport the Petition
By

"Popular"

Demand the Petition is being updated for the Boys as well!
Please Gaia, we couldn't be happier, if you provided the boys with some Wicked costumes as well!
For the boys We request...
The Mighty OZ himself

The Wizard
Our beloved, and oh so handsome

Fiyero
picture of Fiyero as the scarecrow coming as soon as i can find one but we would love to see that for the avis as well.
And finally

the wonder companion to Elphaba, her winged assistant
Chistery - the flying monkey if i can ever find a picture of him as well
here he is!

and by POPULAR demand


here is a little scene from Shiz, wouldn't it be WONDERFUL to dress up like we're off to DEAR OLD SHIZ?
P.S we are aware of the copyright laws and the issues that some people would put forward about the items that we have proposed. But it is likely that the admins could produce items that are based on the ideas we have made, therefore there are ways around the copyright laws and we do hope that that is what will come to pass with this petition. And yes i have already read the posts by admins on the subject and as i have suspected they have the same conclusion toward basing items on the ideas as most other people do. so that being said we will keep the petition running in the ultimate hope that one day we will see green skin and broom sticks and stary tiaras and wands for the good and wicked witches of gaia as well as our dear prince, wizard and monkey friends. Copyright can't be placed on green skin or curly hair and even if they make a white dress or a pink dress or a blue dress that is similar to glindas we would be happy. Furthermore there is already a "belted suit" that is clearly Edward Scissorhands you can tell by the quotes when you purchase the items so there are ways around making items that look the same but aren't quite. so please is you want to sign the petition do so, if you don't, don't and if you have something to say about copyright infingement don't say it here cause i have heard it a billion times and i don't want to hear it anymore. and if someone posts it here it is clear to me that people can't read past Glinda's smile and therefore i will have to take her picture off the page!