Kodako Takabe
(?)Community Member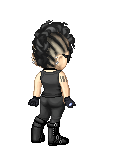 Posted: Tue, 25 Oct 2011 01:56:19 +0000
One of the items in the Flowery Fauna RIG from 02/26 is a very familiar baby tree:

Astra: Dancing Sapling
Champion Halls IS NOT the superhero RIG we were after, Gaia!
I'm sorry, maybe I'm alone in thinking this, but Champion Halls was your standard manga hero RIG with a couple of western comic items thrown in. Let's do an official count:

Lightning Quick- Can maybe be counted as a Quicksilver item.
Nicks and Giggles- Obviously a Joker item.
Sharp Shot- Hawkeye (or possibly Katniss Everdeen) item.
Shop Class Savant- Has a glove pose that is very similar in design to Chase Stein's Fistigons, though it's supposed to be an MCU Iron Man item
Weapons of Math Destruction- Doctor Doom item. Also possibly a Mr. Crocker (from Fairly Oddparents) item, if the raining F's pose is any indication.
Just Vigilante/Lawful Vigilante- The only general superhero items in the RIG. Could possibly be taken as Hawk and Dove items, or possible pre and post New 52 Nightwing items.
Psionic Weaponry- Bunker-related item, but also technically an Avengers item because of the poses.
Comic Sounds- While I appreciate another one of these (Comic Accents is a favorite item of mine), adding a Bazinga bubble...wow no.
Beastly Professor- It's supposed to be an item for Beast from the X-men...somehow.
Meracle Swimmer- Maybe a Mera item? I mean, judging by the name alone.
Unstoppable Linebacker- Hulk-related item. Not actually a Hulk item, but they tried.

Now, this isn't to say it's a bad RIG! There are definitely some items I'll be saving up for (Kricket Kick and Fey Seer being two of them). But is this a comic book RIG? No. Almost 50 new items, none of which are recolors or redesigns, and only 12 of them are even vaguely comic book related. Champion Halls is yet another manga and anime-inspired RIG, and the fact that they released it as a superhero RIG is insulting.
Prized Possessions is probably one of my favorite clothing items. I myself wear basically nothing but comic book shirts, so seeing something on Gaia that mimicked my actual style was pretty awesome.
In the original Prized Possessions item, we have a comic book pose, plus four shirts parodying the heroes Superman, Wonder Woman, Spider-Man, and the Punisher. Two DC, two Marvel. A redesign could have that same theme; a comic book pose (maybe something more obviously related to the big two) and another four shirts, two from each major publishing company. I would personally want the Flash, Batman, Captain America, and Deadpool as the parodied parties, though Gaia would probably go more for Green Lantern and Thor, to jump on the comic movies that were released this summer. Heck, for a second redesign, how about villain-themed shirts? A Sinestro Corps logo, Venom, Reverse-Flash, maybe Loki or War Machine?
And where would these lovely redesigns be hiding? Why, in Code Alpha 2, of course! We've been to the Cirque du Freak twice, had
three
Famestar and Love Charm RIGs, why not bring back a RIG that brings out the hero in us all? If you were wondering what sort of items would be in this new RIG, well...
An item featuring recolors of the ring in Supernatural Arsenal, so that all the Lantern Corps are represented.
A Hulk item with the darker green skin, and/or a muscle pose.
A proper Captain America mask.
Maybe some Cyberforce-related things.
An Iron Man item with the Extremis chest piece thing.
Chest Core from the recent May the Fourth mini-event.
A Wonder Woman item that allows you to choose between pants and swim suit, with the wrist bracers.
A Legion of Superheroes item with the ring and belt buckle.
More capes in different colors
Cardinal Billowing Cape
Raven Billowing Cape
They move, too!
Some gauntlet items.
More masks.
Thor's Hammer (Bahn Hammur is nice, but not exactly the right size)
Captain Cold's shades.
Jay Garrick's hat.
90's Superboy's fade cut.
See recent Salon update
A bald cap for that perfect Lex Luthor costume.
See recent Salon update
A better half-face item for Two-Face.
Utility belts!
A non-tailed bodysuit like the one in Hidden Ace in various colors, and some fishnet leggings.
Guns!
Knives!
Full-body jumpsuits with muscle tone (abs, arm muscles, thigh muscles, etc).
More Catwoman-esque suits, possibly in different colors, that don't give breasts to male avatars. Maybe an ab pose?
Stylized pendants in different shapes that would hang on the torso and make chest symbols.
Faceless masks in various skin tones.
Topless cowls (example: Kid Flash, Impulse, Booster Gold).
Recolors of the Lunar Cowl MC, or something similar to it.
Two-tones masks in various colors.
A redesign of Supernatural Arsenal with Batarangs, Wolverine claws, etc.
More killer plant items a la Poison Ivy.
An item akin to the Cosmic Cube.
Dual-toned suits in different colors a la Two-Face.
Varied skins that bulk up your avatar (a la Orc Potion)
Elemental items
More robotic/cybernetic parts
Non-fantasy wings
Equippable extra limbs
An item with the classic one-leg-lifted flying pose
Escrima sticks, nunchaku, boomerangs, nets, and other nonlethal weapons
energy fields comparable to the ones in Super Powers or the DBZ powerup
- A Domino-style patch for the eye with perhaps a double-pose for a Deadpool mask.
- An eye-shiny thing like Cable, perhaps something to make the TO look.
- IDK if there's something for Penance, but that would be lovely.
- Some Black Widow style stuff would be cool, like the bullet-looking things on her wrists.
- Some kind of evil mouth for Venom?
-a car item that resembles the Batmobile
-
Avalica
I like that there is a Green Lantern ring item, though it doesn't really work for me unless you can do something cool with it. I think there should be items where there are constructs, both held and in the background, with recolors for each of the lantern rings (including white and black). Though, it would be incredibly cool if all the rings were to have unique constructs (or at least 1 unique construct for each of them).

I kind of imagine the item names to be like this:
Willful Imagination (Green)
Violent Imagination (Red)
Greedy Imagination (Orange)
Fearful Imagination (Yellow)
Hopeful Imagination (Blue)
Compassionate Imagination (Indigo)
Lovely Imagination (Violet/Pink/Star Sapphires)
Lively Imagination (White)
Deadly Imagination (Black)

There could be poses like jet planes, shields, swords, guns, missiles, and plenty of other stuff.
- Loki's Horns
If anyone else has any edits, suggestions for items (particularly Marvel-related ones), or comments, feel free to post them. I just wanted to get the idea out there, as I haven't seen anyone else interested in it before.