flare takochi
(?)Community Member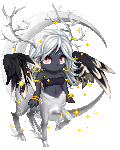 Posted: Fri, 28 Sep 2012 21:31:54 +0000
╔════════════════════════╗
Well, Hello every one!
Just wanted to tell you a little bit about the story.
I first wrote it for a RP on a game called Tera.
It was my Char.'s back story.
But as I was typing it,
It grew and grew.
So instead of the one paragraph they wanted,
I ended up with 2-3 pages.
And I will say I am very proud of it.
I do plane on working on it more.
I want to write more chapters,
as well as go back to older ones and add details.
Please feel free to tell me what you think!
Story wise and grammar wise.
I'm really bad with grammar.
If you have anything to say,
anything at all,
say it to me!
I don't care if it sounds mean or not.
I want to get better,
and I can't do that if I can't take criticizum.
So, I hope you like my story!

╚════════════════════════╝
~~~
Mother told me I could do anything I wanted. Anything at all as I sat with her in the trees. Her blue eyes looking at me as she smiled. "What is it that you want to do?" She brushed my hair. I looked back to her with a wide grin. "I want to help brother!"
~~
Rainbow Butterflies



I jumped from my bed, screaming. It had happened again. The same dream, the same feeling of falling, but by the time I had opened my eyes, My brother already had me in his arms. He held my head into his chest, brushing his hand threw my hair as he tried to calm be down. When I had stopped crying I began to wonder why he was always there. Every time I had a nightmare, he was there when I woke. He laughed a little pulling my head away from him. " Is that better, Princess?" I had always hated for him to call me that. I would pound on his chest a bit as he laughed. " Alright, come on, Mother made breakfast!" He said as he stood to his feet and headed out of my room. I sat there staring at the door way for a few moments, before laughing a bit my self.

After I get dressed I headed into the dinning room. I could only stand there watching the scean in front of me. My family all at the table together? No servants? At the head of the table was my father reading a paper and laughing at Reven and Kistar who were fighting over a waffle. Latersa and Liaira were sitting there talking about something with Mother as she was putting bacon on their plates. To the right of my father was Azarel who turned to me with a smile as he waved for me to sit next to him. "Is there reason for all of this?" I asked as I made my way over to the seat.

"Azarel has chosen to join the federation!" My mother said with a weak smile.

I sat there staring at my plate as my father babbled on about how proud he was. I could feel my heart began to pound harder. " W-What!? Aza! You can't!" I flung my chair back as I stood. My eyes locked onto my oldest brother's. He only gave me a small smile before my father started to yell at me for my out burst, but I cut in. " You can't do this Aza! You can't! If you go out there you will die! " Tears started to form in my eyes as I glared at him. No one says a word. They all only look every where. Every where but at Azarel or me.

My brother smiled as he knelt beside me. " I'm 15 now Kist. I have to do my part to help." He layed a hand on my head, but I shook it of.

" You're going to die! You are! Aza please! You know your sick. You can't go out there and fight!" He tries to pull me into a hug, but I push him. I heard my father stand from his chair and walk behind me. He held me softly.

"Kistella. Azarel will be fine. Father will keep him safe." He said in a soft voice, but I only try to shake my self from him.

Azarel acted like he was going to say something, but as he took a step to me , he held his chest coughing. It started off slow, then got worse and worse until blood was dripping out of the side of his mouth. My family came to his side quickly, but I was the first there after ripping my self from my fathers arms. "Aza!" I screamed as I held onto him, trying to make him sit up. I could hear the muffled sounds of my mother screaming for help. And as I looked to my brothers eyes. I felt a weird rush threw my body. I remember screaming for him to breath, for him to be ok, And the butterflies. The pretty butterflies with their rainbow wings. Then nothing.

I woke with Aza's hand on my own in a bed. He was sitting in the chair next to me with a worried look on his face." Aza..." I started but he pushed a finger to my lips as me made a small hush. " You can use magic Kistella. Your gifted no matter what anyone else will tell you, you hear me?" He smiled, giving me a small kiss on my forehead.

Me? Use magic? I only looked to him. Then I heard the yelling down stairs. My father and mother. "Are they fighting?" I asked. I had never heard them fight over anything.

Azarel only shook his head as he ran his fingers threw my hair. " Don't worry about them right now. You just need to rest." He smiled to me, but the look of worry did not leave his eyes.

We could both hear the stomps up the stairs. Aza was quick to react and as soon as the door started to open, he stood up kicking the chair to the door slamming it shut. Once it had shut I could hear my father screaming for Aza to open it. Aza stood there for a few moments and gave me a smile before opening the door quickly, kicking my father, and closing the door on his way out.

I tried to get out of the bed, but my body would not move. I could hear the two of them yelling more and more outside my door, then it turned to a mumble before I heard them walk down stairs. What was going on?


I guess I must have fallen back to sleep, because when I woke, Aza was just opening my door with a plate of food. " Ah, Your awake again. And just in time. I got you some food!" He smiled to me as he walked over with the plate. As I sat there eating, I couldn't stop my self from asking. " Father hates me now. Doesn't he? I mean, if what you said is true and I used magic....It's bad right? Father said it is..."

He sat there with a smile on his face, yet his eyes betrayed him. They always did. "Father doesn't hate you. He is just scared. And I thi-"

" Don't lie to me Aza!" I slammed my fork onto my plate, and stared him in the eyes. His light one's against my dark ones. He took in a deep breath. "I think it is going to be hard to get him to understand. But Kistella, Magic is a wonderful thing. Yes, bad things have happened using magic, but It was the person's choice. The person who can use the magic can use it how they please. You will do great things Kist! Awesome things! You can help so many people with your magic. Don't let what father thinks and says get to you, ok? I've already called the school and I found you a magic teacher. You're going to have so much fun!" He laughed a bit. I will never forget the look in his eyes that day. That was the first time I had ever seen my brother scared.
Blood Flames


I woke panting as my heart raced. For a few moments, I expected Azarel to be there, holding me tight and telling me that everything would be alright. But he wasn't here. He hadn't been there in three years. He had left to fight. I sighed after I calmed down. I got ready for school as I normally did. Same blue dress, same bag, same small scepter even the same small teddy bear. I walked down stairs saying good morning to my brothers and sisters. As always they only glared at me. I gave a bow to my father before heading out, but he never looked up from his paper. But, that day was never going to be the same. At the front door, my mother stood there with a small smile. " Have a good day." she spoke to me for the first time in three years. And those small words would change everything.

My father stood from his seat and walked over to my mother with his dark eyes. "And why would you wish this little magic user to have a 'good' day?" He had lightly grip onto her arm and she only smiled at him as she answered. " because she is my child." He glared at her. " You would wish good to magic then? To the same thing that killed your grand parents, your parents, every thing that you held dear?" He griped more tightly lightly pushing her against the door.

I had never seen my father like this. The anger, the hate. It just seamed to be radiating from him. And I was scared. I was scared for my mother. With out thinking I dropped my bag and jumped at my father, hanging on one of his arms. "Let her go! Let her go Father!" I cried trying my hardest to pull his arm from her.

And he did let go of her, but he grabbed onto me. "Father? I am not the father of a magic using demon!" He threw me to the other side of the room. And as I hit the wall I tried hard to think of what I could do. I could not fight my own father, but I couldn't to let him take his anger out on my mother. By the time I was starting to get back up, I realized that what I had hit was not just a wall, but the fire place. I was lucky that it was summer. I lifted my head to see my siblings standing in the door way watching as my father made his way over to me. He gripped onto the mantel as he began to yell. I tried hard to listen to what he was saying, but the world was spinning around me a bit and I had a throbbing pain in the back of my head. When I touched it and looked at my hand I could see little bits of blood.

I guess my father could tell that I was not listening to him. He grabbed a vase on the mantel and threw it down, smashing it in front of my face. I cover what I could of my face, but a few of the shards cut deep into my skin.


Silver Rain