Laertes Ursus
(?)Community Member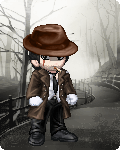 Posted: Mon, 24 Sep 2012 18:04:02 +0000
Hey there all you cats and kittens, I'm Laertes and I've put together a bit of an experimental story exercise for myself. See, I have trouble writing anything with a plot and a decent length. I know I can do better, but I can't carry a plot in a basket. So I decided to enlist the internet for help. Anyways, read the story so far, then vote on which path I should go with the plot.
WARNING: This story contains strong language and violence, and may contain adult themes.
Chapter 1: Women Troubles
Bang! Bang! Bang!

The pounding on the barricaded wooden doors and strong walls matched the pounding in my head with perfect time. Three months... I'd spent three damn months running from those things. Rest was a rare commodity, sleep moreso. As a result, my body had begun to rebel. Sluggishness, shaking hands, screaming migrane-level headaches. All par for the course. I'd been on a steady diet of beef jerky, T2s, and Jack Daniels. Breakfast of champions.

For the first time in a while, I was on a real bed, and able to relax a bit. Granted, the bed was damp and likely moldy, and damnit those--Hell with it, zombies. I know that's not the technical term, but dammit, they looked like walking corpses, and they wanted a fresh Human snack. Well, whatever they were, they were banging on the doors, the walls... Anything, smelling the fresh meat within. The place was strong, and sturdy. Weak points had been barricaded. I had faith in the furniture and floorboards I'd put up. Eventually, they'd go away for a while.

Well, they would have, except suddenly there was the sound of an engine, and lots of bright lights flooding through the window. ******** me... I grabbed my hunting rifle and moved to the nearest window, trying to be out of the line of sight as much as possible. A jeep... That was a Hell of a roll cage. And poking out the open top, a woman with a MAC-10, it was kind of dark to tell much else. Looked like she had a figure, though. A rare sight, these days.

The dead-heads began to swarm, and she opened up. Well, I always had misgivings about automatic weapons. They eat ammo, they're usually not very accurate, most have no appreciable range... But she handled that street junk like a pro, and they began to drop like flies. The muzzle flare highlighted her head enough to make out a few things. She was mulatto, her hair close-cropped. That was some scar on her left cheek, looked like a giant fishhook got her or something. Her face was deadpan. I can respect that, she knew enough not to be emotional.

A few were climbing the back of the jeep while she was distracted with the front. A deep frown crossed my face as I weighed the options for a split-second. I didn't see much of anything in terms of supplies in that vehicle, but then again it was pretty dark. I didn't have much on me either, so if I had to split it, we'd both be in trouble fast. But then, before I could register I was doing it, my rifle was shouldered. A bullet whizzed past the woman's head, pegging off one of her assailant's heads with a clean shot. My hands worked the bolt lightning-fast, and I got another before it got to her. A third grabbed at her, but she was aware of the threat by then and able to shove it back and put three rounds in its head.

It'd take about a minute of fast shooting and tense reloading, but the area was clear without any complications. My rifle came down, ready but not aimed. I had one round left in the gun if she tried anything. "You injured?" I called down. I could hear her reloading, and bit my lip, shifting away from where I was. I had the advantage here, that thing wouldn't be accurate at the range we were at, but she was good with that thing. I'd want to take as few chances as possible.

"Clean. Get the door, I can hear more coming. We'll talk more when my stuff and I are inside." She had 'stuff', that was probably a good sign. I lowered my gun, and moved downstairs quickly. Another gun would be welcome. It wouldn't take too long to move the heavy couch and dresser that were in front of the door enough to let her in. Two heavy-looking suitcases came in first, and I almost let out a groan. Clothes, almost guaranteed. Typical woman. She was in next, and I pushed the barricades back into place.

Not a moment after that door couldn't be opened from the outside, I felt a ring of hot metal on the back of my neck. Right, should have seen that coming. Rifle down, hands up, I slowly rose from my bent position. I was not going to die like a dog.
Chapter 2: Choosing My Words Carefully
"The man who lives here." Now that we were no longer shouting, I got a good listen to her voice. Her accent was muddled, not something I normally hear. Half was southern...ish. The other I couldn't place. I wanted to say French, but I wasn't entirely sure. Creole? Maybe. Her tone was level, and there was no variation in pitch to indicate heightened emotions.

"Never met him." I said, my voice nonchalant, despite the ring of hot steel on my neck. I wasn't the guy with the gun so I may as well be the guy with the mouth. "Is he a nice guy?"

The increased pressure on my third vertebra indicated that she did actually have emotion... Well at least one emotion. "My father." The tension in her voice told me she did not want to ******** around.

I figured this chicka needed a reality check. "Look, lady, it's been three months since this s**t started. I have been here for 4 hours. Your old man is probably--"

If I was interrupted mid-sentence by a blow to the back of the head from the magazine of the woman's weapon. At least I think it was the magazine. Hell, it didn't really much matter, at least the branding of my neck was done. "Say it and I swear I will end you."

"As. I. Was. Saying." As the spots in front of my eyes waltzed, I backpedaled a bit. Well, a lot. " He's probably skipped town by now, out there doin' what needs doin'." Yeah, I lied. She did kind of just pistol whip me. "Look... I'm tired of this s**t." Really, I was. "If you're gonna shoot me, just ********' shoot me. If not, I got a headache and I wanna go see my family doctor. Maybe you've heard of him, Dr. Jack Daniels."

Well, she didn't hit me again, so I took it as a sign and staggered up the stairs, leaving my rifle where I dropped it. She followed, keeping her gun on her. At least it wasn't on me. I'd set up base camp in the master bedroom. It was spartan. No decoration, bland wallpaper, and the bare minimum of furniture. A king-sized bed, dresser, nightstand. I flopped on the bed and reached for the bottle I'd left beside it.

The day before this happened, I'd been fortunate enough to have stocked up for a party. Of course by party I mean a one-month celebration to which I was the only invite. Yeah, I'm a drunk. So what, the world's in the shitter. What do I care?

I unscrewed the cap, and took a deep swig. Half the bottle already gone, and only one left after this. Then, I'd need to go looking for more, not a hopeful prospect. I extended my arm, offering the bottle to the woman. Not much in the way of hospitality, but whatever. She accepted in silence, took a drink.

We passed the bottle back and forth until it was dry. Some time along the way, she managed to introduce herself. Eris. Apparently, the Greek goddess of chaos or some s**t. Like I care. Nice a** though, must be the black in her. Good wide hips for childbearing.

We slept together that night, in the sense that we slept. With pants on. I know, I was kind of disappointed too. Morning came with an ache as familiar as my mother. After these last couple of months, I kind of welcomed it. Reminded me I wasn't dead. Yet. She got up first, and walked to the window. She stared out of it a long moment before finally speaking. "******** me."

A man hears a woman with an a** that won't quit say those two words, he doesn't question it. I got up and came up behind her, thinking how great it'll be to actually use my morning wood for once when I realized it wasn't an invitation. Looking over her shoulder, I saw what she did. "******** me."
Chapter 3: White Out
It had been getting steadily colder over the last month or so, and the overcast sky yesterday had threatened to make my life miserable, but I had expected rain. Sadly, I was wrong. Snow was flying, thick and white. And not just a little, either. I could barely make out the dark green of the Jeep at ground level.

"Not even so much as a ******** warning..." I muttered, finally aware of the cloud that came from my breath. Eris was shivering... I probably was too. I put my arms around her gently. She tried to pull away, but I held her fast. "Relax. There's no heat in here, just trying to warm us up."

"Sure you are, ******** perv." She stopped struggling, though, and nestled in a bit. I gotta admit, a little human contact that didn't involve the threat of death was comforting. She probably felt the same way. Hell if I know. Maybe she was just colder than she wanted to admit.

We stuck around for a couple of hours, waiting out the storm. In that time, we took the curtains and blankets and fashioned some padding to keep out the cold, at least a bit. "With any luck, the shamblers froze solid." I offered. Not much in the way of hope, but hey. She didn't respond. We cleared the front door barricade and moved out to the Jeep.

With the layer of snow at least two feet deep, everything seemed peaceful. A bright yellow sun gleamed against the reflective ground, creating temporary blindness. A few barren trees lined the dirt road that lead up to the house. I could have sworn there were leaves on them last night. The area was clear, save for a few frozen corpses buried beneath the white.

We stepped carefully, and started to assess the shape of the vehicle. It was buried in snow pretty good... We cleared out as much as we could, but odds were the engine was flooded. It wasn't going anywhere today. "We're half a mile off the main stretch, maybe two or three from town..." Eris commented. "We could walk it."

"May as well get moving." We were already wet from clearing out all that snow, we'd get mighty cold just standing around.

Half a mile of walking in silence followed. It wasn't really awkward, I guess. Maybe it was just being used to silent conversation with oneself. Three months of isolation and the last week or so I felt like I was hallucinating, seeing things that weren't there, like eyes on the wall or a face I hadn't seen in years.

We had just reached the main road, a long stretch of bare pavement, dotted with the wrecks of cars trying to get away from the madness that ensued what seemed like forever ago. Silent and still, the graves of the desperate, and markers of a civilization now dead. The wind kicked up, blinding me for a moment with some loose snow. When I cleared it out of my face and the tears wiped away...
Chapter 4: Losing It
Eris was gone. Just like that. Vanished in thin air. I looked around me, searching desperately for some sign of where she went. That's when I noticed... There was only one set of footprints in the knee-deep snow. Mine. I blinked a few times, maybe my eyes were being blinded by the glare, but... No. Nothing. I was alone the whole time. My mind reeled, and I staggered towards a nearby parked car, leaning against it.

It took me a couple of minutes for my mind to adjust to the fact that Eris was... well, not real. Maybe the booze and painkillers were ******** with my head. Maybe it was just my own twisted mind's way of coping with three months of being completely alone. "...Eris?" I asked the empty air in a whisper, almost daring to hope for an answer. Only a chill northerly wind answered me.

I needed supplies, one way or another. I was pretty much out of jerky, and my last bottle of Jack wasn't gonna get me far, even if I did try to stop drinking for the thousandth time. Survive, maybe I'll find other survivors. I trudged on, pushing through the snow. It was somehow harder going without Eris. It's not like we talked a lot, shared a joke to pass the time or anything. I guess just the thought that there was another living person on the planet was galvanizing. Two and a half miles of pushing through knee-deep snow is tiring, especially in wet clothes. But eventually, the highway led into a more civilized region. Well, once-civilized.

Grey concrete loomed over me, like ancient monoliths of a society of giants. Busted-out windows and charred walls scattered around indicated the fires of panic and chaos. Downed power lines were everywhere, but the electricity stopped running months ago. Wrecked cars were everywhere, the random parts scattered about presenting further trip hazards. It was like navigating my apartment with the lights off, except the furniture in this case could probably cut a major artery in my leg and I'd bleed out. That pleasant thought in my head, I pressed on, towards a mom and pop drugstore.

The place had been ransacked, but not thoroughly. Dietary aids and bandages littered the dusty ground alongside cold medicine and energy bars. Most of it was probably expired, but I gathered up a box or two of the bars and a couple of first aid kits' worth of medical supplies. it all went in the duffel beside the bottle of Jack. Next, to see if any of the nearby clothing stores had a coat I could stand wearing...

About an hour later, I was much more well-stocked and clothed. Clean clothes felt so much better, and the leather jacket I picked up fit perfectly. I didn't think it'd keep out the cold so well, but... Wow. I looked at myself in the mirror, and there was Eris, standing behind me holding up a ladies' jacket in red leather. "Hm... Too showy?"

I didn't turn around, but I did awkwardly adjust a zipper. Yeah, that was unexpected. "You're not real. You're just a delusion."

"Bingo, perv." She had a bit of a smirk. "Three months without someone to talk to, plus drinking yourself into cirrhosis--not to mention the lack of sleep--made you create someone to keep you company. How's it feel, champ?"

"It feels like I'm crazy. I don't wanna be crazy." It hadn't occured to me quite yet that I was talking to no one. I continued fiddling with the zipper, like some high school kid trying to talk to his crush.

"Well, get used to it. The delusions are just gonna get worse. You've snapped, and soon you're not gonna be able to tell what's real or what isn't. Or... have you already crossed over that line?" She was beginning to piss me off.

I wheeled around. "Look--" But she was gone. Right, not real... I rubbed my eyes. I needed a drink. A sound caught my ear, and I moved to the door of the clothing store to investigate, rifle at the ready.
Chapter 5: First Contact
My rifle up, I peeked outside. No movement, no sound. The silence pervaded and stifled. Like a library in space, and every footstep was an offense to the ruling sound of nothing. It took me a few moments to pinpoint the source of the sound, but the sound came again and helped me. A movement in the snow. I shouldered my weapon, and readied to aim. It was at that moment a head poked out of the snow. Not a human head. A dog.

The black-furred beast climbed out of the snow and shook off, shivering. It must have been freezing. I gave a soft whistle, grabbing its attention. Not a moment's hesitation, it padded over to me through the snow. I retreated back into the clothing store, and it followed. In a relatively warm and dry spot, I crouched down to its level. It was still shivering. "Sit." I told it, and it obeyed. She obeyed. Grabbing a couple of thicker items of clothing quickly, I wiped her off and inspected her. No marks or wounds, she's been keeping her head down. No collar either, which was odd. She was very well-behaved.

"What's your name?" I asked her, not really expecting an answer. Unsurprisingly, one was not received. I opened my jacket and pulled her close, and she started licking my face. I couldn't help but chuckle, a bit of real mirth for the first time. "You're welcome..." I told her in a soft voice, rubbing her thick black fur to help warm her up.

I don't know why I trusted the animal. For all I knew, she was a carrier of whatever caused this, or at the very least feral and going to attack me. But she didn't.

"I hope you're not trying to replace me with some stray." Eris' voice taunted me. There was something playful in her tone, rather than malicious. I didn't respond immediately, so she put her hand on my shoulder. Despite knowing she wasn't real, I could feel the weight. The mind is a crazy thing. "Don't ignore me." Her voice was flat.

"I'm not."

"Then say something." A demand.

"I did. Don't know what you want from me."

"You got it backwards, perv. It's not about what I want from you, it's about what you want from me." That same tease.

"And what exactly is that?" I was growing impatient with myself, talking to my hallucinations, conversing.

"******** if I know. You're the crazy one."

"I'm not crazy."

"Says the guy arguing with his imaginary friend." The weight vanished. She vanished.

"Sorry about that." I told my new canid friend. She didn't seem to mind. Here was as good a place as any to make camp for the night. I set to work constructing some rudimentary shelter against the wind using some racks and thick dresses. I shared some jerky with the dog, who seemed to enjoy the taste well enough. I'd have to pick up some dog food later, once everything was set up, but for now I needed to eat, and so did she probably.

A camp stove and fuel were easy enough to find, surprisingly, as was enough dog food to keep the black lab fed. I considered giving her a name, but I was no good with names. Besides, she might take exception to that. After all, I didn't own her. "You gonna pull your own weight?" I asked her as I set up some barricades in the door and windows using racks and a few things I found in the back. Again, no answer, just a look that was either incomprehension or gratitude. I couldn't tell. I don't speak dog.

I stitched together some clothes into makeshift curtains to keep out the wind. I briefly considered writing something like 'Alive inside' on them like one of those cheesy horror flicks, but who knows how long that would remain true. Besides, the curtains themselves would likely indicate the presence of life.

This wasn't a permanent set-up. I knew it. But it would work for the night. Who knows, someone might come along. Or something.

Well, it took them a week, but sure enough someone did. The dog was just finishing her meal, as was I, when I heard movement. I scrambled to the ready, grabbing my rifle. The dog sensed my nervousness and stopped eating, looking at where once the door to the store was.

"Pennman's clear." The voice was male, and a little ways off.

"Michael's clear." Another male, further off.

Footsteps approached my store, and I readied to fire, eye down the sight of my rifle. Just because I wanted company didn't mean I trusted the first people to come along. The dog growled, and then I heard what I hoped not to.

"Movement in Hemmingway!" A third male approached my store. I moved as quietly as I could to cover, sliding my rifle over the old cash station. My barricades started to get shoved aside, and I realized there was no hiding. There was talking or there was killing.

"Drop your weapon!" I ordered, and the figure in front of the old door froze.