b o n n a b y
(?)Community Member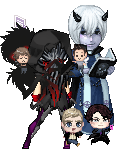 Posted: Sun, 06 Jan 2013 08:22:23 +0000
`
XXX
D

R

U

M

M

I

N

G

N

O

I

S

E

-

I

N

S

I

D

E

M

Y

H

E

A

D

-

A

N

A

L

M

I

G

H

T

Y

S

O

U

N

D

.
XXXXXXXX
ℓσυ∂єя тнαη ѕιяєηѕ ▫ ℓσυ∂єя тнαη вєℓℓѕ ▫ ѕωєєтєя тнαη нєανєη -αη∂ нσттєя тнαη нєℓℓ
xx
xx
↻
EMRICK TYCHON ANTEOLLI
████████████
⦅
syndicate
♕
m e m b e r
⦆
▒▒▒▒▒
New kid on the block makes his first attempt at making peace.

Shut down in one.

Emrick was one of two things. The first, most predominant trait was that he rarely took offense. Bitterness and harsh words rolled off him like chunks of ice over a hot surface. His temper existed as a slow burning kiln, which, given something to start him up, could reach extreme temperatures in very little time. Excited explosions of emotion didn't suit him. That led to the second of two things: Emrick could try the same tactics over and over, from different angles, undeterred, until he found the correct means to accomplishing his goal.

In this case, a little of both kept him steady under the less than stellar responses from Logan. Then again, he'd set himself up for failure, in a way. Apologizing? He had nothing to do with producing that snide little comment from the Boss. Okay, that wasn't entirely true. It was his job to get on the good side of the individuals that ran the Syndicate. It was his duty to gain their trust, figure out their plans, their motives, their identities, and later hand over the bulk of it to his superiors. He would put up with just about anything to give the city, and those innocents that were its citizens, peace.

But maybe he was trying too hard in this case. So, as Logan answered his phone, Emrick wordlessly collected the second bag of refuse and followed along as he'd done since the beginning. The night was in its darkest hours and the cold had sunk in to the bones of Chicago. Bright white clouds slipped like steam from Emrick's lips as he trudged in the direction of the trash bins. His thoughts were not on the starry sky or the scant clouds keeping in whatever warmth the environment hadn't already given up. Nor did he listen to the howling and grunts of the dogs kept on the property, although even they were quieter than normal. Cold and hunger would do that to an animal, he guessed. No, his thoughts revolved around Logan. Whoever had called him, the man hadn't answered in any form of pleasure. Like before, his memory procured the single sentence Jo had whispered into his ear at the bar.

A cop was gunned down at home and no one saw anything.

Professional hit. In and out, clean as a whistle.

Logan specialized in that department.

With a low grunt, Emrick tossed his bag into the correct trash bag. He didn't ask when he took the other bag from Logan and did the same, eyes averted to the snow and the surroundings. Replacing the lid, he dusted his hands (one at a time, given he still had the cupcake) on the back of his dark-wash jeans and wondered, just briefly, how many cops would die while he took out the trash for the gang responsible? Bristling a hand through his two-toned hair, Ric tried not to answer that question. He only wanted one number, and that was probably, almost definitely, impossible.

Since Logan was occupied, he began a slow removal of the cupcake's little wrapper. He was close enough that when the person on the other end spoke, he could tell it was male. Aside from that, and how long the answer was, he had no idea who'd call Logan at this time of night. Shark-like eyes stared at the gunman, unwavering, steady with a calm composure that held only polite, distant curiosity.
▀▀▀▀▀

▀▀

▀▀▀

▀

▀▀▀

▀▀

▀▀▀▀▀
xxxxxxxxxxxxxxxxxxxxx
¤
Logan
xxx
¤
sad thoughts are sad
xxx
¤
outside HQ
xxx
¤
melancholy/ disturbed
xxxxxxxxx