b o n n a b y
(?)Community Member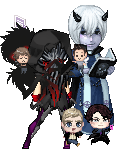 Posted: Sun, 06 Jan 2013 03:42:07 +0000
`
XXX
D

R

U

M

M

I

N

G

N

O

I

S

E

-

I

N

S

I

D

E

M

Y

H

E

A

D

-

A

N

A

L

M

I

G

H

T

Y

S

O

U

N

D

.
XXXXXXXX
ℓσυ∂єя тнαη ѕιяєηѕ ▫ ℓσυ∂єя тнαη вєℓℓѕ ▫ ѕωєєтєя тнαη нєανєη -αη∂ нσттєя тнαη нєℓℓ
xx
xx
↻
EMRICK TYCHON ANTEOLLI
████████████
⦅
syndicate
♕
m e m b e r
⦆
▒▒▒▒▒
The parts delivery was going to be late. Somehow, the truck had picked up a flat tire and now it had to be replaced. On top of that, the truck was outside of town, so it wasn't just a simple matter of having one of the other lackies run to get everything. Oh no, he was going to have to wait until the truck got its stinking tire and then find a way to get through tomorrow's New Year's traffic. That could mean another two or three hours, easy. By the time the truck managed to make it to the warehouse and get everything unloaded it would be heading toward dinner time on the only day off he'd get for a long time. A sigh parted Emrick's scowling lips and added a stress line between his fine black brows. If someone double-took while walking by him, it was normal. His hair was reason enough to ensure a second glance. Red as a purpling rose in late summer - this color was dyed into the bottom part of his currently black hair. Maybe he'd get the luck of the Irish, he'd joked after doing the dye job, except he was the son of a Ukrainian repairman and an Italian school teacher. His mother had black hair; he'd often stared at the pictures decorating his father's bedroom. They were all that was left of his late mother, and all he knew of her.

Since he wasn't due to receive the parts he'd ordered until late tomorrow, Emrick decided to cruise over to his old haunt, The Jukebox. Hands pocketed in the only pair of half-way decent jeans he owned, it wasn't ten minutes into wandering through various alleys when he arrived at the crusty bar. The place was filled to the rafters with locals awaiting the New Year's countdown - along with a handful of off-duty cops who'd managed to get the night off. Lucky bastards. Their presence didn't scare him, nor would his appearance lead to anything but dull stares. Nobody would recognize him here; he'd changed too much from his academy days and that was the point. No one would think he had a badge. Hell, nobody would think he had a high school diploma, but wasn't that stereotypical prejudice for ya?

The bartender manning the main sweep of counter was a familiar face. A nod and wink got him permission for his typical pick-up and Emrick wasted no time finding the crate he'd asked for a week back. The countdown was going by the time he'd shoved his way to the smaller bar in the back. Five... four... three... The whole place erupted into a frantic, ecstatic frenzy when twelve struck. Ducking various men and women exchanging hearty kisses and back slapping, he found what he'd come for. As he hefted it up into his arms, the owner, Jo, stopped at his elbow. A sturdy, curvy woman with dark skin and eyes, hair braided and eyelids glowing with gold shadow, Jo was a no-nonsense lady and Emrick well respected the stubborn jut of her jaw. He tilted his head to hear her better around the cacophony of hooting and cheering and hard-rock blasting from mounted speakers. She pinched his cheek when thru and then left to break up a shouting match at the other end of the bar. Emrick, for his part, spent a minute staring into space, eyes hooded and flat.

'Damn it.'

The night was young and he didn't have time mourning something he couldn't change. Blood had been dealt. The new year would begin with grief and that pattern would hold strong no matter how much interference he ran. Gangs were victimized by their own vicious circles and outsiders were faceless targets caught up in the cross-hairs.

In his Impala, Emrick made it back to Syndicate headquarters in well under ten minutes. The cold called for a heavy black jacket with furred hood, but he barely felt the temperature drop as hopped out of the driver's seat and rounded the building. His lace-up working boots crunched in a thin crust of snow and as he descended the stairs the soles squeaked. Emrick's pale eyes lit upon two figures as he shuffled into HQ's main room, flicking from them to the food to Felix's computer in one rapid sweep. Despite the holiday and hour, he wasn't at all to find the pair up and about. Daytime was someone else's shift, and night owl behavior came with their job descriptions. "'eya, boys." He said in way of a greeting, stalking to the kitchenette attached to one wall. He settled the crate on a table and disrobed, revealing a simple black tank underneath the bulkier coat.

"Tha' for sharin', Logan?" Emrick asked, glancing back over one shoulder, tugging off the crate's wooden lid. Inside was a variety of liquor and beer, along with snacks he didn't recall asking for. Sometimes he wondered if Jo thought he didn't eat, what with forcing food on him this way. Sighing, he began stocking cabinets. Lacky duties were glorious things, not that he minded too terribly.
▀▀▀▀▀

▀▀

▀▀▀

▀

▀▀▀

▀▀

▀▀▀▀▀
xxxxxxxxxxxxxxxxxxxxx
¤
Felix / Logan
xxx
¤
booze fetching
xxx
¤
bar > HQ
xxx
¤
detached/ idle curiousness
xxxxxxxxx
❝
XXX
ι мσνє му ƒєєт - ι ¢αη нєαя тнιѕ вєαт - ιт ƒιℓℓѕ му нєα∂ υρ
XXX
❞
xxxxxxxxxxxxxxxxxxxx
LOUDER & LOUDER, LOUDER & LOUDER
xx
➠
xx
↯